This Roasted Garlic Parmesan Simple Quinoa Recipe is the easiest quinoa recipe out there….it's perfect if you're just getting started with quinoa!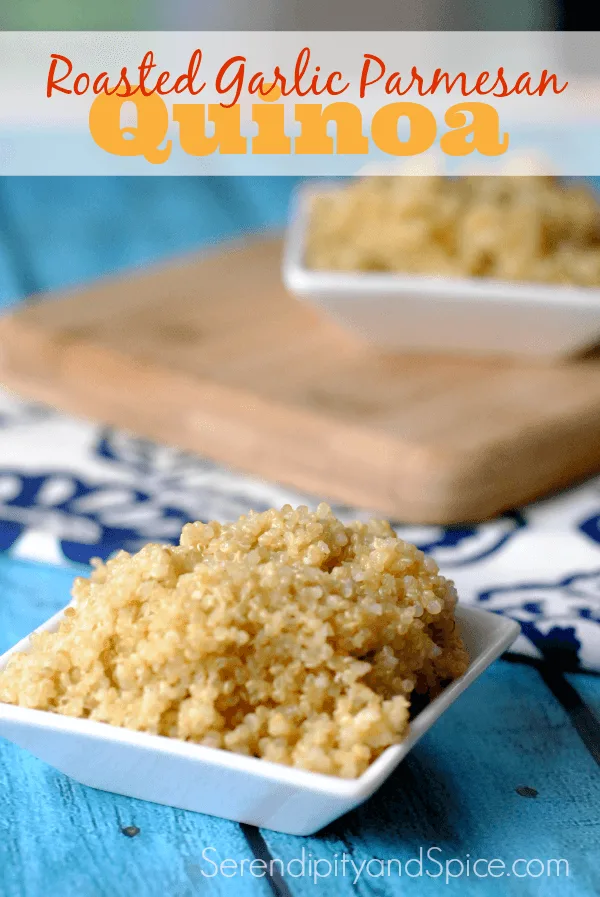 Roasted Garlic Parmesan Simple Quinoa Recipe
The Perfect Simple Quinoa Recipe for Beginners!
So last week I shared with you my new love of polenta with my Chicken and Apple Baked Polenta Recipe. If you haven't noticed…we're on a kick of trying out new foods around here! I get so tired of eating the same things over and over again….I mean there's only so many ways to make mashed potatoes or rice!
I've also been working on making healthier choices for our family and quinoa is packed full of nutrients! It may be the latest food fad but it's actually quite delicious and a lot easier to make than I realized. We've been incorporating quinoa into our meals about twice a week and are loving the versatility of this food.
I decided to make it with a little bit of roasted garlic and fresh parmesan cheese and the family LOVED it! Even Miss Jellybean (at just 8 months old) and Little Man (3) gobbled it up!
I know that quinoa can be quite the intimidating side dish to make– but trust me– once you try it you're going to love how simple it is to make. For this recipe I used Alter Eco Royal Pearl Organic Quinoa….I get it through Thrive Market. If you haven't checked out Thrive Market yet…you definitely want to….it's where I've started buying a lot of my organic and whole foods. They're like the Costco of healthy foods…the prices are awesome!
Ready for the recipe?!
Roasted Garlic and Parmesan Simple Quinoa Recipe
Roasted Garlic Parmesan Simple Quinoa Recipe
Author:
Prep time:
Cook time:
Total time:
Ingredients
1 Cup Quinoa
1 TBS Butter
4 Cloved Garlic
1 3/4 Cups [url href="http://serendipityandspice.com/how-to-make-homemade-chicken-broth/" target="_blank"]Chicken Broth[/url] (I highly suggest making your own- it's easy, nutritious, and delicious!)
1/4 Cup Fresh Parmesan Cheese
Instructions
Rinse the quinoa under running water for 30 seconds. It's going to foam up and that's completely normal!
Melt butter in a deep skillet (I [url href="http://amzn.to/1hzDRpf" target="_blank"]love this skillet[/url]because it's deep and has a lid).
Dice up the garlic cloves and roast them in the butter for about 2 minutes.
Add the quinoa to the garlic butter mixture and roast for an additional 5 minutes on medium high heat.
Add in chicken broth, reduce heat, cover, and simmer for 15 minutes.
Remove lid and let the rest of the chicken broth steam off.
Grate parmesan cheese and mix into the quinoa.
Turn heat off and serve.
Quinoa is such a versatile dish! You can eat it hot or cold. There's so many different flavors that mix well with it. It has an earthy nutty flavor that makes it great for a dinner side dish or a healthy breakfast. If you've never tried quinoa definitely give this simple quinoa recipe a try….my family absolutely loves it!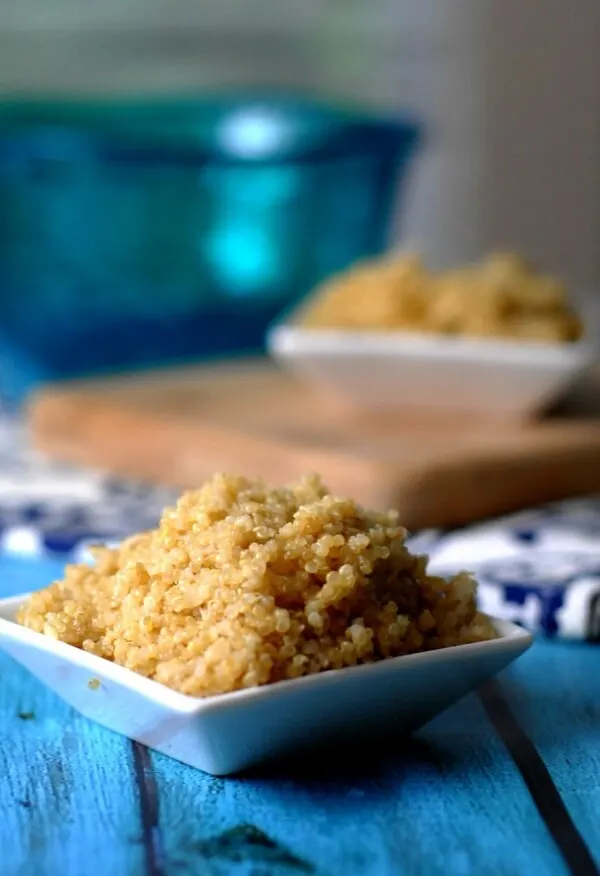 How do you like your quinoa? Share in the comments below!
Other recipes to try:
Chicken and Apple Baked Polenta
DIY Organic Ranch Dressing Mix