These Hershey Kiss sugar cookies with no peanut butter are so delicious and perfect for my fellow non-peanut fans! A perfect alternative to the classic peanut butter blossom cookies without the peanut butter are these sugar cookies. These are always a hit and a surprise when people realize they're not made with peanut butter like usual.
I know, everyone LOVES those Peanut Butter Blossom cookies during Christmas…but, I'm just not a huge fan of peanut butter. Not to mention, I need peanut free cookies for our homeschool parties as there are a few kids with peanut allergies in our group. Plus, my kids are not huge peanut butter fans anyway, so these Hershey Kiss sugar cookies without peanut butter are the perfect alternative.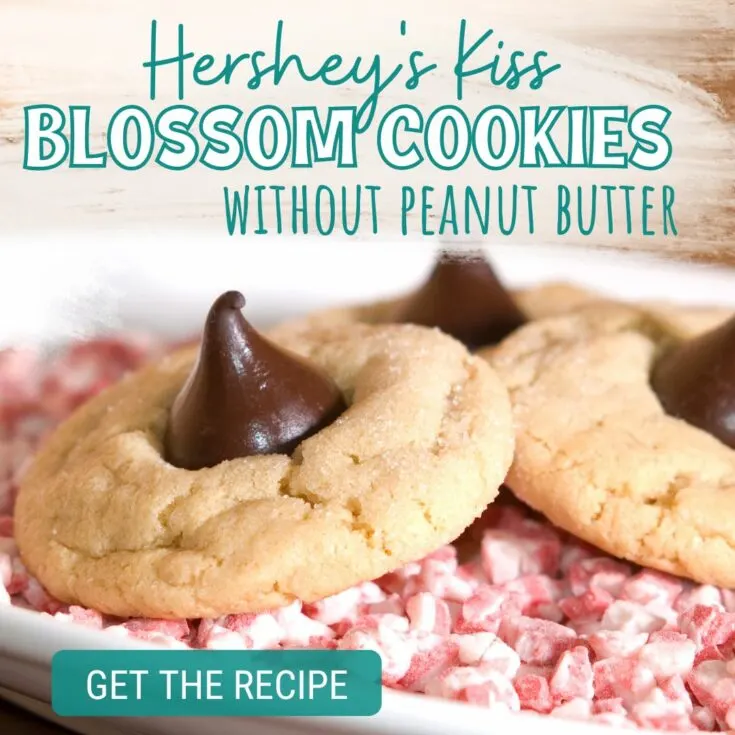 Yield:

30 Cookies
Hershey Kiss Sugar Cookies No Peanut Butter
Additional Time:
2 minutes
These Hershey Kiss sugar cookies with no peanut butter are the perfect substitute for the classic peanut butter blossom cookies.
Ingredients
1 Cup Sugar
1 Large Egg
1 Stick Softened Unsalted Butter
2TSP Vanilla Extract
1/4 TSP Baking Soda
2 TBS 2% Milk
1/4 TSP Salt
2 Cups All Purpose Flour
Hershey Kisses (unwrapped)
Instructions
Preheat oven to 350 degrees.
Line cookie sheet with parchment paper.
In a large mixing bowl, mix together butter, sugar, vanilla extract, egg, salt, and milk.
Blend well.
Carefully add in flour and continue to blend well.
Separate cookie dough into 1 inch balls and place on lined cookie sheet.
Bake at 350 degrees for 8-10 minutes or until cookies are lightly browned.
Remove from oven and let cool for 1-2 minutes.
Place Hershey Kiss in the center of each cookie.
Move cookies to a wire rack to continue cooling.
Notes
You can easily freeze these Hershey Kiss Sugar Cookies....just place the cookie dough in an airtight container before freezing. Don't add the Hershey Kisses until you're ready to bake the cookies!