Looking for a homeschool history curriculum that your middle schooler will actually enjoy?
Delve into the extraordinary world of Early American History through the lens of Beautiful Feet Books, where fascinating narratives and captivating characters await, offering a unique and immersive educational experience for your 4-6 grades homeschool history curriculum.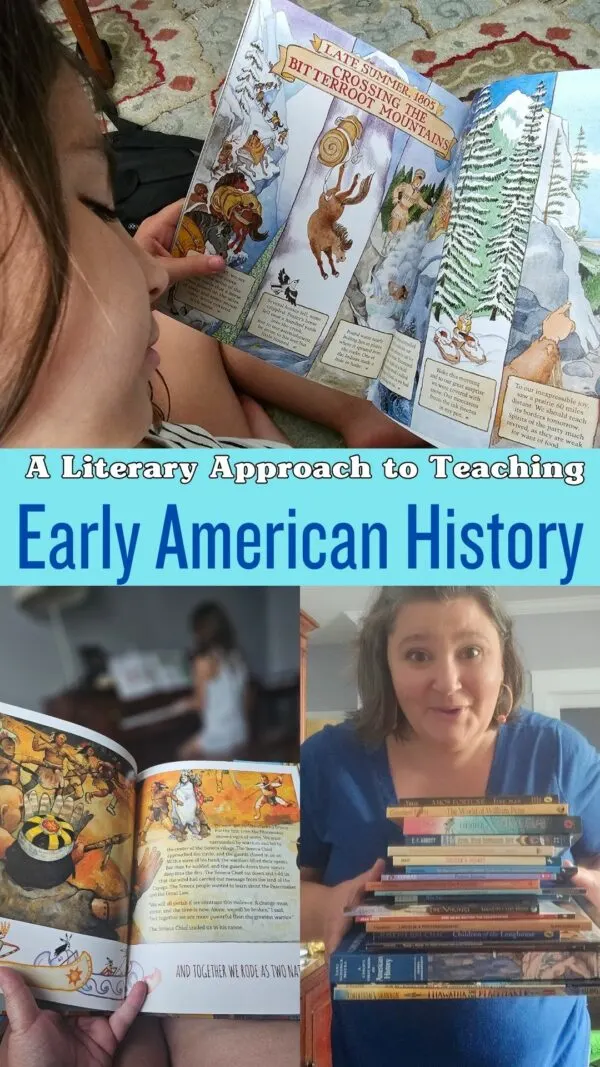 *I recently discovered Beautiful Feet Books and jumped at the chance to try out one of their curriculums. I received a complimentary copy of their Early American History Curriculum to facilitate this review. The following blog post does contain affiliate links. As always, all opinions are my own.
Why Beautiful Feet Books
I first learned about the Beautiful Feet Books curriculum a few months ago when a homeschool blogger I follow shared a TikTok video about them. I was drawn in right away by the stunning photos and fascinating stories.
As a homeschool mom, I'm always tweaking my curriculum choices and I was truly captivated by Beautiful Feet Books!
I'll be completely honest: I've never enjoyed teaching history. Due to the numerous dates and wars that have been fought, I have always found it to be dry and boring.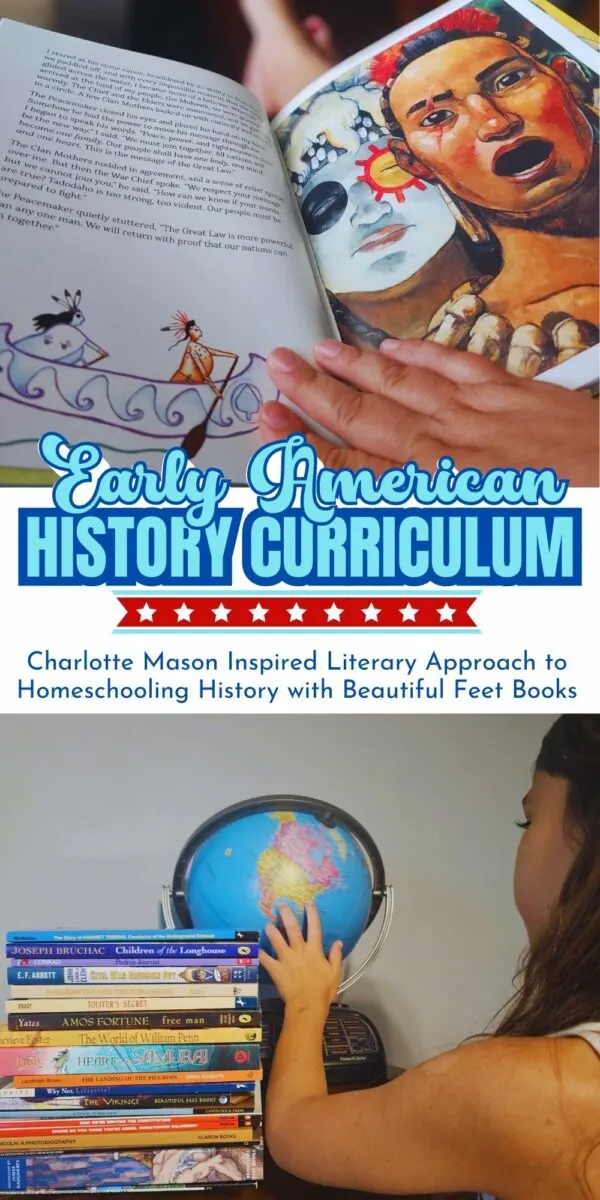 That's where Beautiful Feet Books is different. Instead of memorizing dates and battles, this curriculum focuses on the stories and unique characters that make learning history interesting!
Beautiful Feet Books is a well-known publisher with a focus on literature-based homeschooling curriculum and resources. Their goal is to offer interesting, high-caliber books that encourage a love of learning and a better understanding of history.
This is the first history curriculum where my kids (and I too) were excited to dive in…the variety of books and vibrant illustrations really grabbed our attention!
Living Books for a Homeschool History Curriculum
I've always been a fan of including living books in our homeschooling. "Living books," are books written in a narrative style, vividly portray historical figures and events.
Instead of being dry textbooks or encyclopedic references, living books are written by people who genuinely care about the subject, which helps readers connect with the information more deeply.
For the purpose of making history more understandable and memorable, these books frequently incorporate vivid descriptions, first-person accounts, and emotional nuance. They make learning history colorful and not so cut and dry.
.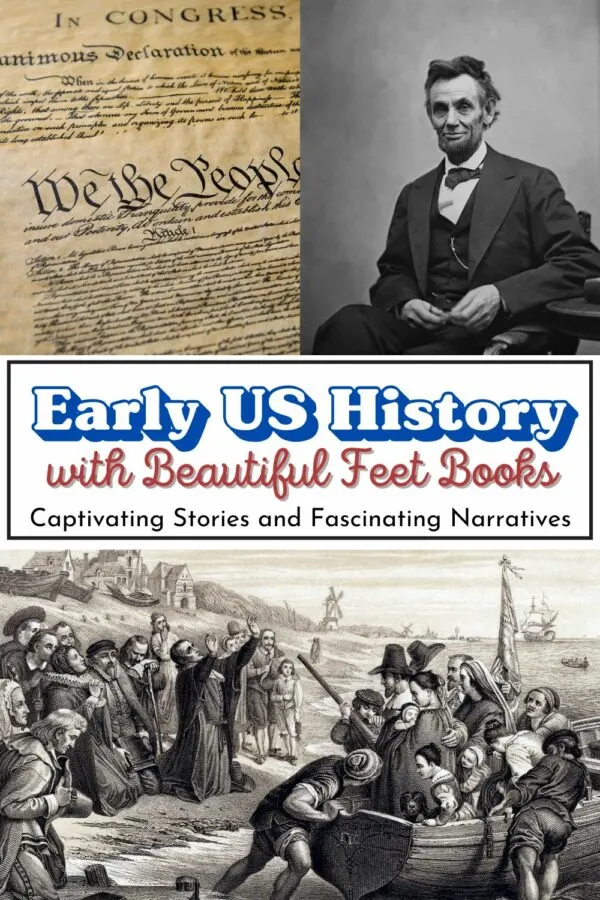 Living books are crucial for teaching history because they inspire a love of learning and promote hands-on involvement with the material.
Living books make history more than just a list of facts and dates by engrossing readers in compelling narratives that pique their interest and elicit strong feelings.
By forming a personal connection with historical individuals and events, students are better able to comprehend the complexities of the past as well as the experiences of people in the past.
Additionally, "living books" foster analytical and critical thinking abilities.
These books frequently present multiple perspectives and invite readers to consider various interpretations, as opposed to providing a single point of view on history.
Historical Fiction for a Homeschool History Curriculum
Historical fiction is a genre of literature that blends fictional characters, plots, and settings with real historical events, periods, or figures. It offers a creative interpretation of history by using storytelling techniques to bring the past to life.
Historical fiction allows readers to immerse themselves in a specific time period, experiencing the thoughts, emotions, and challenges faced by individuals of that era.
Historical fiction is important for teaching history as it bridges the gap between academic study and personal connection. It helps to make history more accessible, engaging, and relatable for students.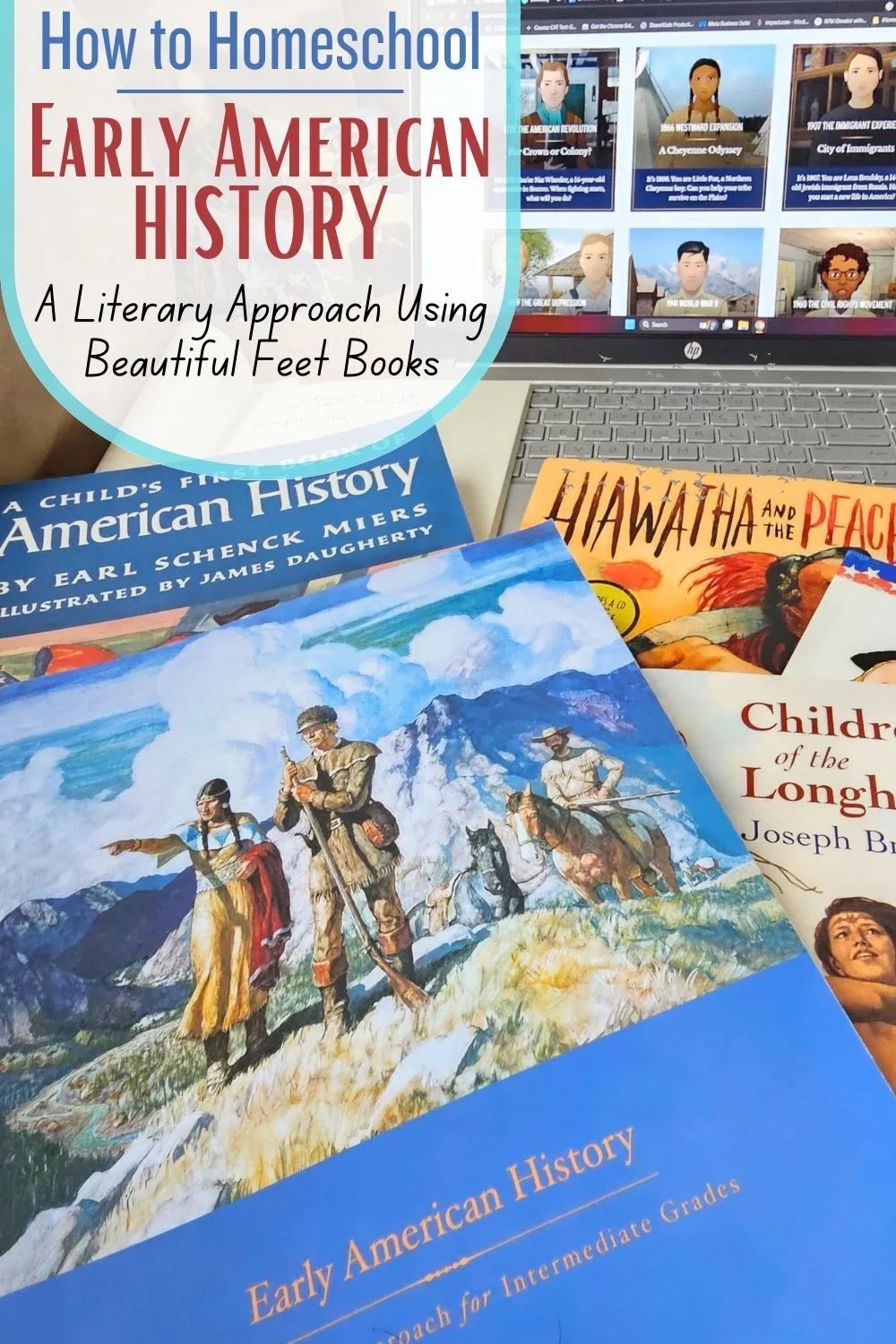 A Holistic Approach to Homeschooling History
Beautiful Feet Books' Early American History curriculum utilizes both living books and historical fiction to create an immersive and engaging learning experience for students.
By incorporating these literary elements, the curriculum brings history to life and fosters a deeper understanding of the early American period.
Through reading and discussing these books, students develop critical thinking, analytical skills, and the ability to evaluate different perspectives and interpretations of historical events. They are encouraged to explore primary and secondary sources to supplement their understanding, promoting research skills and a deeper appreciation for historical accuracy.
In addition to living books and historical fiction, Beautiful Feet Books adopts a holistic approach to teaching Early American History by integrating various educational resources and activities.
Watch this video to get an inside look at all of the resources you can find inside each lesson:
By utilizing this comprehensive range of resources and activities, Beautiful Feet Books ensures a well-rounded and engaging learning experience.
The combination of living books, historical fiction, note-booking, timeline creations, report writing, articles, videos, movies, and games caters to different learning styles. It creates a dynamic and enriching learning experience that goes beyond rote memorization.
This holistic approach allows students to develop a genuine interest in history, encourages empathy and understanding, and fosters the skills necessary for lifelong learning.
Check out all of the amazing Beautiful Feet Books curricula here. Plus, get free shipping for all orders $150+ (standard offer). First-time customers can use promo code IgniteWonder for free shipping on first order of any size