This is a sponsored post written by me on behalf of The Duck Brand. All opinions are 100% mine.
Have you ever thought about how to store baby clothes and other stuff when you know you're not done having babies? These tips on how to store baby clothes will help you stay organized and ready for your next baby!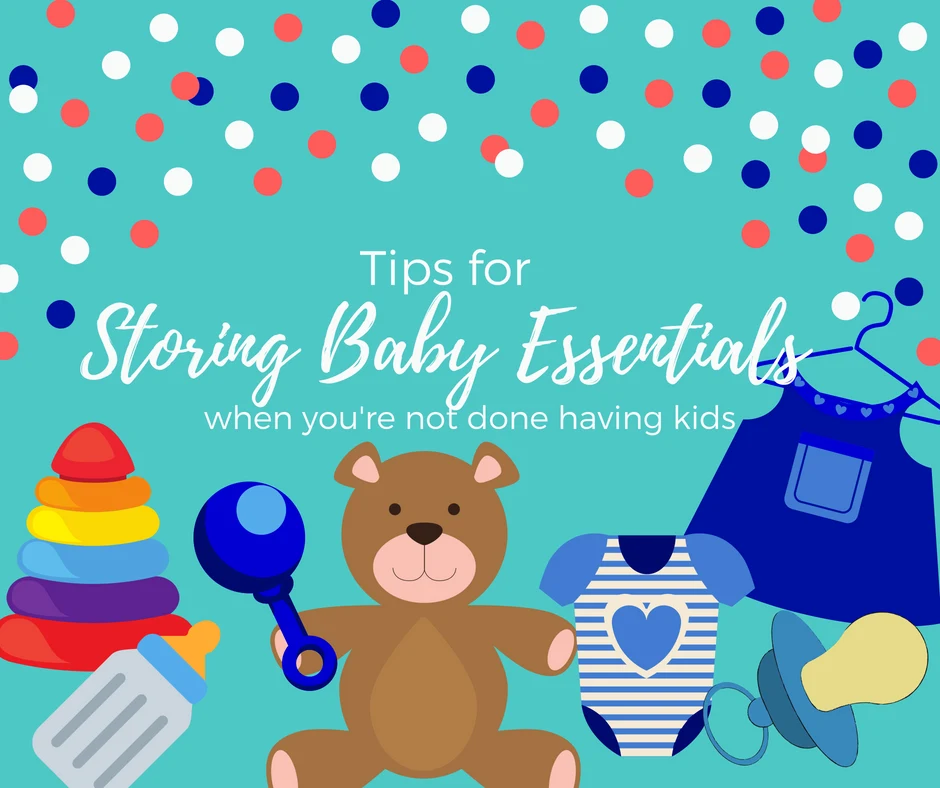 How to Store Baby Clothes and Other Stuff When You're Not Done Having Kids
Stay Organized and Ready for Your Next Baby!
When Little Man was born I went crazy buying up EVERYTHING I thought we needed for him. I was in new mommy mode and definitely went a bit overboard. I swear…he had so many clothes that most things he only wore once or twice. But, as new parents that's what we do…right?!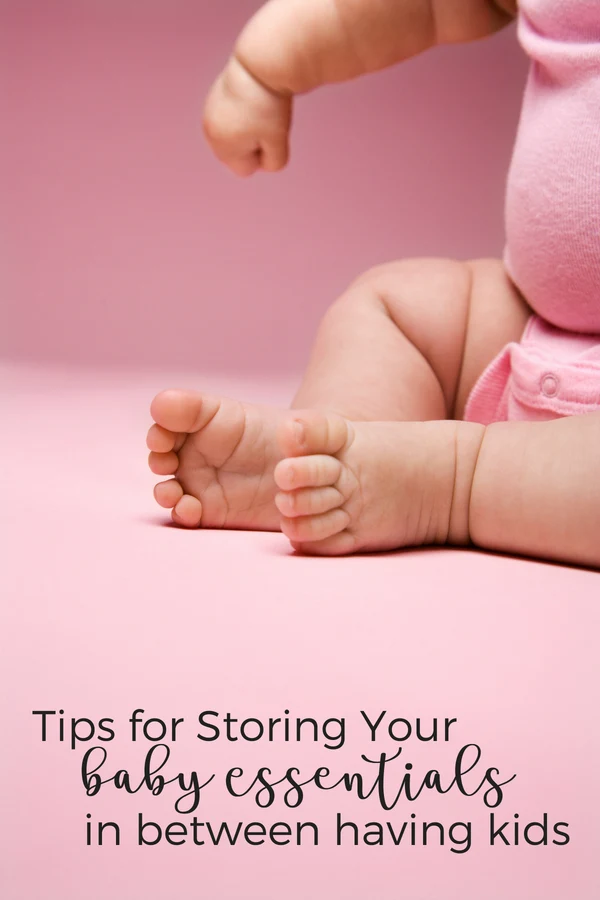 I bought the latest breast pump, the cutest nursing pillow, dozens of bibs, a baby wipe warmer, we had 2 different baby monitors, and so much more stuff. Once he outgrew those items I didn't want to just get rid of them because I knew Hubs and I aren't done having kids. But, I was left with the task of WHAT to do with everything. There were some things I knew I wanted to use for our next baby whether we had a boy or girl and then there were some things I only wanted to use if we had another boy and there were some things I wanted to save purely for sentimental reasons. But, that means there's a LOT of stuff to store!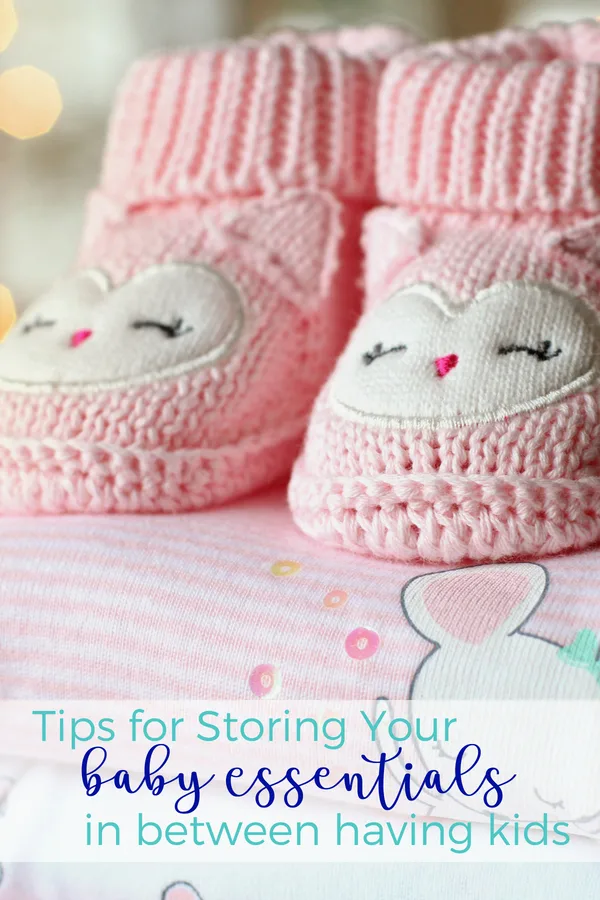 So, here are my tips on how to store baby clothes and other items when you know you're not done having kids!
First up, I divided all of my baby items into four categories…
General Baby Supplies
This is all the stuff I want to use for any future children we have. This would be the wipes warmer, leftover unused diapers, breast pump, gender neutral baby clothes, toys, etc.
2. Baby Boy Clothes and Items
In this group, I put everything that is specific to boys…mainly boy clothes and bedding. I also divide these up by size to make it easier to pull out just the sizes I need if our next baby is a boy.
3. Sentimental Items
This is my box that's specific to Little Man and our family. It includes the baby blanket my mother-in-law made, the outfit we brought Little Man home from the hospital in, any hospital mementos, cards from friends, etc. These are the items that I want to keep but not necessarily pull out and use with the next baby.
4. Maternity Items
Maternity clothes are not cheap!! So I want to hang on to all of those stretchy pants and long shirts until I'm sure we are done having babies. These I will also sub-divide by the season…no sense in pulling out my maternity bathing suit in the middle of winter!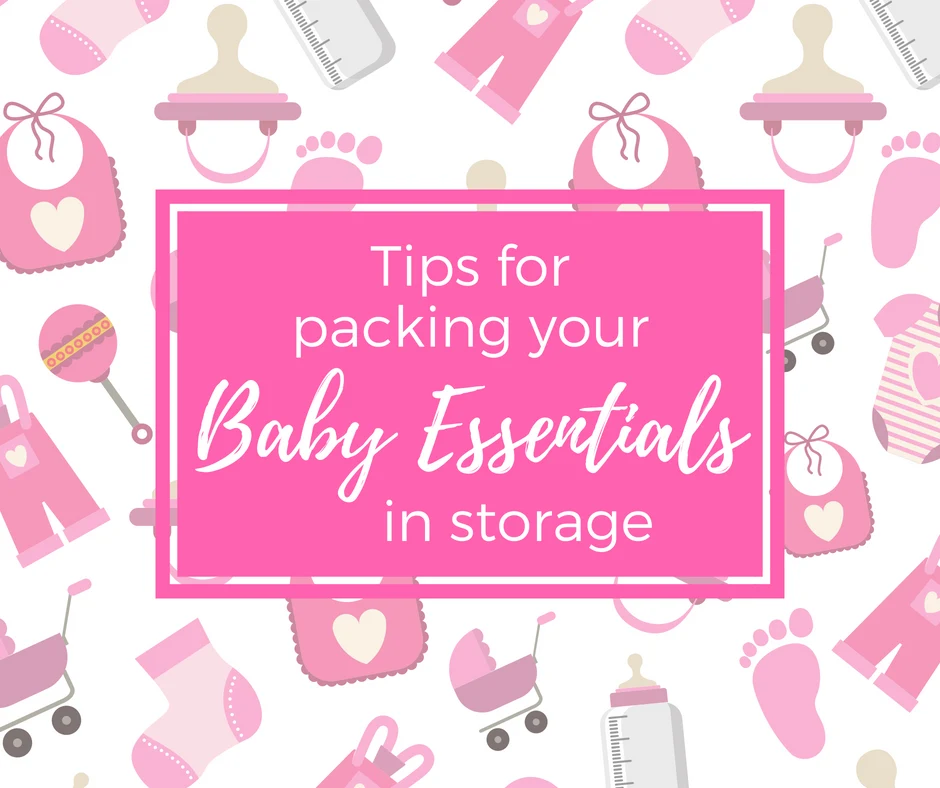 Next, I pick out storage containers for storing baby clothes and essentials!
I prefer the hearty plastic containers because they stack easily and I don't have to worry about water damage if I store them in the basement or garage. Hint: add a few dryer sheets to each container to keep the items inside smelling fresh. When choosing containers to store my baby essentials, I make sure to use medium size containers so they don't get too heavy and stack easily.
Finally, don't forget to label your storage containers!
I've made this mistake before with Christmas decorations! We have a TON of Christmas decorations….like 8 containers of Christmas decorations! Well, last year I just wanted a few specific cake pans for a party and I had only labeled the containers "Christmas"….so I didn't know which container had the cake pans in it. I'm sure, if you're like me, you know what happened….I went through EVERY box and the cake pans I was looking for were in the VERY LAST box. And, I had quite the mess from rummaging through 8 containers in the garage! But, I've found these new AH-MAZING tracking labels from Duck Brand!
Duck Pack & Track™ is my new favorite MUST HAVE for storing stuff! It's a new label and app system that works together and tells you WHAT is inside each box. This is PERFECT for labeling my baby supplies…because who knows how long I'll have this stuff in storage and I'm sure I'll want to go grab something specific at some point in time!
Basically, you download the Pack & Track™ app and scan the label for your container. The app will prompt you to say or type the name of your box (use the same name you write on the label); then you simply add everything that's in the box by speaking or typing. No more guessing what's in which container! When you're ready to get your items you simply scan the label on the container with the app and your list of contents will pop up so you know what's inside without having to open the container!
Check out these FAQs about Duck Pack & Track™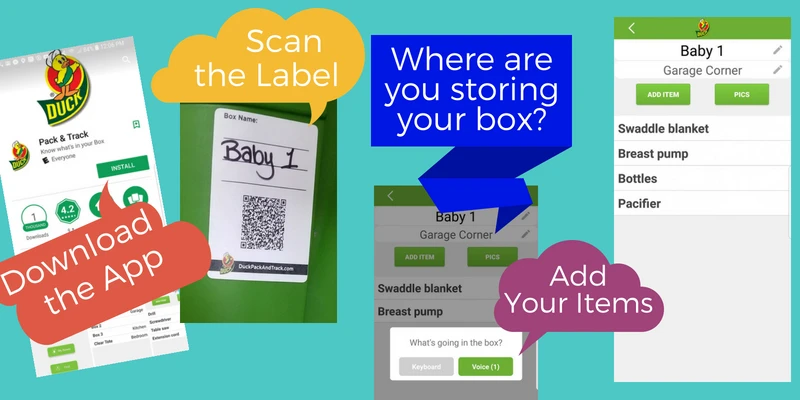 Those are my tips on how to store baby clothes and other baby essentials when you're not done having kids.