How We Keep Our Fur Babies Happy
Homemade Cat Treat Recipe and Pumpkin Dog Food E-book
Next month marks my kitties 7 year adoption anniversary with me.  The story of how they came to me is pretty serendipitious!
A little over 7 years ago my cat, Jasmine, got out of the house and ran away from home….I searched and searched and searched for her but after 2 months I had pretty much lost hope.  In one last attempt to see if the Animal Shelter had found her I made a trip there looking in all of the cages….but she was no where to be found.
While I was looking I saw this adorable ball of fluff that was about 8 weeks old, all alone, and looking scared in her cage.  I opened the cage and pulled her out.  She immediately rolled over on her back to let me rub her belly and the intense purring began….I was immediately in love and knew she had to come home with me.  Well, when I went to shut the cage door there was a sudden rustling in the newspaper and the next thing I realize– a little boy cat is flying into my arms!  Where on Earth did this second ball of fluff come from?  I could have sworn the cage was empty except for the little girl I had already taken!  Immediately they began nuzzling and loving on each other and I knew there was no way I could separate the two!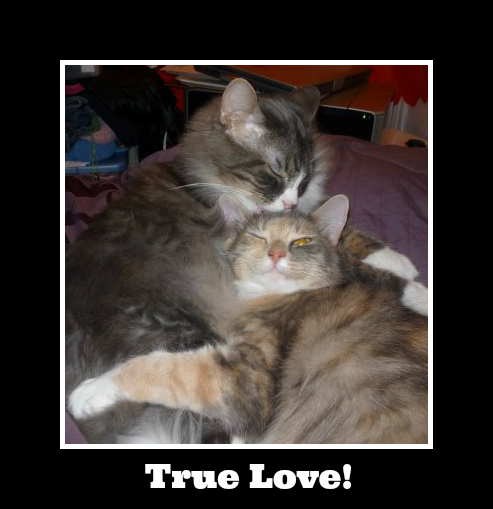 When I headed to the front of the Animal Shelter to fill out the adoption form the woman said "Oh good, you're taking them together….I was heartbroken thinking they would be adopted separately"….little did she know they had conspired the whole plan to sucker me in together! 😉
As soon as I got them home they started exploring the house and making themselves right at home….then, all of a sudden, I heard a scratching at the back door…..yep, Jasmine had found her way home….that VERY day!  What are the odds?!
So, I went from having one old kitty to having a family of 3!  Unfortunately Jasmine is no longer with us but Sammy and Delilah are still conspiring shenanigans and make life interesting all around!
I love making these special treats for our fur babies because they're super simple and they go NUTS over them!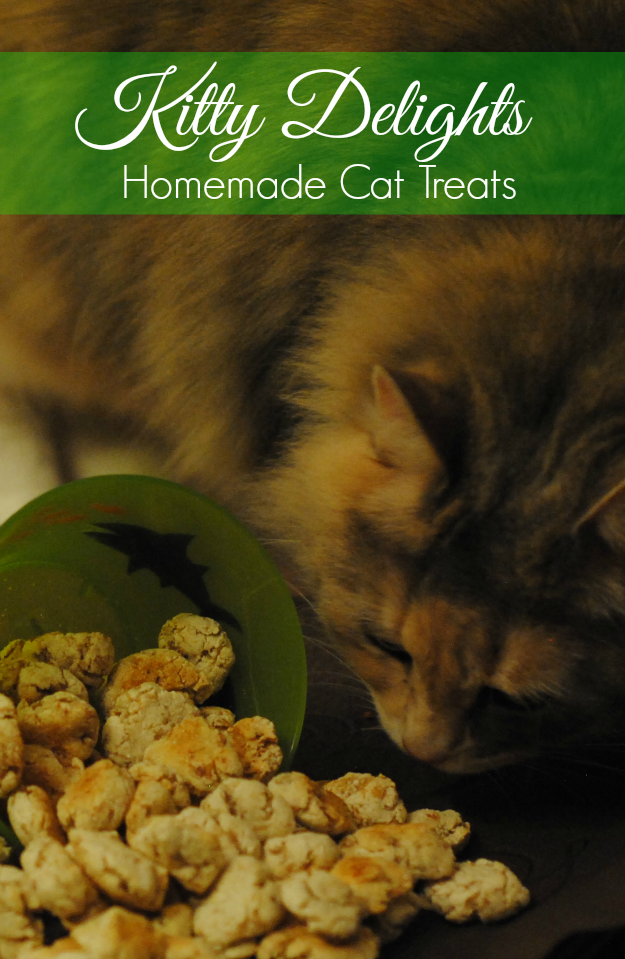 Ready for how simple these Kitty Delights are to make?
Ingredients:
5oz can of tuna
1/2 cup white cornmeal
1/2 cup flour
1/2 cup water
Directions:
Mix all ingredients together until it forms a ball.
Break off tiny pieces and roll into a small bite size ball and place on baking sheet.
Flatten ball with a finger– just like you're making thumbprint cookies.
Bake at 350 degrees for 5 minutes.
Flip and bake an additional 5 minutes.
Let cool and have your kitties enjoy!
Have you heard of The Kitty Poo Club?
I discovered The Kitty Poo Club last month and I'm totally in LOVE!
It's a subscription service for cat litter and I don't understand HOW they make a profit.  Each month they send you a disposable litter box filled with crystal litter and it's only $20….PLUS, shipping is included in the $20!  Seriously, I spend that much going to the store and buying litter…so the fact that I no longer have to think about it and they just automatically ship it to me makes my life so much easier!
Right now they're giving all of my readers a 20% discount on your first shipment.  Seriously, try them out…you'll fall in love with it too!  Plus, the litter does a fantastic job absorbing the smells that come with litter boxes!
Please follow and like us: