This Thai Coconut Fish Curry Slow Cooker Recipe is perfect for a simple and flavorful dish on busy nights.
Also check out The BEST Tuna Tetrazzini Recipe.
Are you a seafood enthusiast looking for a delectable and effortless way to prepare fish curry? Look no further!
In this blog post, we present you with an irresistible slow cooker fish curry recipe that will tantalize your taste buds and leave you craving for more. This exotic dish combines the rich flavors of succulent fish, aromatic spices, and creamy coconut milk, all cooked to perfection in a convenient slow cooker.
Whether you're a seasoned home cook or a beginner, this recipe is a breeze to follow. So, let's dive in and discover how to create a mouthwatering slow cooker fish curry that will become a family favorite in no time!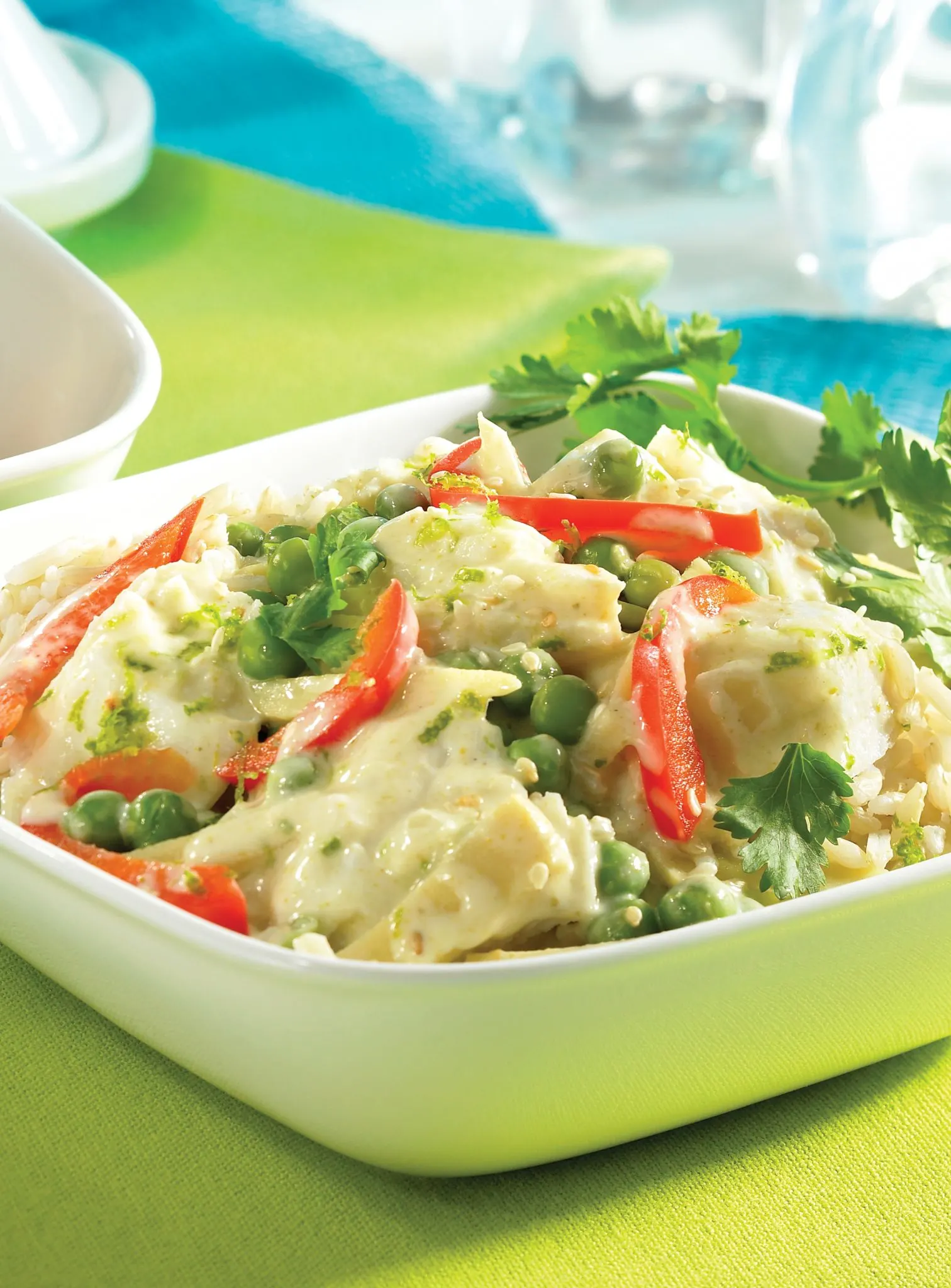 During Lent we're always looking for new fish recipes to eat on Fridays and this one does not disappoint! Even though Lent is over we're still trying to eat more fish and get healthier.
Table of Contents
The Advantages of Using a Slow Cooker:
Before we dive into the recipe, let's briefly explore the benefits of using a slow cooker for preparing fish curry. Slow cookers, also known as crock-pots, offer several advantages:
Time-Saving Convenience:

A slow cooker does all the work for you, allowing you to set it and forget it. No need for constant stirring or monitoring; simply add the ingredients, set the timer, and let it work its magic.

Enhanced Flavors:

Slow cooking allows the ingredients to meld together over an extended period, intensifying the taste and aroma of the dish.

Tender and Moist Fish:

The gentle, low-temperature cooking ensures the fish remains tender and moist, resulting in a perfect melt-in-your-mouth texture.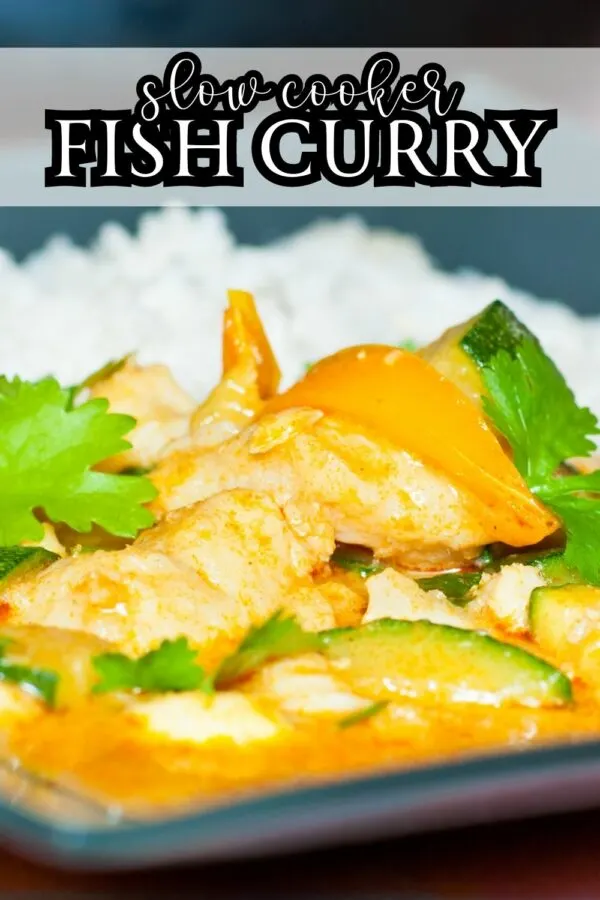 FAQs for this Slow Cooker Fish Curry Recipe
Can I use any type of fish for this curry?
Absolutely! You can use any firm white fish fillets like cod, haddock, tilapia, or even snapper. They work well in this recipe and hold their shape during the slow cooking process.
How spicy is this fish curry?
The level of spiciness can be adjusted to your preference. You can increase or decrease the amount of chili powder or choose a milder curry powder if you prefer a less spicy curry.
Can I use light coconut milk instead of full-fat?
While full-fat coconut milk adds creaminess to the curry, you can use light coconut milk if you're looking for a healthier option. Keep in mind that the result may be slightly less rich.
Should I marinate the fish before adding it to the slow cooker?
It's not necessary to marinate the fish beforehand as the slow cooking process will infuse the fish with the flavors of the curry. However, if you prefer, you can marinate the fish with a bit of lemon juice and salt for about 15-20 minutes before adding it to the slow cooker.
Can I add vegetables to this fish curry?
Yes, you can add vegetables like bell peppers, carrots, or spinach to the curry for added nutrition and color. Just ensure that the vegetables are cut into bite-sized pieces so they cook evenly with the fish.
How long should I cook the fish curry in the slow cooker?
Cooking time may vary depending on your slow cooker, but on low heat, it usually takes around 2 to 2.5 hours for the fish to become tender and the flavors to meld together perfectly.
Can I use frozen fish fillets?
Yes, you can use frozen fish fillets, but it's best to thaw them completely before adding them to the slow cooker. This ensures even cooking and prevents any food safety concerns.
Can I prepare this fish curry ahead of time?
Absolutely! You can prep the spice mixture and chop the onions, garlic, and ginger in advance. Store them in an airtight container in the refrigerator until you're ready to cook. Then, simply assemble the ingredients in the slow cooker and let it work its magic.
Can I freeze the leftovers?
Yes, you can freeze the leftover fish curry in an airtight container for up to 2-3 months. Thaw it in the refrigerator overnight and reheat it gently on the stove before serving.
Remember, cooking is all about experimentation and adapting recipes to suit your taste preferences. Feel free to get creative and customize the slow cooker fish curry according to your liking!
Printable Slow Cooker Fish Curry Recipe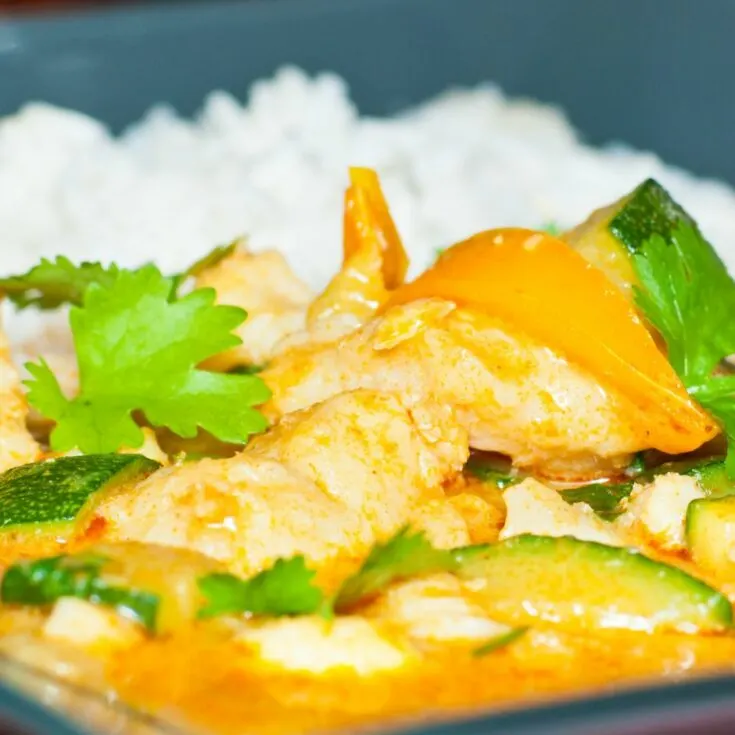 Yield:

6
Slow Cooker Fish Curry Recipe
Total Time:
6 hours
10 minutes
Indulge in the flavors of the sea with this easy-to-follow Slow Cooker Fish Curry recipe! This mouthwatering dish combines tender white fish, aromatic spices, and creamy coconut milk, all simmered to perfection in your slow cooker.
Ingredients
1 TBS Extra Virgin Coconut Oil (may sub EVOO as well)
2 Onions, chopped
4 cloves Garlic, minced
1 TBS gingerroot, minced
1 tsp Lime Zest
2 TBS Lime Juice
1 Cup Vegetable Stock
1/2 Cup Fish Stock
2 Tsp Thai green curry paste
1 Cup Coconut Milk
2 TBS Gluten-Free Fish Sauce
2 lbs. firm white fish- deskinned, cut into pieces
2 Cups Bamboo Shoot Strips, drained and rinsed
2 Cups Sweet Green Peas
1 Red Bell Pepper, diced
1/2 Cup Cilantro Leaves, finely chopped
Sprinkle of Toasted Sesame Seeds
Instructions
Heat oil in skillet and sautee onions.
Add garlic, ginger, and lime zest...cook 1 minute.
Add vegetable and fish stock....stir well.
Transfer to slow cooker.
Cook on low for 6 hours.
Combine lime juice and curry paste in bowl and add to slow cooker.
Stir in coconut milk, fish sauce, fish, bamboo shoots, green peas, and red pepper-- cook on high for 20-30 minutes-- until fish is flaky.
Garnish with cilantro and sesame seeds.
Recommended Products
As an Amazon Associate and member of other affiliate programs, I earn from qualifying purchases.
More Delicious Slow Cooker Recipes