Receive a letter from Santa for free by following these simple instructions. Your child will be delighted to receive a letter from Santa and you'll be glad it's free!

Letter from Santa for Free
Why Pay for Letters From Santa When You Can Get Them Free?!
Lately I've been seeing all of these different companies pop up offering personalized letters from Santa Claus himself….for a fee. These fees range anywhere from $15 up to $50…sometimes even more. And what do you get for these fees? A simple, generic, letter….sometimes an autographed photo….and I've even seen a few that include an automated call from the big man himself.
Last year I fell for one of these "personalized letter from Santa" deals and ordered one for Little Man. Imagine my let down when I realized that it was just a simple little piece of paper someone had printed on a computer…..they didn't even sign Santa….it was just printed out on the paper. So, this year I've been hesitant to order a letter from Santa because I just can't justify the cost. I know Little Man would get a kick out of receiving a letter…but he'd also love the New Paw Patrol Game (it's only $10!).
Well, wouldn't you know…..you can get a letter from Santa for free! And it doesn't even take that much work….the post office handles most of it for you!
You can write your own letter and customize it however you like. I like to get some fun Christmas printer paper from the Dollar Store (yep, they sell printer paper at the Dollar Store!) and I just type up a quick little note giving specific details about Little Man's life and that he needs to be a good helper for mommy and daddy. I also make sure to remind him that he needs to go to bed early Christmas Eve.
For older kids it's nice to point out some good deeds that they've done and encourage giving instead of receiving during this time of year.
Next, I like to sign Santa's name all fancy and pretty at the bottom of the letter using a pen or marker. (This year I'm adding a little extra Christmas magic with this silver pen and sprinkling some glitter inside the letter!)
Finally, seal your letter into a stamped envelope addressed to your child with a return address of:
Santa Claus The North Pole Then place your addressed, stamped envelope into another envelope and mail it to:
NORTH POLE POSTMARK POSTMASTER
4141 POSTMARK DR
ANCHORAGE AK 99530-9998
You must have your Letter from Santa delivered to the North Pole Postmaster by December 15th in order to guarantee your child receives it before Christmas. You're letter from Santa will arrive with the official North Pole Postmark.
Now you have a wonderful piece of magic straight from the North Pole!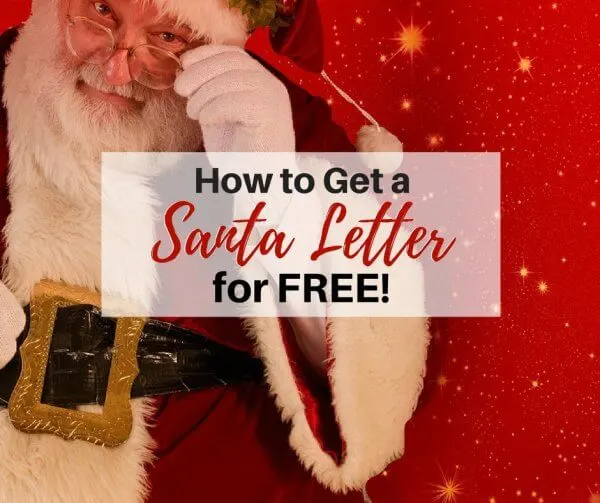 Also Check Out:
Must Have Christmas Cookie Supplies
Free Christmas Printables 4 Pack
A Disney Christmas & Mickey Mouse Christmas Decorations
Walmart's Chosen By Kids TOP Holiday Toys List 2016