Can you believe that October is almost over?! Little Man's 2nd birthday is Thursday….how time flies! I keep looking at him thinking "Wow, where did this amazing little boy come from and what happened to my tiny little baby"….well he's growing up! It's amazing all the changes that he's gone through in the last 2 years….it's amazing all the changes that I've gone through in the last 2 years. I've realized that having children really changes the way you look at life and they truly are the meaning of life! Okay, enough of my motherly gushing!
It's going to be a FUN week on Serendipity and Spice too! Stay tuned later this afternoon– I'll be giving away $100 Dollar Tree gift card!
Now It's Linky Party time!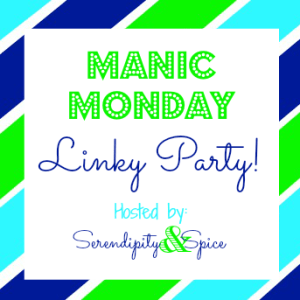 Note: Link Ups are always RANDOM at the Manic Monday Linky Party — so if you don't see yours at the bottom– have no fear– it's randomly inserted– that way everyone has equal chances at getting a feature! 🙂
By linking up you give SerendipityandSpice.com permission to feature your post using a photo, description, and link to your site.