To say we live in a technology obsessed world is an understatement. To say we live in a time of rapidly advancing technology, again, is an understatement! In order to keep up with today's fast moving landscape it's more important than ever to incorporate technology in your homeschool.
Honestly, if you're not embracing the world of tech in your homeschool, then you're going to fall behind the curve. Technology continues to pave the future and it's our job as homeschool parents to make sure our kids are fluent and ready to embrace whatever technological advances the future holds.
Today I've partnered with MYTEK LAB to share the amazing technology programs they offer to homeschoolers. Even though I've been compensated for my time, all opinions in this post are my own.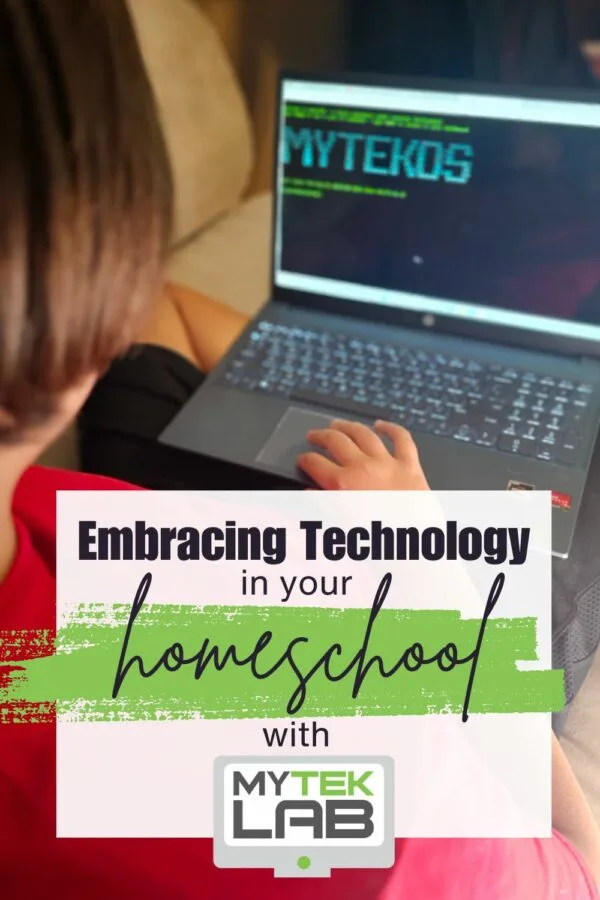 Table of Contents
Embracing Technology in Your Homeschool
For the last several decades, technology has just surpassed our wildest dreams! I remember being a kid and my dad bringing home our first "family" computer. It was this heavy, bulky, huge behemoth that only my dad was allowed to touch. My mom was ecstatic when he printed off a BIG birthday banner in dot matrix for my brother's birthday…..my how things have changed!
Now, each of my kids have their own laptop AND tablet! I regularly print off intricately designed photo quality lesson plans.
It's important that we recognize technology is only going to continue advancing beyond anything we can even imagine today. That's why I'm so passionate about setting my kids up for success and getting them immersed in understanding technology now.
As they grow up, there are going to be more and more opportunities in the fields of technology and I want them to have an advantage. So even though my oldest just started middle school, we're still diving into a full Information Technology curriculum now instead of waiting.
Why Information Technology 1 with MYTEK LAB
This year we enrolled my 6th grader into Information Technology 1 with MYTEK LAB because they offer live online technology programs for 3rd grade and up. These classes start at basic beginner courses and go up to intense Computer Science 2 classes which cover web and game development as well as Linux System Administration.
For now, we're starting with Information Technology 1 which will cover programming fundamentals, using creative applications, and web design tools. It's an intro class to get kids comfortable with the basics of computer sciences.
I have to admit, I'm impressed! On week one my son was creating a digital image of Dr. Strange for his class assignment.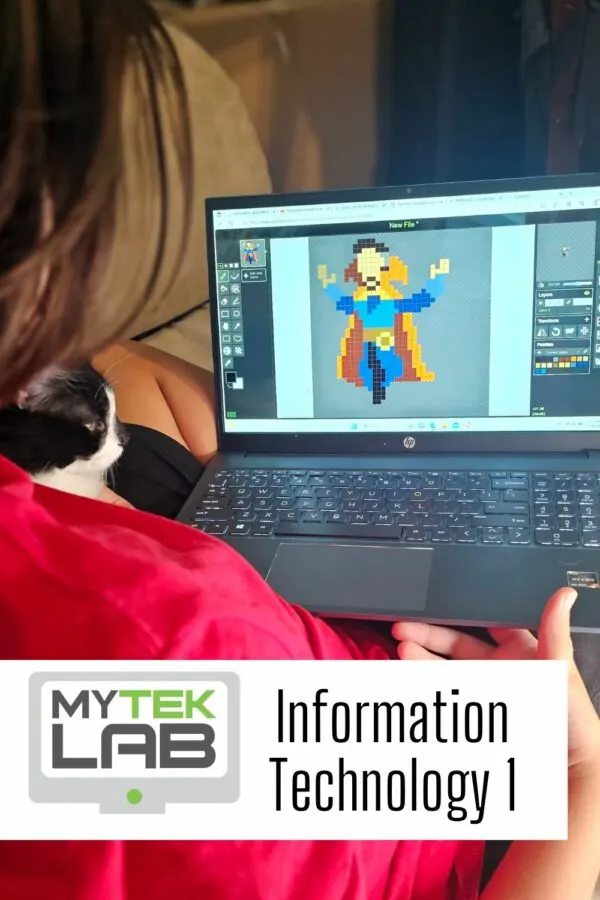 MYTEK LAB offers live classes, which is great for my son, because he needs a set time to show up every week. He's very much a creature of habit and likes things to have a certain time/place/order.
BUT, if you're child doesn't thrive in such a structured environment, then the Flex Pace classes may be the perfect fit. MYTEK LAB's Flex Pace classes allow your student to work at their own pace and watch the recorded video sessions on their time.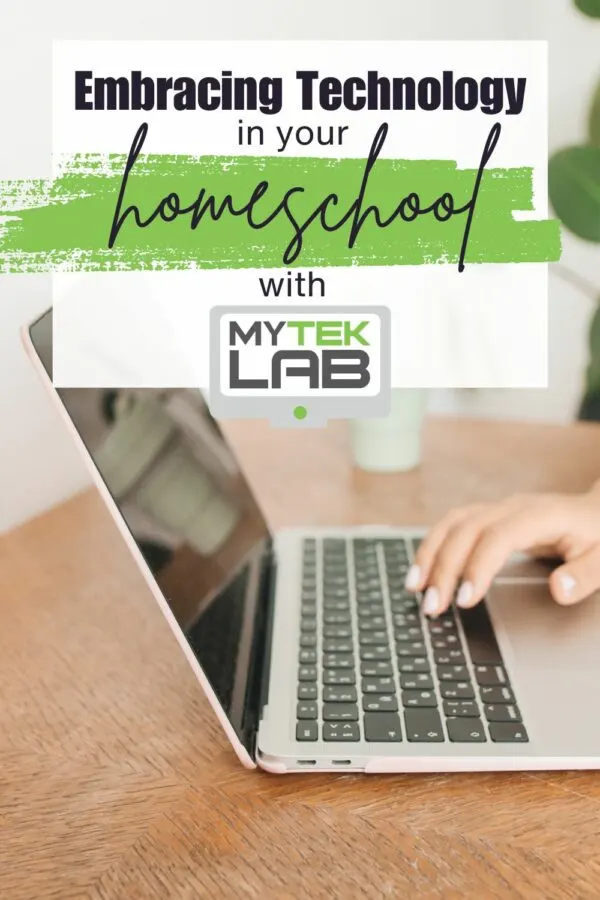 Mr. and Mrs. MYTEK LAB
The main reason my son loves MYTEK LAB is because of Mr. and Mrs. MYTEK….the creators and instructors behind MYTEK LAB. He immediately clicked with their personalities and is eager to show up for class every week.
Stephen Souders aka Mr. MYTEK has been working in computer sciences since the age of 15 and has brought his real world experience into teaching. He teaches students practical applications that encourage them to delve into the lessons and understand what they're doing beyond pressing a few buttons here and there. His wife, Jacky helped launch MYTEK LAB and works right along side Stephen in teaching the courses and engaging students.
Why Choose Flex Pace Courses with MYTEK LAB
New to MYTEK LAB is their Flex Pace courses, an option created to accommodate the diverse schedules of students. The essence of Flex Pace lies in its approach, featuring weekly pre-recorded videos and lesson releases. This empowers students with the convenience to immerse themselves in the course material at a rhythm that suits their individual timelines.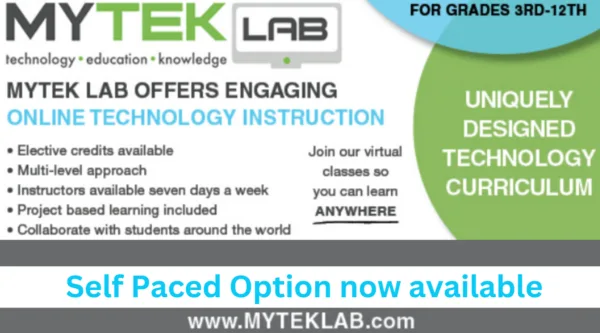 Given the rapid and constant evolution of technology, the concern of outdated study materials is a real threat. Flex Pace takes a proactive stance on this matter by consistently updating the course content. This ensures that every student has unrestricted access to the latest instructional modules and materials. Video recordings are scheduled for release every Monday.
The strategic weekly release of these recordings serves to guarantee that students always gain from cutting-edge technology education, incorporating the most recent advancements. Through Flex Pace, the constraints of assignment deadlines are eliminated, giving students additional time to complete projects.
For those seeking even greater flexibility, there's an option to choose your own course start date. Enroll today and embark on your learning journey whenever you're ready.
Getting Started with MYTEK LAB
Ready to get started? New families can contact Jacky (Mrs. MYTEK) at jsouders@myteklab.com for a discounted monthly rate of $15 dollars off of the monthly rate. Normally $49 a month, discounted down to $34 a month.