This Bacon Roasted Onion Brussel Sprouts Recipe is the easiest and most delicious Brussel sprouts recipe ever. I HATED Brussel sprouts until I made this simple side dish recipe.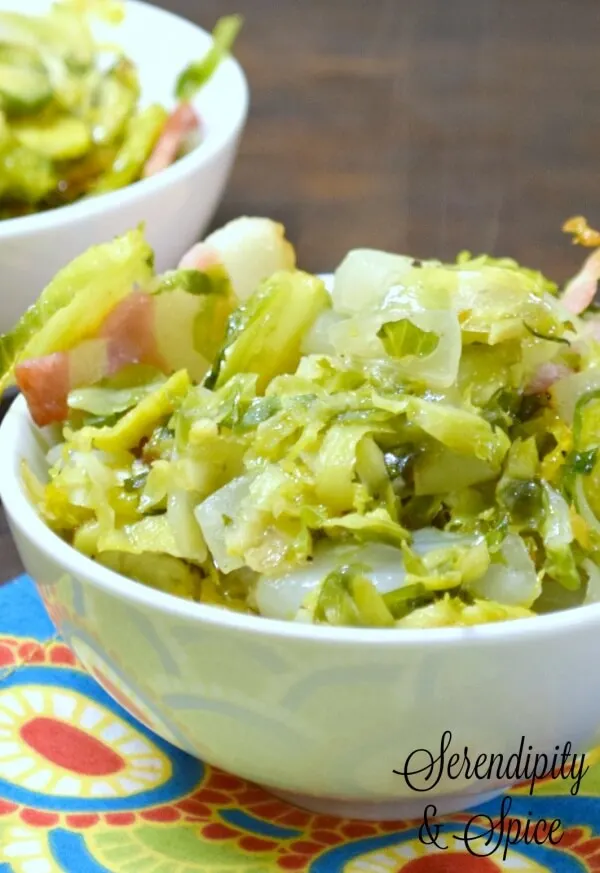 Bacon Roasted Onion Brussel Sprouts Recipe
A Simple and Delicious Brussel Sprouts Recipe
Oh….Brussel sprouts….how I have loathed you.
When you think of Brussel sprouts you don't think "delicious side dish" or "oh yeah, let's make Brussel sprouts for dinner" or "mmmmmm….Brussel sprouts…..total food porn"…..
yeah……
I can honestly say I don't think I have ever heard a single person say they LOVE Brussel sprouts.Other green veggies….yep, I've heard plenty of people say they love green beans, spinach, broccoli, peas, lima beans, butter peas, okra, etc. Heck….I love most of those. But poor poor Brussel sprouts….they are, well, the Brussel sprouts of the veggie world.
We've been working on getting healthier foods into our diet and trying out new veggies. I made this Apple and Chicken Polenta bake that's totally our new favorite one dish meal. And, a couple of months ago we delved into quinoa and fell in love with this Simple Roasted Garlic Parmasean Quinoa dish. And, I did try making Brussel sprouts on a whim and they were HORRIBLE! Note: don't boil Brussel sprouts– they're gross– they turn into little green leaf balls of mush and have a very strong taste that's just not appealing. It was so bad that we really thought that Brussel sprouts were just a vegetable that we really really really hated. That night I told Hubs that I wouldn't make him eat them again.
But, my mom kept insisting that "if cooked correctly Brussel sprouts can be pretty good".
For the last month or so, EVERY time I would go to the farmer's market those little green leaf balls would beacon to me and beg me to try them again.
I don't know what the constant allure was about….I just had this nagging feeling that there was more to those little Brussel sprouts than the dinner disaster had offered.
So today, I broke my promise to Hubs of never cooking Brussel sprouts again and bought a bag. Dun dun dun…….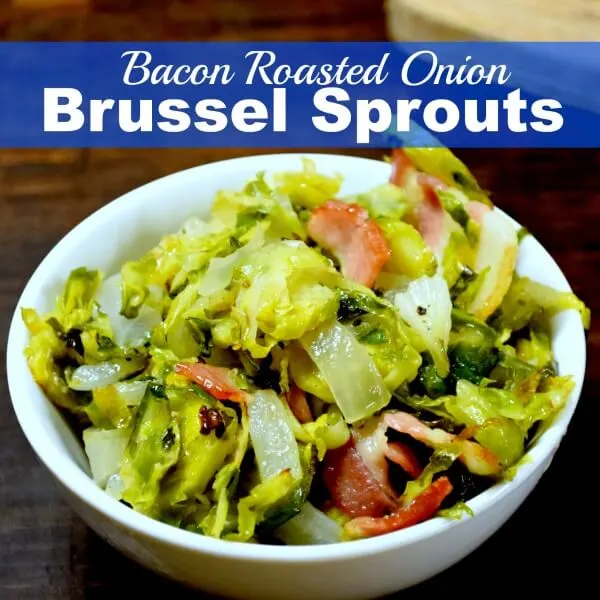 Well, when Hubs got home from work I met him at the door with a big smile on my face and proclaimed "try this…" while shoving a BIG spoonful of Bacon Roasted Onion Brussel Sprouts in his mouth.
Being used to my "try this" antics he cautiously chewed and tasted what I had given him. He responded "I have no idea what you shoved in my mouth but it's pretty good". To which I got to cheer and exclaim "I've done the impossible!! I have made Brussel sprouts taste good!!!".
Hubs couldn't believe that I had just given him Brussel sprouts to eat. He was floored that they tasted so completely different this time around and I've been given the thumbs up to cook Brussel sprouts whenever I want.
So are you ready for the recipe that will make you a Brussel sprouts convert as well?
Bacon Roasted Onion Brussel Sprouts Recipe
Bacon Roasted Onion Brussel Sprouts Recipe
Author:
Prep time:
Cook time:
Total time:
Ingredients
2 Cups of Brussel Sprouts- Chopped
1 Medium Onion- Diced
2 Slices Bacon
1/2 TBS Olive Oil
Dash Salt
Dash Pepper
Instructions
Preheat oven to 425 degrees.
Mix together Brussel sprouts and onion in a glass casserole dish.
Drizzle with olive oil and mix. (Don't add too much olive oil or you'll get mush)
Sprinkle with salt and pepper.
Cut bacon into 1″ pieces and place on top of Brussel sprouts mixture.
Bake at 425 degrees for 15 minutes.
Stir Brussel sprouts mixture and cook additional 10 minutes.
Serve hot!
So I guess bacon really does make everything better!
What is your least favorite veggie? Have you ever tried making it in a new and different way?
You May Also Like:
Stewed Tomatoes and Corn Veggie Recipe
Better than Fried Okra Healthy Recipe
Delicious One Dish Eggplant Casserole Recipe