If you're a fan of easy, quick, and incredibly tasty side dishes, you're in for a treat. Air Fryer frozen brussels sprouts is a game-changer that will take your vegetable game to a whole new level.
And when you add the irresistible flavor of bacon into the mix, you're in for a winning combination that's sure to please even the pickiest eaters.
In this blog post, we'll guide you through the simple steps to create crispy and delicious air fryer frozen brussels sprouts with bacon.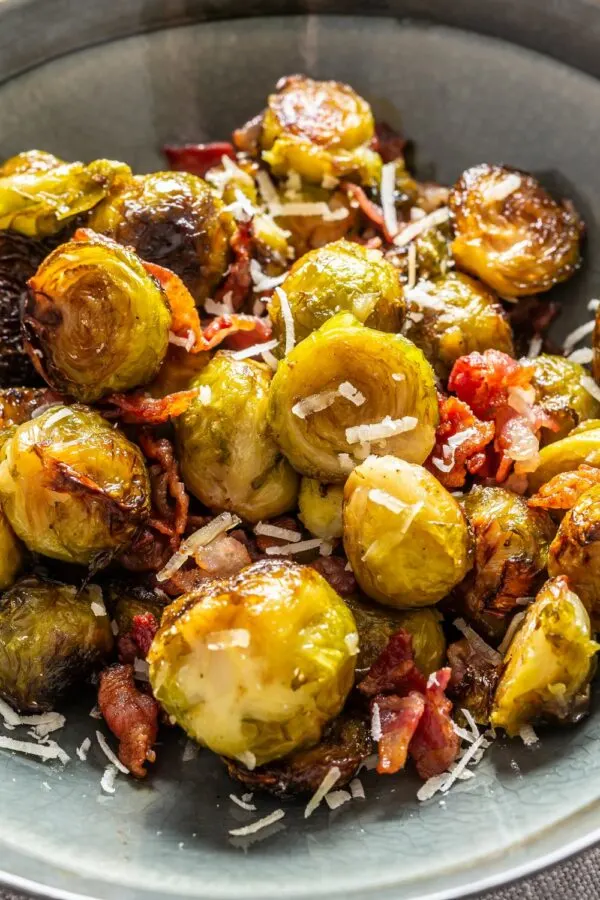 Table of Contents
Why Choose the Air Fryer for Frozen Brussels Sprouts?
Air frying is a revolutionary cooking method that uses hot air circulation to cook food to crispy perfection without excessive oil.
It's a healthier alternative to traditional frying while maintaining that desirable crunch. When it comes to frozen Brussels sprouts, the air fryer is a fantastic choice because it can transform them into crispy, caramelized bites in just a fraction of the time compared to conventional oven-roasting.
This is my favorite air fryer! I love that it has plenty of room for my family of 5 and it doubles as a toaster, pizza oven, rotisserie grill, etc. We use this more than we use our real oven or even our microwave. It heats up leftovers in a flash and keeps crispy stuff crispy instead of the mushy reheating the microwave provides.
Air Fryer Frozen Brussels Sprouts FAQs
Can I use fresh Brussels sprouts instead of frozen ones?
Yes, you can definitely use fresh Brussels sprouts for this recipe. Simply trim and halve them, and adjust the cooking time in the air fryer accordingly, as fresh Brussels sprouts may cook faster.
What if I don't have an air fryer?
If you don't have an air fryer, you can still make this recipe by roasting the Brussels sprouts in a preheated oven at 400°F (200°C) for approximately 20-25 minutes, or until they are crispy and golden brown.
Can I use turkey bacon or a vegetarian bacon substitute?
Yes, you can use turkey bacon or a vegetarian bacon substitute if you prefer a leaner or meatless option. Just follow the same steps for cooking and crumbling the bacon.
How do I prevent the Brussels sprouts from getting too dry or burnt in the air fryer?
To prevent overcooking, be sure to shake the air fryer basket or toss the Brussels sprouts halfway through the cooking time. Additionally, keeping the Brussels sprouts in a single layer and not overcrowding the basket will help them cook evenly.
Is it necessary to thaw the frozen Brussels sprouts before cooking?
Thawing the Brussels sprouts before cooking is recommended to ensure even cooking and crispy results. However, you can skip this step if you're in a hurry, but keep in mind that it may take a bit longer for the Brussels sprouts to cook through.
Can I make this recipe ahead of time?
While these Brussels sprouts are best served fresh for maximum crispiness, you can prepare the bacon and season the sprouts in advance. Then, air fry them just before serving to maintain their texture.
What dipping sauces go well with this dish?
Popular dipping sauces to serve with Brussels sprouts and bacon include honey mustard, ranch dressing, balsamic glaze, or a simple aioli. Feel free to choose your favorite or offer a variety for your guests to enjoy.
Can I reheat leftovers?
Leftover Brussels sprouts can be reheated in the air fryer for a few minutes to restore their crispiness. Be cautious not to overcook them, as they can become too dry. Store any leftovers in an airtight container in the refrigerator.
Are there any alternative seasonings I can use?
Absolutely! Experiment with your favorite seasonings and spices to customize the flavor. Try adding a pinch of smoked paprika, red pepper flakes for a hint of heat, or a squeeze of lemon juice for brightness.
Is this recipe suitable for a low-carb or keto diet?
Yes, this recipe is relatively low in carbohydrates, making it suitable for those following a low-carb or keto diet. Just be mindful of the portion size and any added toppings or dipping sauces that may contain carbs.
Printable Recipe for Frozen Brussels Sprouts in the Air Fryer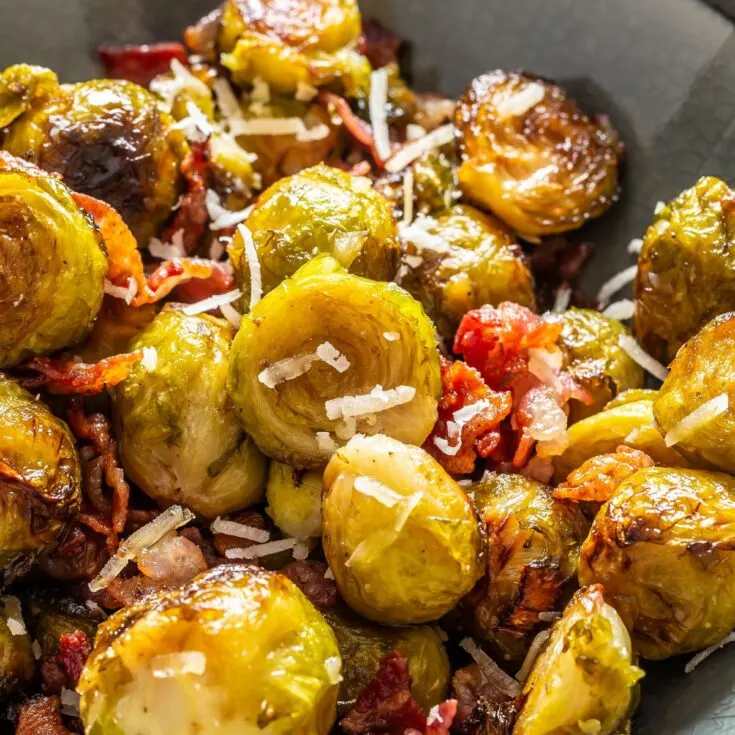 Yield:

4
Air Fryer Frozen Brussels Sprouts
Using an air fryer for frozen brussels sprouts is a total game changer. The brussels sprouts come out crispy and deliciously baked...you'll never know they were frozen to begin with!
Ingredients
1 lb frozen Brussels sprouts
4-6 slices of bacon
1 tablespoon olive oil
1 teaspoon garlic powder
1/2 teaspoon salt
1/4 teaspoon black pepper
1/4 cup grated Parmesan cheese (optional, for topping)
Instructions
Start by preheating your air fryer to 375°F (190°C).
While the air fryer is heating up, thaw the frozen Brussels sprouts. Pat them dry with a paper towel to remove excess moisture.
Cut bacon into 1" cubes.
In a large mixing bowl, toss the thawed Brussels sprouts with olive oil, garlic powder, bacon, salt, and black pepper until they are evenly coated.
Place the seasoned Brussels sprouts in the preheated air fryer basket in a single layer.
Cook for 15-18 minutes, shaking the basket halfway through to ensure even cooking. Your Brussels sprouts should be crispy and golden brown.
If you like, you can also add a generous sprinkle of grated Parmesan cheese for an extra layer of flavor.
Notes
Serve your crispy Brussels sprouts with bacon hot as a side dish, appetizer, or even as a snack. They pair perfectly with a dipping sauce of your choice, such as honey mustard or ranch dressing.
Recommended Products
As an Amazon Associate and member of other affiliate programs, I earn from qualifying purchases.
More Delicious Air Fryer Recipes to Try