Is your blog legal? Have you covered all of your legal bases? There are certain things that every blogger needs on their blog to be compliant with FCC laws and to cover themselves from potential lawsuits.
Legal Stuff for Bloggers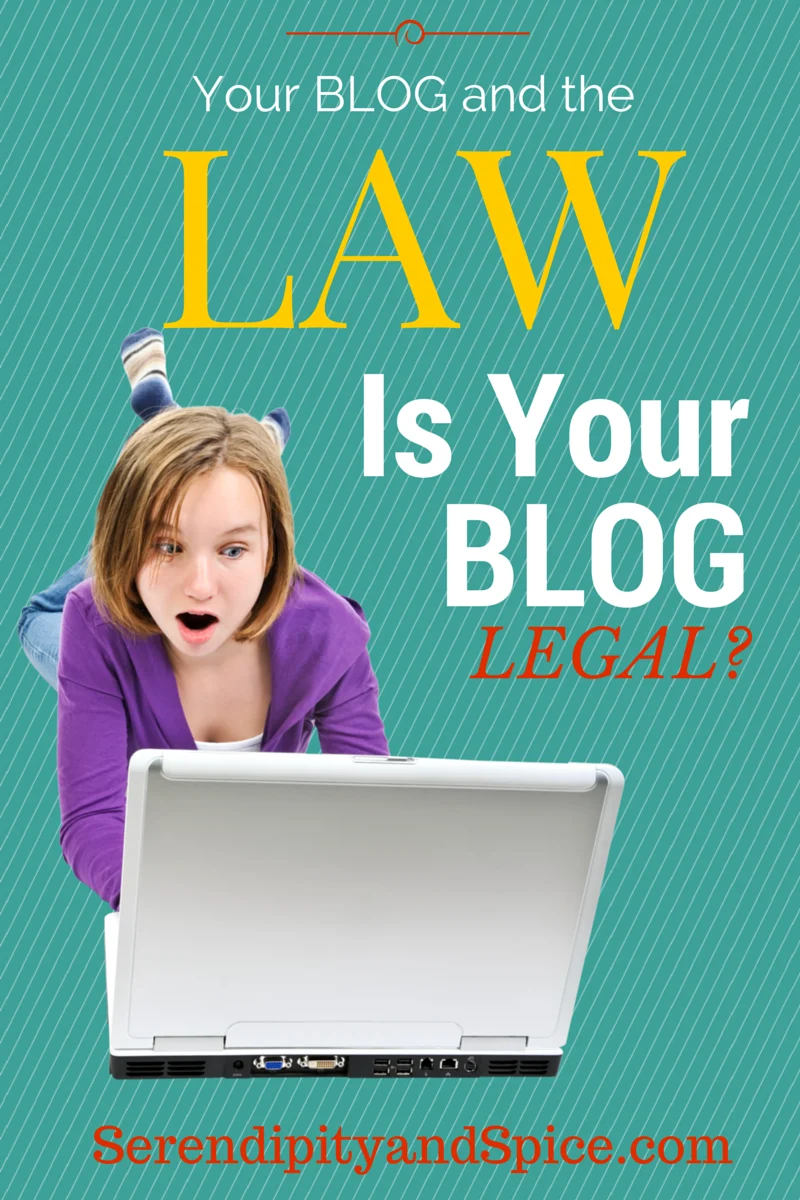 Legal Stuff
Disclaimer- I am not a lawyer. The following information is for informational purposes only. If you feel that you need legal counsel then please contact a BAR certified attorney.
Yup, believe it or not there are some legal necessities to get out of the way- who knew that being a blogger could bring about legal issues- I didn't realize until this week that you could be sued! SCARY!!
So I decided this needed to be a TOP Priority for our blogging series! Don't worry, there's not a whole lot that you have to do.
1. Copyright
First, you need to copyright your blog. You may not think you need this but you do!
So, why should I copyright my blog? I read about a blogger who's articles were copied verbatim along with the pictures and even the typos and someone else claimed it as their own with no link back to the original post. Well the site that stole the blogger's information got ranked higher and therefore received more traffic and wasn't even producing it's own content. So the original writer lost out on getting recognized for his/her work, didn't get the backlink (which increases SEO- we'll be going over this soon), and people interested in the original blogger's content were dupped. Plus, stealing is wrong and I don't think people should profit from stealing other's work. By placing a copyright on your blog you are letting potential thieves know that you don't tolerate intellectual theft! It took less than 5 minutes to place a copyright on my blog.
Go to Web Weaver and use the copyright generator for free to get a copyright. Then add an html gadget to your main page with the copyright inserted. You can see mine at the bottom of the page.
2. TOS
Now that your blog is copyrighted you need a Terms of Use/Service for your blog. This is some major legal mumbo jumbo about how you're not responsible for how people use and post on your site- but it's still legally required. You can use the free Terms of Use generator from TermsFeed. This is lengthy and comprehensive so it can be used for business sites too. I just skimmed it after it generated and took out my address and phone number because I don't want just anyone having those but I did insert my email. Once it's generated you can just cut and paste it into a new page (You want to put each of these on it's own page because that will help increase your SEO).
3. Privacy Policy
Next up is a privacy policy. A Privacy Policy is extremely important for your blog if you host any linky parties where readers will input their email or if you collect emails for a newsletter or if your blog generates cookies, etc. Basically a privacy policy for blogs says whether you will sell their emails, how often you will use their information to contact them, and so on. It's a lot more legal mumbo jumbo that I don't fully understand but luckily there's an app a generator for that! Go to http://www.freeprivacypolicy.com/ or http://www.generateprivacypolicy.com/ to generate one in less than 5 minutes. Then copy and paste it into a blog page.
4. Disclosure Policy
Do you have any ads running on your blog? Do you make money from sponsored posts? Do you receive or accept free product for sponsored posts? Do you get or want to get compensated in any way through your blog? IF so, then you need a Disclosure Policy. Many sites like IZEA require you to have a Disclosure Policy easily accessible on your blog in order to participate. You can use this Disclosure Policy Generator to easily make one. And, yet again, just cut and paste it into a page.
(Do you have an
IZEA
account yet? Do you want to make a little extra money from your blog? Click the link above and sign up for IZEA- not only do you get paid for posts but they also have social media opportunities where you can make money performing social shares.)
5. Disclaimer
Finally, you need a Disclaimer Policy for your blog.
A disclaimer policy protects you
– your rights, free speech, your content, ect. More basically, this covers your butt if someone does one of your projects (like painting their countertops) and it doesn't work right- they can't come sue you and make you pay for their DIY fail. I know a lot of this seems to overlap with each other but better safe than sorry! Luckily, yet again, there is a
free generator
that will take care of all the legal speak for you.
I urge you to please take the 30 minutes it took me to set all of this up so you are protected!
Check out these other Blogger Tips:
Update: I have received many questions regarding how to put these pages at the bottom of your blog- I made a video showing you how
here
.
What questions do you have about blogging? Leave a comment below and let me help!