"I participated in an Influencer Activation on behalf ofMom Central Consulting for Arla Dofino. I received product samples to facilitate my review as well as a promotional item to thank me for my participation."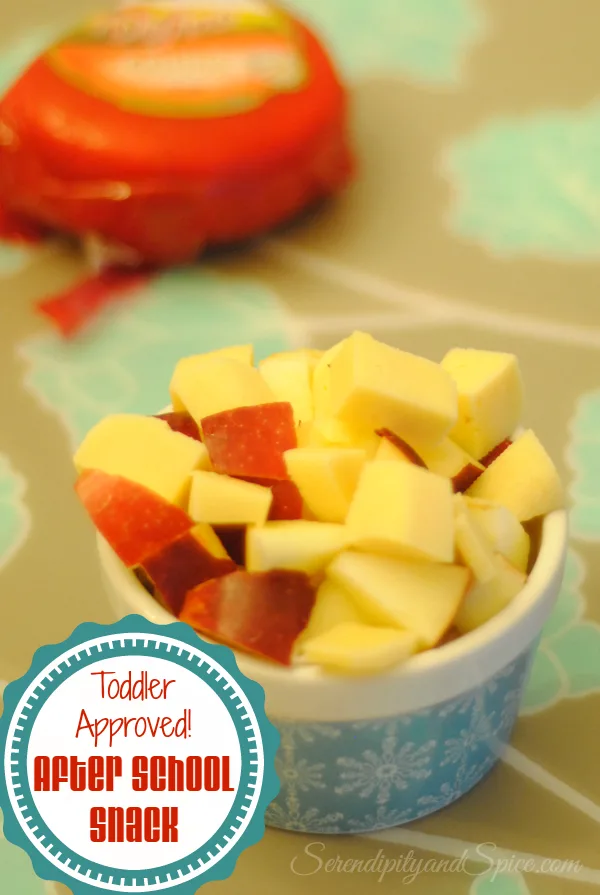 Nutritious Toddler After School Snack #HavartiParty
Toddler Approved After School Snack- Healthy, Easy, and Perfect for On the Go!
As you know, Little Man started preschool a few weeks ago. It's been FANTASTIC! He absolutely loves going and has so much fun that he's exhausted and starving by the time I pick him up. So, I've gotten into the habit of taking a simple snack that I can pass back to him on the car ride home….I want to make sure that what I'm giving him is healthy because I pick him up right before lunch and I want to make sure he's getting the nutrition he needs.
One of his favorite snacks is this fruit and cheese bowl that we make together. He LOVES being a helper in the kitchen and I'm always looking for fun recipes to make with him (make sure you check out all my "Cooking With Toddlers" posts). This is a simple recipe that we can whip together easily, place in reusable containers in the fridge, and he has snacks for the whole week…..and it's snacks that I don't mind him eating as much as he wants!
I prefer Arla Dofino cheeses…we LOVE their Gouda and Havarti! Arla Dofino cheeses are a good fit for our family because they're free of added horomones and full of all natural ingredients…it's an all natural cheese that I feel good feeding my family. Their Gouda cheese is my absolute favorite…it's so fresh and creamy (you can check out my Gouda Mac & Cheese recipe here). I like knowing that when I buy Arla Dofino cheeses I know exactly where the product is coming from.
Arla Foods is a cooperative owned by the dairy farmers and has been produced for the last 100 years in Kaukauna, Wisconsin. If you're interested in finding out if Arla Dofino cheeses are sold near you then check out their store locator…you can usually find them in the deli section of select Sam's Clubs, BJ's Clubs, Walmart, Target, etc. I'm always easily able to find them in my local Food Lion.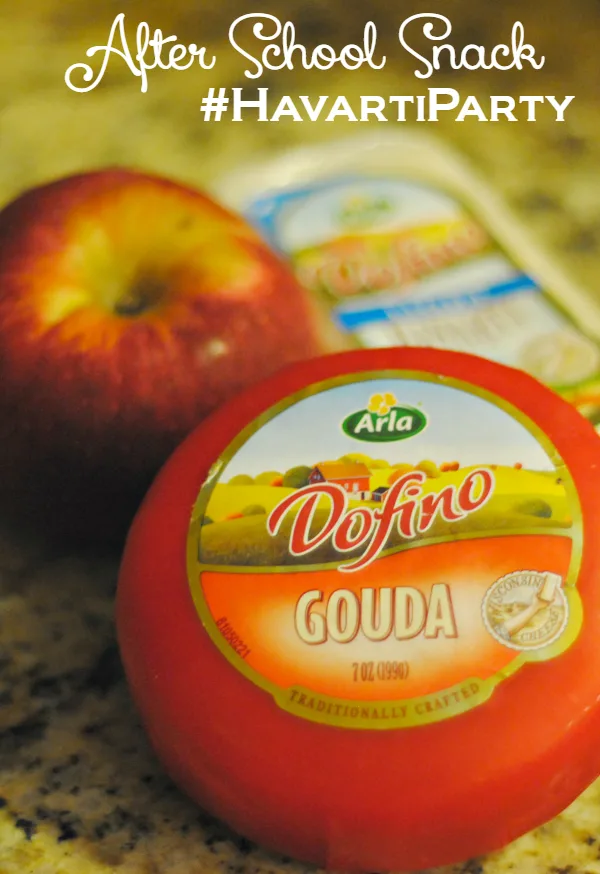 For this super simple after school snack you just need 2 ingredients! I will take a wheel of Arla Dofino Gouda cheese and slice it into cubes. Then I'll take about 4 apples and slice them in to cubes as well. Little Man gets the awesome job of mixing together the cheese and apples….we make a big to do about it and get out a big bowl with a wooden spoon so he can mix everything really well! 😉 Make sure you use airtight containers so the apples don't turn colors from the air.
I'm a HUGE advocate for getting your kids in the kitchen and teaching them to cook….no matter what age they are! Getting kids in the kitchen is not only fun but it's educational, a great bonding experience, and a big self esteem builder! It may take a few extra minutes and an extra dirty dish or two but the rewards are so much more substantial….so get in the kitchen with your kids and have fun!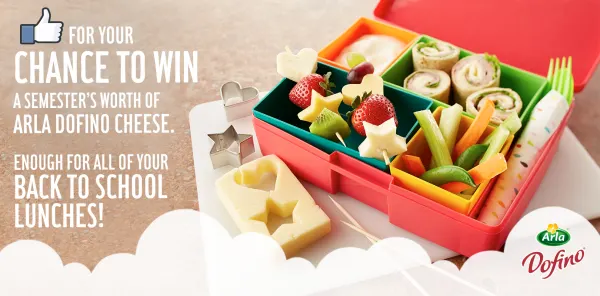 Through October 4th, Arla Dofino is hosting a Snack to School Giveaway where you can win an entire semester's worth of free Arla Dofino cheeses! Perfect for all of your Back-to-School lunches! To enter just fill out the entry form and "like" Arla Dofino on Facecbook.
And for more yummy recipes make sure you follow Arla Dofino on Pinterest!
I'm always trying new cheeses. What's your favorite cheese? Share in the comments below!