A creamy, dreamy bowl of Thai Style Pumpkin Soup is exactly what you need to feel warm and cozy on nippy Fall nights. Packed with nutrients and healthy fats, this soup is just as nutritious as it is delicious.
Thai Style Pumpkin Soup
Hi! This is Progna from A Whiff of Spice and it is so good to be back on Serendipity and Spices with this cozy and comfy soup that will surely warm you heart, body and soul.
Pumpkin is synonymous with Fall and what better way to enjoy this ridiculously nutritious vegetable than spicing it up with Thai Red Curry and then bending it with creamy coconut milk!
Homemade Pumpkin Puree
It is an incredibly easy soup and comes together in no time. Just pop open a few jars and cans and the soup is ready in less than 30 minutes. Perfect for crazy weeknights. I love to use Homemade Pumpkin Puree, whenever I can. The canned stuff is good. But homemade is even better! It is awfully easy too.
Chop. Roast. Puree. 3 simple steps to your very own bowl of pumpkin goodness. Check out the full post on how to make your own Homemade Pumpkin Puree.
Creamy dreamy Thai Style Pumpkin Soup is packed with nutrients and healthy fats. This soup is just as nutritious as it is delicious. Perfect for chilly fall nights!
Ingredients
1 (13.66 oz.) can of full fat Coconut Milk
2 tablespoon of Thai Red Curry Paste
4 cups of Vegetable Broth
1 medium sized Onion, diced
3 cloves of Garlic, minced
1" knob of fresh Ginger, minced
1/2 teaspoon of Cayenne Pepper or Paprika
2 tablespoon of Coconut or Olive oil
Salt and freshly cracked pepper to taste
Toasted Pepitas (Pumpkin Seeds) and
a small handful of cilantro to garnish
Instructions
In large saucepan, heat the oil over medium heat and add the diced onions, minced ginger and garlic.
Sauté till the ginger and garlic is fragrant and the onion is translucent.
Add the Thai red curry paste cook till the raw smell is gone.
Add the pumpkin puree, vegetable broth and half a teaspoon of Cayenne pepper. Substitute paprika, if you prefer less heat.
Bring it to a boil and then lower the heat to simmer. Let it simmer for 5 minute. This will let the flavors mingle with each other.
Puree the soup using a stick blender. Or puree it in batches in a regular blender or food processor.
Return the blended soup to medium heat. Add the can of coconut milk. Season with salt and pepper. Cook, stirring occasionally, for 5 to 6 minutes or until heated through.
Ladle into bowls and garnish with cilantro and toasted pepitas.
Delicious and Nutritious
Pumpkin is an extremely nutrient dense food. It is chock-full of vitamins and minerals. High in fiber but pretty low on calories, pumpkin is a rich source of vitamin A. It is one of the best-known sources of the antioxidant, beta-carotene too. The potassium contained within pumpkins can have a positive effect on blood pressure. The antioxidants and vitamins contained within pumpkins could prevent degenerative damage to the eyes.
The fat in coconut milk is rich in Lauric Acid, a form of medium chain saturated fatty acids (MCFAs). Lauric acid is converted in the body into a highly beneficial compound called monolaurin, an antiviral and antibacterial that destroys a wide variety of disease causing organisms.
This Thai Style Pumpkin Soup is chock-full of vitamins and minerals and healthy fats. It is just as nutritious as it is delicious.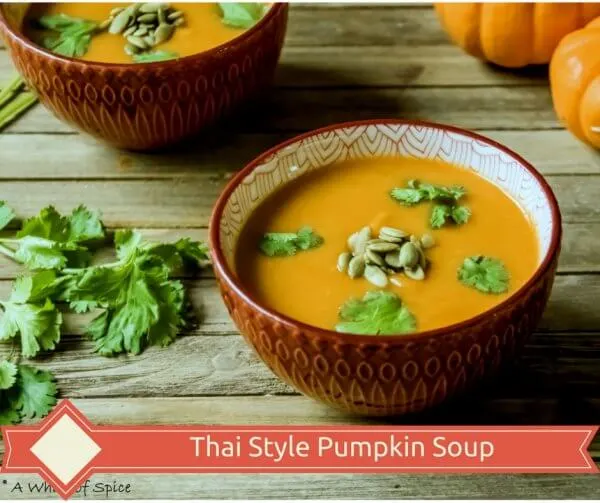 Silky smooth, warm and aromatic with just a hint of spice and heat, the Thai Style Pumpkin Soup is like a cozy blanket, engulfing you in its warmth. It is naturally gluten free. It is vegan. Diabetic friendly too. Not to forget, it's divinely delicious.
Nippy fall night is a perfect excuse for me and my family to cozy up to this bowl of creamy goodness. What's your favorite thing to eat or drink on cold fall nights?
Find Progna on