Start a new tradition this holiday season with Santa's Library. Reading is fundamental for kids and these Christmas books for kids are perfect to read during the holiday season!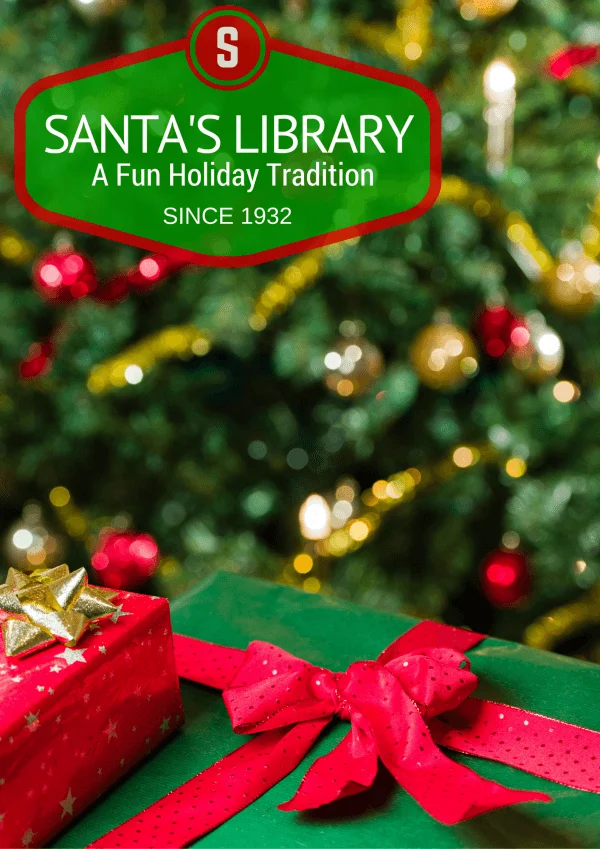 Santa's Library- Christmas Books for Kids
Start a New Fun Holiday Tradition
Last year I started a new Christmas tradition that I like to call Santa's Library. See, on December 1st our elves Evie and Elfie arrive and they're arrival not only kicks off the season of magic but they bring a few surprises along with them. Evie and Elfie don't arrive until after dinner when the kids are taking a bath. Those stealthy little elves sneak into Little Man's bedroom and surprise him with an early Christmas package and a chest full of Christmas books.
Inside the gifts are two new pairs of Christmas PJs (Walmart has a great deal on super cute PJs!!)– the elves bring two pairs so that there is always one clean pair for the kids to wear throughout the holiday season….if there's an awesome sale then sometimes the elves bring 3 sets of PJs to help mom out with the laundry. 😉
Then inside the magical chest (Hobby Lobby has a great selection of Christmas chests) is Santa's Library. Every few days the elves will swap out several books in Santa's Library for us to read as a family each night. The first year we had Santa's Library the super overachieving elves wrapped every single book so Little Man had a gift to unwrap every night during the 25 Days of Christmas….but they realized that this took a LOT of time and they just didn't have the energy to keep up with the additional wrapping. So, last year they started the Christmas Magic Treasure Chest with Santa's Library. Since all the books don't fit in it at once the elves simply go to the North Pole and exchange 4-5 books every couple of days.
The kids LOVE checking out the new books that the elves bring every few nights!
There are so many good Christmas books for kids that I've compiled a list of some of our favorites!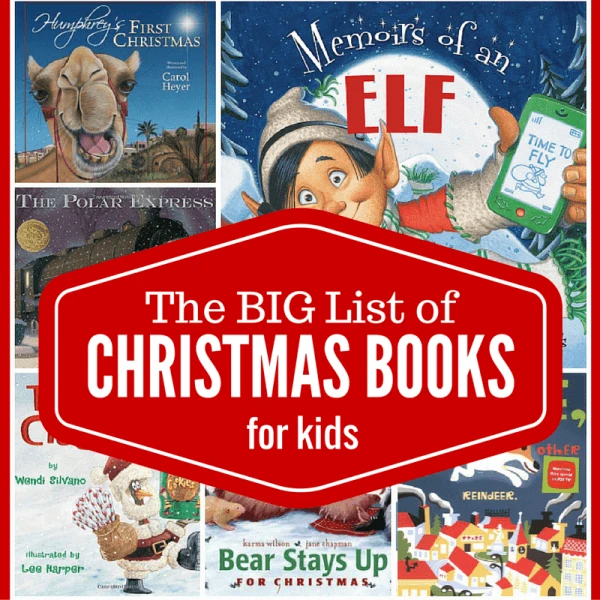 If you have a preschooler then Pete the Cat is a MUST HAVE! My son absolutely adores all of the Pete the Cat books….so he'll be getting this one on the first night of Santa's Library! It's an adventure about a cat named Pete who is on a quest to save Christmas for his family.
Legend of the Christmas Stocking
This wonderful Christmas tale, set in the late 1800s, shares the touching story of a young boy named Peter. He sells newspapers to help his family while his father is away at sea, and he's been saving a bit of his earnings to buy a model schooner in the woodworker's shop. But after Uncle Jim, the woodworker, tells him the story of St. Nicholas, Peter discovers the meaning behind the hanging and filling of Christmas stockings and learns a heartfelt lesson in kindness and generosity.
LEGO City: Save This Christmas!
A few crooks are coming up with a plan to steal all the presents at the LEGO City town tree. After several days of hilariously unsuccessful attempts–Christmas Eve has arrived and the crooks make their last attempt to steal all the presents. They creep towards the tree in the dark only to find themselves in the middle of the tree lighting ceremony! The tree is lit, the crooks are carted off to prison, and Christmas is saved!
From the creators of the New York Times bestsellers How to Babysit a Grandpa andHow to Babysit a Grandma comes an equally charming and hilarious holiday offering!
After waiting for days and days and days, it's finally Christmas Eve. And that's when you can try to catch Santa. . . .
Me and My Dragon: Christmas Spirit
Christmas is coming, and our young hero wants to buy his best friend, Dragon, the perfect present. He and Dragon take job after hilarious job, earning enough to buy a deluxe Knight Boy action set—but they eventually realize that the best part of Christmas is sharing what you have with those in need.
The Pups Save Christmas! (Paw Patrol)
Another preschooler MUST HAVE! Little Man doesn't miss an episode of Paw Patrol on Nickelodeon so this fun book will be waiting in Santa's Library as well! It's up to the pups of Nickelodeon's PAW Patrol to save Christmas in Adventure Bay!
I Spy Christmas: A Book of Picture Riddles
This "I Spy" book uses rhymes and riddles to help children find different Christmas treasures that are hidden on each vibrant page. A photographic puzzle book features rhyming riddles that invite young readers to locate hidden objects — clocks, nickels, pickles, frogs, and others — among double-page spreads filled with holiday delights.
The Berenstain Bears' Night Before Christmas
Bring back your childhood memories with the Berenstain Bears! Mama, Papa, Sister, Brother, and Honey Bear are back in this heartwarming retelling of Clement Clarke Moore's classic Christmas tale. It is the night before Christmas, and all through the tree house . . . the Berenstain Bears are ready to celebrate!
Christmas in America (Ellis the Elephant)
Ellis the Elephant is back! In Christmas in America, the fifth in Callista Gingrich's New York Times bestselling series, Ellis discovers the meaning of Christmas and learns how this special holiday has been celebrated throughout American history.
The Berenstain Bears and the Joy of Giving
In The Berenstain Bears and The Joy of Giving Brother and Sister Bear can't wait for Christmas and all the presents they'll open. But during the Christmas Eve pageant, something special happens! The Bear cubs learn a very valuable lesson about the joy of giving to others.
Santa's Favorite Story: Santa Tells the Story of the First Christmas
Discover the true meaning of the holidays with Santa's Favorite Story. Through the eyes of Santa your child will learn that Christmas is not about the BIG man in red and presents it's about Jesus.
Have you ever wondered what Santa did before he was Santa?
When Santa was young and needed a job, no one was looking for a man in a red suit to deliver gifts on Christmas. So Santa tried just about everything — from a chimney sweep to a postman to a circus performer. But none of these worked out. It wasn't until he met a group of elves who helped him use all his special talents, that Santa was able to find his dream job.
Little Critter Merry Christmas Mom and Dad
Mercer Mayer's very popular character stars in a getting-ready-for-Christmas picture book. Little Critter approaches Christmas with the intention of being a good helper. When he makes a mistake, he has a logical explanation. He couldn't wrap the Christmas package because the tape got too sticky. He couldn't buy his parents a present because there were too many toys to look at. He couldn't put up the tree lights because they were just too tangled. Little Critter means well, but every funny illustration shows him as tangled up as the Christmas lights.
The Carpenter's Gift: A Christmas Tale about the Rockefeller Center Tree
This new classic Christmas gift book "brings together two great traditions: the Rockefeller Center Christmas tree and the neighbor-helping-neighbor program of Habitat for Humanity." Opening in Depression-era New York City, The Carpenter's Gift tells the story of eight-year-old Henry and his father selling Christmas trees. They give a Christmas tree to construction workers building Rockefeller Center and celebrate together.
Another MUST HAVE….especially if you're planning a trip on THE Polar Express. We ran out of time this year but we will definitely be going next year! A young boy, lying awake one Christmas Eve, is welcomed aboard a magical trip to the North Pole . . .
Little Teeka thought she had to be firm with the reindeer to get them ready for Santa's important flight, but when her bossy yelling only got their antlerstangled up, she knew she had to try something different.
Olive is merrily preparing for Christmas when suddenly she realizes "Olive… the other Reindeer… I thought I was a dog. Hmmm, I must be a Reindeer!" So she quickly hops aboard the polar express and heads to the North Pole.
Okay, so I just can't look at this book without picturing the camel saying "Do you know what day it is??" So this will definitely be strategically placed for a Wednesday night read! We've all heard the story of the three wise men who brought their gifts to Baby Jesus. But what about the camels who carried them? Here is the story of Humphrey the camel and his long, cold journey to Bethlehem.
The Christmas Miracle of Jonathan Toomey
Jonathan Toomey is the best woodcarver in the valley, but he is always alone and never smiles. No one knows about the mementos of his lost wife and child that he keeps in an unopened drawer. But one early winter's day, a widow and her young son approach him with a gentle request that leads to a joyful miracle.
The tree was so tall, it couldn't stand up straight in his parlor. Mr. Willowby asked his butler to chop off the top of the tree. What happens to the treetop? Where will it be for Christmas? Snuggle up with this story and follow along through a forest full of friendly creatures who get to share in a bit of Christmas joy.
When Wilma decides her garden needs a new beginning, she gathers string, scissors, shovels, sixty-two dozen balsam seedlings, and Parker, her five-year-old neighbor. Year after year, Wilma and Parker nurture their trees, keeping careful count of how many they plant, how many perish, and how many grow to become fine, full Christmas trees.
The Biggest Christmas Tree Ever
Get ready for the newest installment of the New York Times Bestselling Biggest Ever series!
It's the day after Thanksgiving, and Clayton and Desmond feel the chill in the air. The cool weather makes them think of Christmas . . . and Christmas makes them think of Christmas trees! Who'll find the biggest one?
This snappy and entertaining companion to the New York Times bestseller Snowmen at Night depicts all the best parts of the holiday, replete with icy treats and a snowman Kris Kringle.Told in the same bouncy verse as the original, Snowmen at Christmas is perfect for a snowy evening read-aloud.
This playful picture book answers the age-old question: Just how does Santa shimmy up and down chimneys? Not very easily sometimes! When the rotund fellow with a sweet tooth overdoes it on the snacks, he gets stuck inside a chimney.
It's Christmas Eve and Spark Elf has the very important job of keeping Santa Claus on schedule as he travels the globe in 24 hours delivering presents. Small in stature with pointy ears and stopwatch in hand, Spark lets Santa know it's time to go. He programs the GPS while the other elves secure the toy bag and check the Nice list. Little known fact: We don't even bring the Naughty list with us. Dun dun dun….
Auntie Claus is just another eccentric New Yorker–or is she? Young Sophie has often wondered about her unusual great-aunt, Auntie Claus. She lives in penthouse 25C at the Bing Cherry Hotel and is so curioso! After all, Auntie Claus serves Christmas cookies all year long and her tree is always the best-decorated in the city. And then there's her annual "business trip," right around the holidays. This year Sophie is determined to get to the bottom of Auntie Claus's mysterious ways.
A Pirate's Night Before Christmas
Come aboard, young mateys, for a humorous, colorful, and thoroughly piratical retelling of "The Night Before Christmas!" On a ship of mischievous brigands—who have visions of treasure chests, not sugar plums, dancing in their heads—
A new holiday classic from the #1 bestselling creator of Otis and the illustrator ofThe Little Engine That Could
It's Christmas eve on the farm where Otis and all of his friends live.
Splendiferous Christmas (Fancy Nancy)
What could be fancier than Christmas?
Presents with elegant wrapping paper, festive decorations, Christmas cookies with sprinkles—and who could forget the tree? After all, there is no such thing as too much tinsel. Ooh la la! This year, Nancy is especially excited about decorating the Christmas tree. She bought a brand-new sparkly tree topper with her own money and has been waiting for Christmas to come. But when things don't turn out the way Nancy planned, will Christmas still be splendiferous?
In the tradition of The Snowman, The Polar Express, and the many books of Jan Brett this cozy Nordic tale filled with extraordinary photographs will have readers of all ages believing in the magic of Christmas. This is one to pull out every year and savor.
Turkey needs Santa's help so he won't be eaten for Christmas dinner.
Turkey is in trouble. Again. He made it through Thanksgiving without becoming a turkey dinner, but now it's almost Christmas, and guess what's on the menu?
How the Grinch Stole Christmas!
My favorite Christmas story of ALL time! No holiday season is complete without the Grinch, Max, Cindy-Lou, and all the residents of Who-ville, in this heartwarming story about the effects of the Christmas spirit on even the smallest and coldest of hearts.
The Littlest Christmas Tree wants to find a home for Christmas in this companion to the bestselling favorite The Littlest Pumpkin.
Little Golden Book retelling of the classic 1964 holiday TV special, Rudolph the Red-Nosed Reindeer. All of the other reindeer make fun of Rudolph and won't let him play in their reindeer games because he's different. But when Christmas is almost cancelled because of a huge snowstorm, Rudolph comes to the rescue with his wonderful shiny red nose.
Frozen Olaf's Night Before Christmas Book & CD
Read along as Olaf has the adventure of a lifetime with a mysterious stranger in red.
Twas the Night Before Christmas
And who can forget the age old classic…a MUST for Christmas Eve!
What's your favorite Christmas book? Share in the comments below!
You May Also Like: