Celebrate a Disney Christmas with this list of fabulous Mickey Mouse Christmas decorations. Show your DisneySide this Christmas and enjoy a Disney Christmas!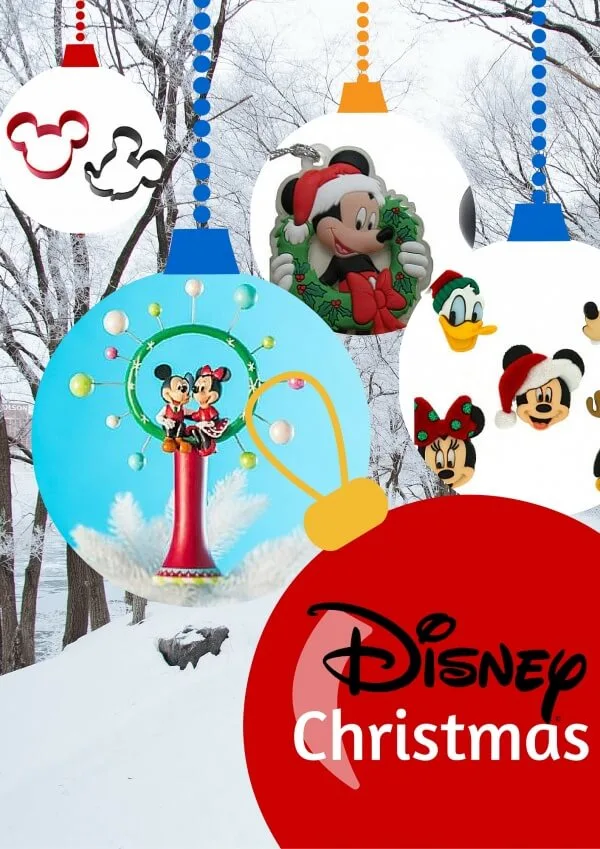 A Disney Christmas
Celebrate the Holidays with Mickey and Friends!
So you all know….I'm a TOTAL Disney dork….just ask Hubs! But that's okay…I totally embrace my Disney dorkiness and I'm okay with that. This year the kids actually have a Mickey Mouse Christmas tree in their playroom because I adore Christmas and Mickey equally!
For Little Man's first Christmas, Hubs took us to Mickey's Very Merry Christmas Party because I told him how it was something that I had always wanted to do. There is no place like Disney for the holidays! Disney definitely knows how to do Christmas!!
Right after Halloween each year the Magic Kingdom is transformed into an old fashioned holiday town. Every inch of Main Street is decorated with Christmas decorations featuring that famous silhouette….Mickey Mouse….or as little man calls the Mickey outline….Toodles. They actually pipe in the smell of peppermint and fresh baking sweets. And you'll even get a glimpse at some snow wafting through the air as you walk down Main Street. The whole experience is amazing and I highly recommend making a trip for Mickey's Very Merry Christmas Party…but since that's not always feasible you can always just bring the Disney magic home this Christmas season!
Here are some of my favorite Disney Christmas decorations.
Mickey and Minnie Mouse Christmas Tree Topper
I LOVE this tree topper…it's so stinking adorable!
Walmart has all of their Hallmark Disney ornaments on roll back starting at $5.97!
Wilton Mickey Mouse Cookie Cutter Set
These are fun for anytime of year! You can make delicious cookies like these Mickey pumpkins for Halloween and Thanksgiving or use them to cut fun shapes into you're child's sandwich. Little Man LOVES getting Mickey peanut butter sandwiches in his lunch bag.
Hallmark Disney Mickey Mouse Photo Frame Christmas Ornament
Inflatable Olaf with Palm Trees Yard Decor
Our neighbors had this set up last year and Little Man absolutely loved driving by and looking at it!
Disney Mickey Mouse Ears Kids Santa Hat
Mickey's Once Upon A Christmas/ Twice Upon a Christmas Movie Set
This is Little Man's FAVORITE Christmas movie set…..okay, I admit…..it's one of my favorites too! Last year we watched these every single day in December!
Mickey's Magical Christmas: Snowed in at the House of Mouse
Another fun Christmas movie set….we haven't seen this one yet but I'm definitely getting it this year!
Disney Mouse Ears 18″ Velour Christmas Stocking with Plush Cuff
I just love these adorable stockings! My mother in law has an embroidery machine and I know she could add all of our names to make them extra special!
Disney's Very Merry Christmas Sing Along Songs
We love sing alongs around here….so this was a no brainer!
Mickey's Christmas Carol 30th Anniversary – Special Edition
This is my all time favorite Christmas movie! I remember watching it as a kid and now I watch it with my own kids.
Mickey and Friends Advent Calendar
A fun way to countdown to Christmas. I love that this one has little drawers where you can hide a few little treats…it's so cute for the mantle.
Disney Button & Embellishments, Holiday Heads
Disney Mouse Ears 18″ Velour Christmas Stocking with Plush Cuff (Minnie Mouse – Pink)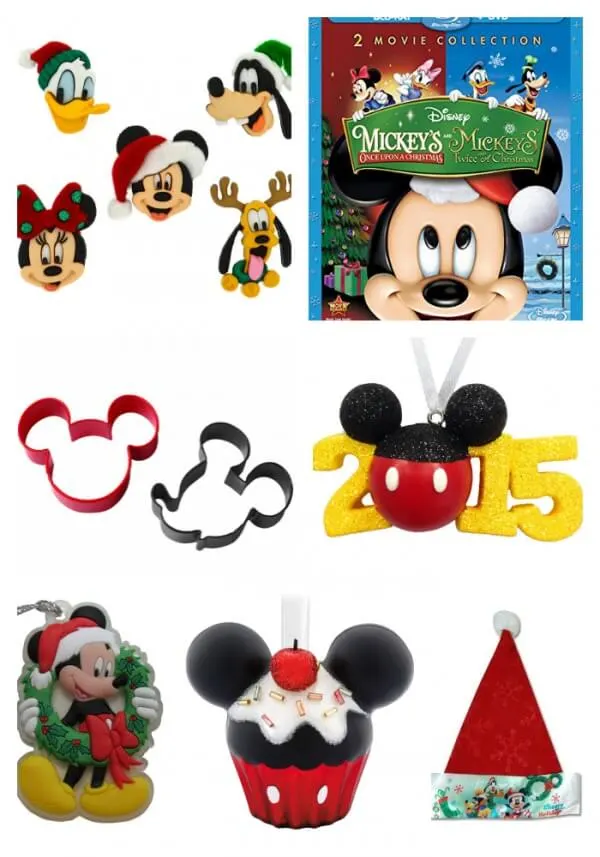 Disney Minnie Mouse Pink 16″ Satin Christmas Stocking
Disney Mickey Mouse 18 inch Christmas Stocking
Disney Mickey 16″ Felt Christmas Stocking with Printed Satin Cuff & Hangtag
New Disney Mickey Mouse & Friends 4 Pck Christmas Wrapping Paper
Wrap up all the gifts in this festive wrapping paper!
Mickey Mouse Flies the Christmas Mail (Little Golden Book)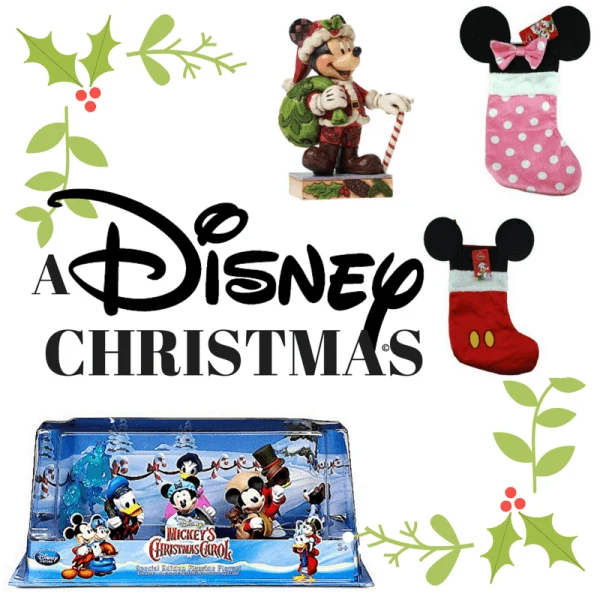 A perfect addition to Santa's Library (if you haven't started one of your own yet this year is the perfect time!)
Mickey Mouse Foil Gift Tags – 16 Peel 'N Stick Tags
Mickey's Christmas Carol Play Figurines
Disney Showcase Christmas Mickey Figurine
Disney Mickey Mouse Kids 16″ Felt Christmas Santa Hat with Satin Cuff – Red
Disney Tree Skirt (Disney Parks)
This is my favorite tree skirt. Every time I see it at the Christmas Shop in Downtown Disney I debate buying it….but now I can just get it off Amazon….YEAH!!
Disney Mickey Mouse Sledding Fun Musical Singing Animated Christmas Plush
Airblown Minnie In Winter Outfit Inflatable
What's your favorite Christmas decorating theme? Share in the comments below!
You May Also Like:
Santa's Favorite Cookie- Bourbon Glazed Peppermint
Chai Latte Snickerdoodle Cookies
Peppermint Kiss Blondie Bites Recipe
Candy Free Stocking Stuffer Ideas Under $10