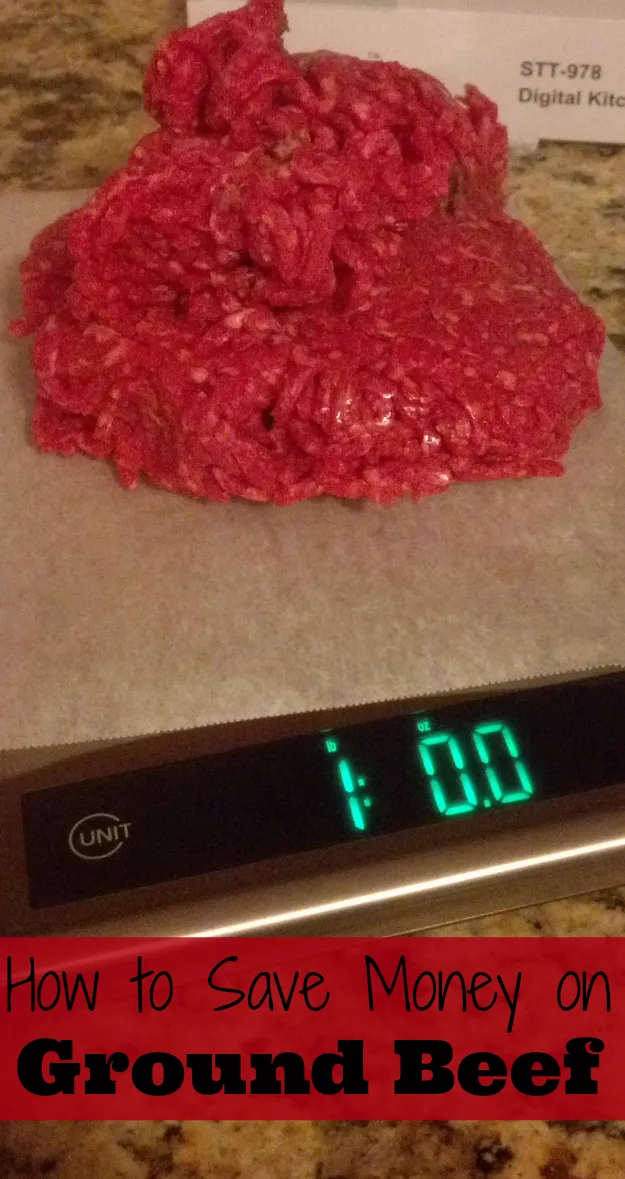 How to Save Money on Meats
And less trips to the grocery store!
So you know I'm always looking for ways to save my family money, save myself time, and put together easy dinners in a flash. Well today I'm sharing how to save money on meats….I do this every month and it really has helped my family not only save money but eat better. We started buying meat in bulk about 3 years ago and freezing it and the benefits are amazing!
When you buy meats in bulk you'll save money per pound and get a higher quality meat. I buy a lot of my meats from Sam's Club and now Zaycon Foods because the quality and the price is so much better than any grocery store. At Sam's Club I can get 90% lean ground beef for $3.19 a pound….normally this runs about $4.59 a pound in the grocery store. BUT, recently I have discovered Zaycon Foods and have started purchasing through their events. They offer 93% lean antibiotic horomone free ground beef for $3.99 a pound. To me it's worth the little bit extra money to get such high quality beef…I mean this beef runs about $6-$7 a pound in the store. The only catch is that when you purchase from these places you do purchase in bulk and will need to separate and freeze the beef so it will last.
Today, I'm going to share with you how I store ground beef. Check back because I'm going to be sharing with you about how I buy/store chicken in bulk too and only pay $1.89 a pound for all-natural, fresh from the farm chicken.
For starters we do have an extra freezer in the garage….but I'm going to show you how I package my beef for ultimate space saving….we didn't always have the freezer…I was able to do this when we had our regular freezer that's attached to the fridge…you just can't do the HUGE packages. But, if you're thinking of purchasing the large case from Zaycon for the higher quality then I would suggest grabbing a friend or two and splitting it up– if you don't have a freezer– otherwise get your own case– you'll be really happy you did.
Okay, so after you decide how much freezer space you have and how much food you are going to buy make sure you have Freezer Ziploc bags….and plenty of them! You can use the off brand but I've found the Ziploc does the best with keeping freezer burn away. I get the quart size and the gallon size….I use both because I'm super OCD about freezer burn….I hate it! 😉
Once you have all of your supplies your going to need a kitchen scale. I highly recommend the Surpahs Touch Anti-Fingerprint Digital Kitchen Scale. This is the perfect little scale for the kitchen….it's stylish, it's slim, it stores easily, it's very accurate, and it's so versatile.

I like this little scale because I can easily store it away without taking up too much precious kitchen cabinet space. It's also great because it has a simple touch screen that lets you change metrics and you decide what unit you want it to measure in. The sleek stainless steel design is another plus and I LOVE that it's anti-fingerprint
…an absolute must in our house!
Once I have all of my supplies together I grab a little piece of freezer paper or wax paper to place over the scale and I begin separating the meat by weight.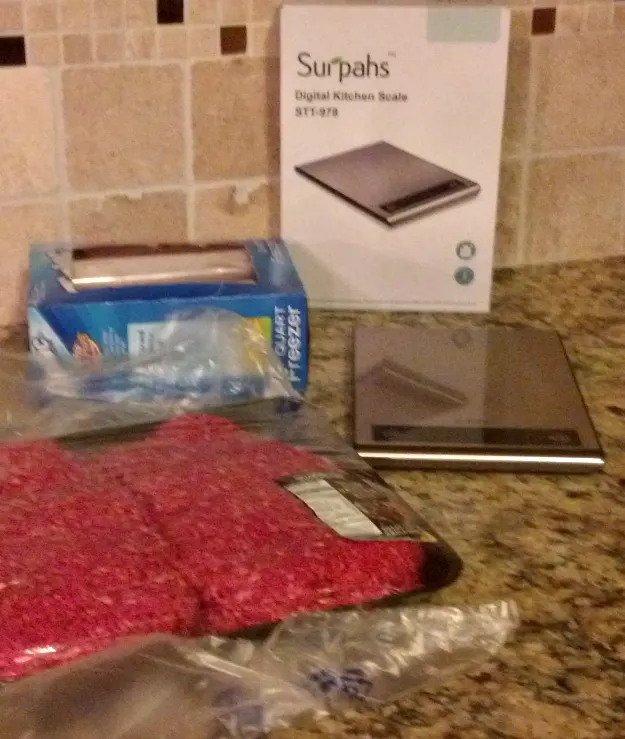 I always separate ground beef into 1 lb portions because that's what most recipes call for…if I'm feeding friends and family too I'll just grab 2 packages but 1 pound seems to be the perfect weight so far…and it fits perfectly into quart size freezer bags. Don't you love the bright digital display on the Surpahs kitchen scale?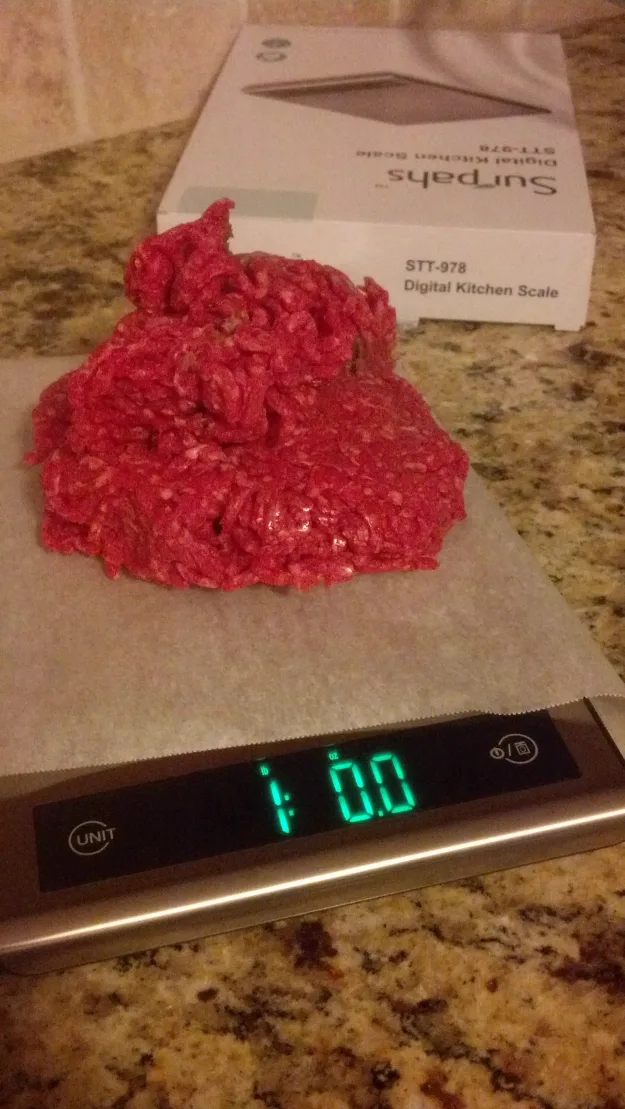 Okay, once I separate out 1 pound of ground beef I label a quart size freezer bag with the contents and date then I place the ground beef in the bag. I go ahead and separate all of the ground beef into the bags before sealing them…I find it's easier to do it this way. Once I have all of the meat in bags I wash my hands and begin flattening and sealing the bags. To be able to store the most ground beef in the least amount of space I have found it's best to completely flatten out each bag of beef instead of just making a brick. This way you can easily lay them flat on a freezer shelf or store them upright in the door– this method gives you options.
When flattening the ground beef you want to start at the bottom and work your way up to the top of the bag. I slowly seal my bag as I'm squeezing out the air bubbles. The key is to get as much air out as possible.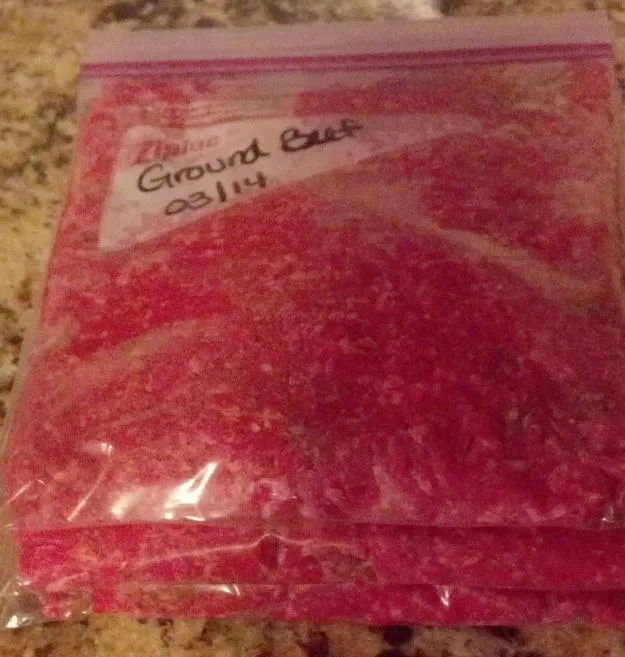 Once I'm done with all of my quart size bags I then place those inside the gallon freezer bags for extra protection….plus it keeps everything together so it makes organizing the freezer easier.
Thank you to Surpahs for providing the digital kitchen scale for review. All opinions are 100% my own and true.
What tips do you have for how to save money on meats?