These back to school lunch ideas kids will eat are perfect for sending your kids to school with a complete and healthy meal. Try out one of these school lunch ideas and start the new year off as the cool mom that packs an amazing lunch!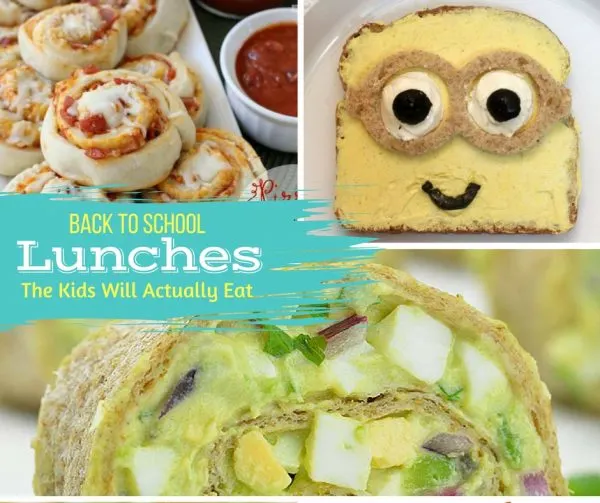 School Lunch Ideas Kids Will Eat
Back to School Lunches for the Kids
It's time for back to school and if you're anything like me you're trying to decide what on Earth to send to school that the kids will eat. I swear…one day they LOVE peanut butter and jelly sandwiches but the next day they hate them! Plus, with all of the food allergies nowadays I don't feel comfortable sending PB&J to school….I don't want to be the reason a poor child gets rushed to the hospital because they have a peanut allergy! If this scares you too, make sure you check out Nut Free Lunch Ideas for Back to School …it's better to be safe than sorry!
If you know your child is in a classroom free from allergies then here's a list of school lunch ideas kids will eat and you can mix them up to keep them interested! Most of these school lunch ideas are free from nuts but if you're trying to stay nut free then double check the ingredients.
School Lunch Ideas Kids Will Eat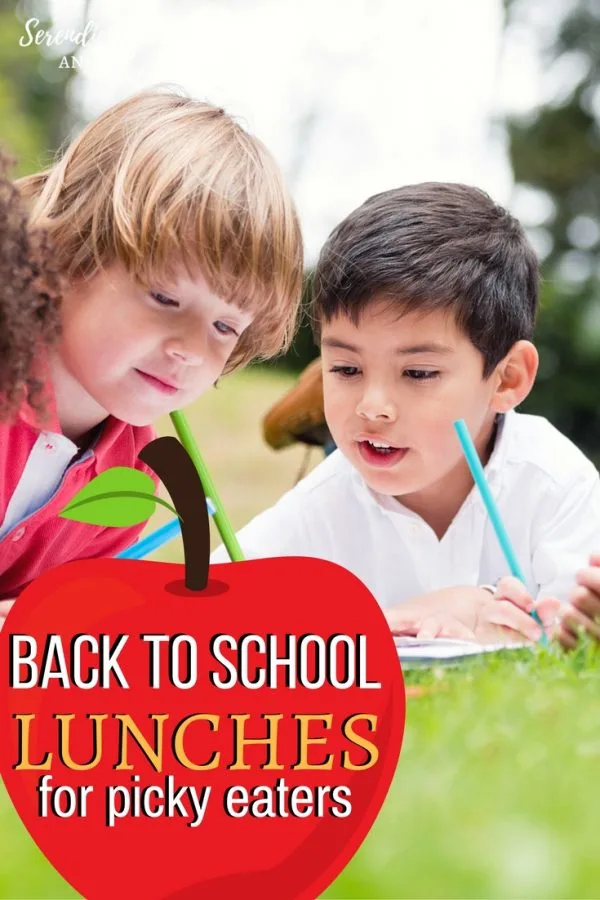 Easy, Healthy Minion Sandwich from Moms & Crafters
Hot Ham and Swiss Croissant from Life With The Crust Cut Off
Honey BBQ Chicken Wraps from Tastes Better From Scratch
Peter Rabbit Lettuce Wrap from The Rainy Day Mum
Avocado Egg Salad Roll Ups from OMG Chocolate Desserts
Pizza Pinwheels from Butter With A Side of Bread
Greek Pasta Salad from Kitchen Counter Chronicles
Stone Soup from Betsy's Photo Art
Make Your Own Pizza's from Clare's Little Tots
Vegetable Risotto from Frugal Family
Cheese and Apple Quesadillas from Clare's Little Tots
Ham and Cheese Roll Up from The Practical Mommy
Super Sushi from Kidgredients
Homemade Chewy Granola Bars from Passion for Savings
Easy Mini Quiches from Eats Amazing
Sweet Potato Wild Rice Soup from Tiny Tummy Tales
Zucchini Pie from Apple Green Cottage
Chicken Kebabs from Romanian Mum
No Bake Recipe for Scotcheroos from The Typical Mom
Easy Chicken Wrap from Something 2 Offer
Pasta with Chicken and Broccoli from Romanian Mum
Peanut Butter Roll Ups from Living Sweet Moments
Pepper Brain Monsters from Blue Bear Wood