In today's education landscape, there's a growing emphasis on the importance of multilingualism. Beyond the familiar languages of Spanish, French, or Mandarin, there's a language that holds significant cognitive, cultural, and social values: American Sign Language (ASL).
For parents and guardians steering the homeschooling ship, integrating a Sign Language Curriculum for Homeschoolers has a multitude of benefits!
I'm so excited to have the opportunity to partner with Mr. D Math in sharing about ASL in our homeschool community. My kids have been asking for an in depth ASL program and when I got the opportunity to review Mr. D Math's ASL 1, I jumped at the chance. Even though I was compensated for my time, all opinions are my own.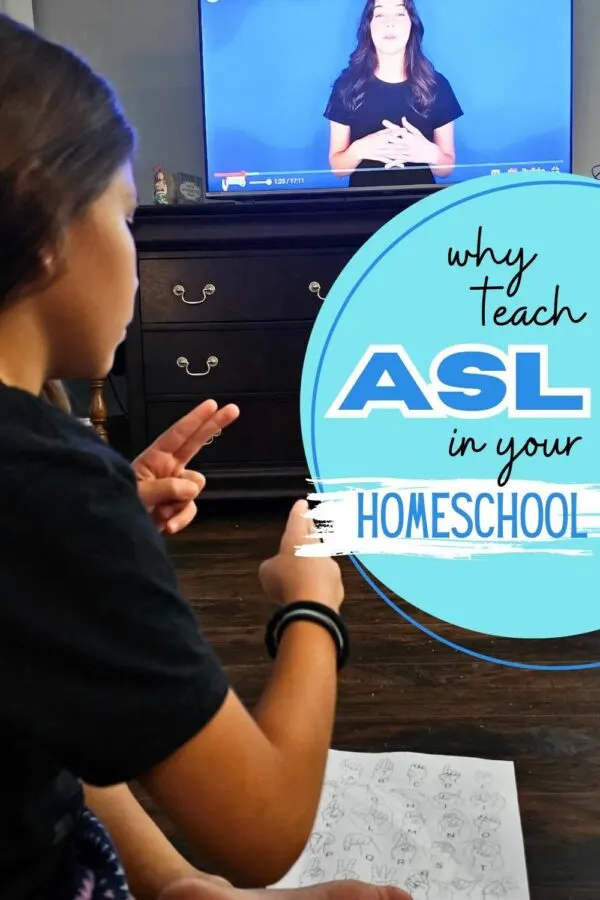 Table of Contents
Our Experience with Homeschool Sign Language Classes
A few years ago I enrolled my kids (8 & 11) into a sign language class for homeschoolers at our local library. My kids LOVED the class, they LOVED learning sign language! In fact, over 2 years later, they still use many of the signs they learned from the class.
Every semester I ask the kids, "What do you want to learn?". And every semester they say, "I want to do sign language again!".
Unfortunately, the sign language teacher moved and I haven't been able to find another sign language class for my kids. Plus, if we're going to do sign language in our homeschool, then I want to make sure we're using a quality program that goes beyond learning a few signs here and there.
I want a full American Sign Language curriculum so they are fluent in ASL.
The Benefits of Learning American Sign Language
1. Cognitive Boost
ASL, like any other language, stimulates the brain in unique ways. Studies highlight that children exposed to a second or third language show improvements in problem-solving, multitasking, and memory recall.
2. Dive Deep into Deaf Culture
ASL isn't just about hand gestures; it's a gateway to the rich Deaf culture. A good ASL homeschool curriculum should not just be teaching the signs; but should offer an insightful journey into a vibrant community's history, art, and values.
3. Empathy & Inclusivity
Learning ASL prepares your child to be more receptive, compassionate, and understanding of the diverse ways people communicate, leading to a more inclusive world view.
4. Master Non-verbal Communication
By mastering hand gestures, facial expressions, and body postures through the course, your child will become a more nuanced and effective communicator.
5. Practicality in Every Gesture
ASL's practical applications are vast, and through learning ASL students grasp these applications with real-world examples and interactions. Whether it's professional engagements, community activities, or personal relationships, proficiency in ASL can open myriad doors.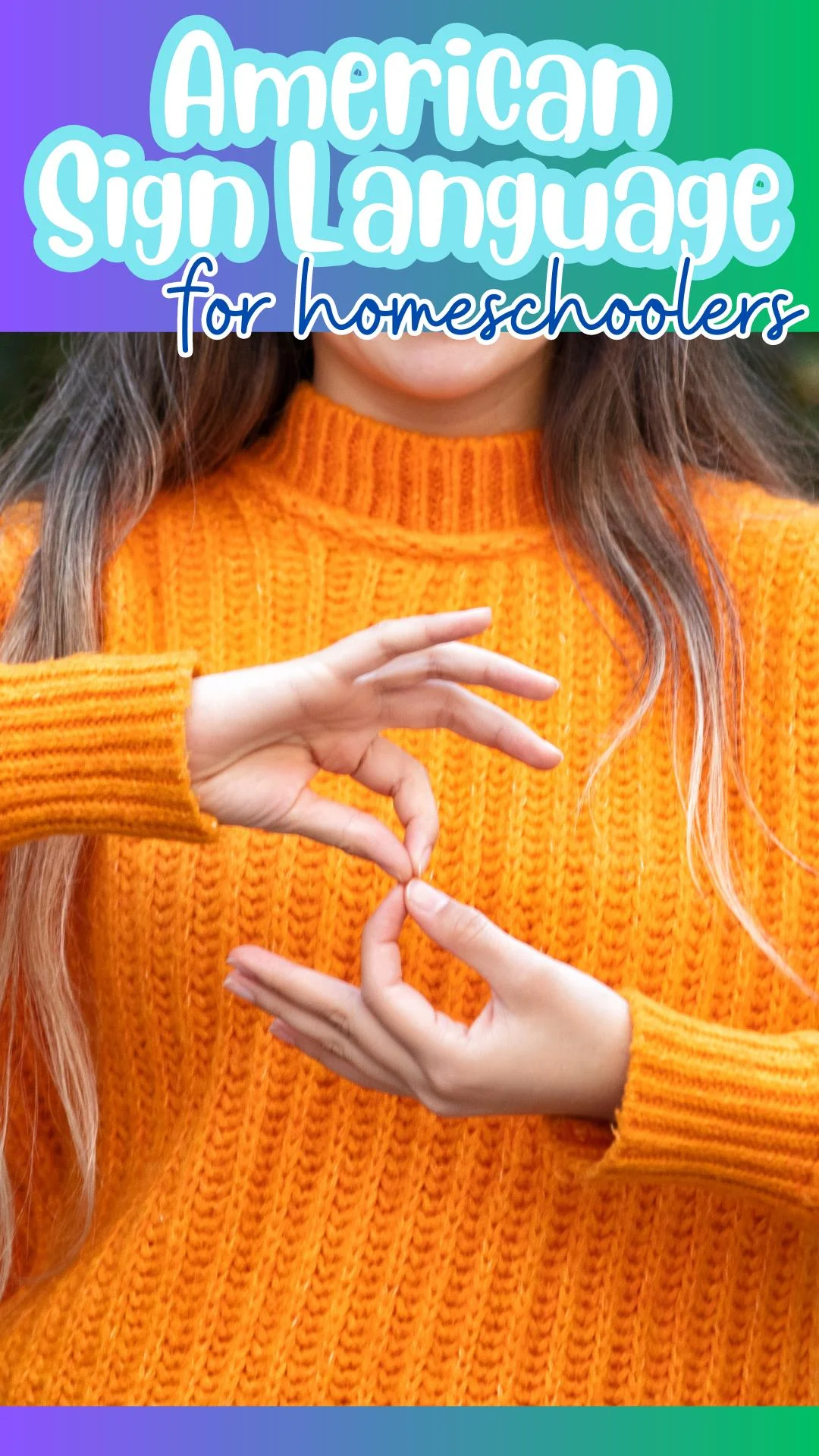 Mr. D Math's ASL Curriculum: Tailored Excellence for Homeschoolers
First of all….did you know Mr. D Math does more than just math?!
I was blown away by all of the extra curricular classes that Mr. D Math offers. In fact, Mr. D Math offers all 3 levels of ASL so your student can become fluent in American Sign Language.
Let's explore why Mr. D Math's curriculum stands out as an exceptional tool for teaching ASL to homeschoolers.
1. Structured Yet Flexible Learning
Mr. D Math's homeschool curriculum offers a well-structured program, ensuring that students get a comprehensive introduction to ASL. Despite its structured approach, there's inherent flexibility, making it ideal for the varied paces of homeschooling.
All classes are available On Demand for students to watch at their own pace. For my kids, they flew threw Lesson 1 and were ready to move on to Lesson 2 within a day. But, we can also stretch the lessons out to last us all year.
Thia, the instructor, also hosts live sessions throughout the month so students can join in if they prefer live interactions.
2. Engaging Multimedia Resources
Understanding that different learners have different needs, Mr. D Math's ASL curriculum is enriched with multimedia resources. In addition to the On Demand classes, Thia shares super short clips for how to sign individual signs, she also host regular Live sessions where students can join in live and learn directly with her.
This week my daughter LOVED the live session all about signing the song "How Far I'll Go" from Disney's Moana. It's activities like singing and signing together that really help the concepts stick!
3. Real-World Applications
What sets Mr. D Math's ASL curriculum apart is its emphasis on real-world applications. Students aren't just learning signs; they're learning how to communicate effectively in real-life situations, enhancing both their confidence and proficiency. There's a lot of emphasis on facial expressions and body language that accompanies learning to sign.
4. Inclusive of Deaf Culture
More than just a language course, Mr. D Math delves deep into Deaf culture, providing students with a holistic understanding of the history, challenges, and contributions of the Deaf community.
In fact, we just learned that one of the upcoming Live sessions will include two special guests from the Deaf community. They'll be sharing their experience as the first Deaf woman and first Deaf American to ever climb Mount Everest.
5. Continuous Assessment & Feedback
For homeschooling parents, tracking progress can be a challenge. With Mr. D Math's ASL curriculum, continuous assessments and regular feedback ensure that students understand where they're excelling and where they need to put in more effort.
At the end of each lesson, students are encouraged to create a video to send in to Thia based on the lesson they just completed.
There's also regular practice sessions where students can log on and practice live with each other!
6. Accessible for All Ages
While ASL can be complex, Mr. D Math's ASL curriculum is designed to be accessible for all age groups.
The lessons are broken down into easily digestible units, ensuring that students of all ages can grasp the concepts with ease.
This truly is a curriculum the whole family can get involved with! My 6th grader and 3rd grader are both able to follow along easily.
Mr. D Math's ASL curriculum isn't just another resource; it's a comprehensive, engaging, and holistic approach to teaching American Sign Language.
By focusing on real-world applications, embracing Deaf culture, and providing continuous support, Mr. D Math ensures that homeschoolers get the best possible introduction to this beautiful and essential language.
Get Started with Mr. D Math's ASL Curriculum for Homeschoolers
Mr. D Math's ASL curriculum for homeschoolers has ongoing enrollment. You don't have to wait for a certain start date to begin teaching ASL in your homeschool. Click here to visit Mr. D Math and learn more about the ASL curriculum for homeschoolers.