Spooktacular Halloween Trail Mix: The Ultimate Halloween Snack Mix
Halloween is just around the corner, and what better way to get into the spirit than with a delectable Halloween Trail Mix?
This deliciously haunting mix is perfect for parties, movie nights, or just for a treat while trick-or-treating. With a blend of savory and sweet, this Halloween Snack Mix is a surefire hit that will please both goblins and ghouls!
Table of Contents
Why Halloween Trail Mix?
During Halloween, there's an overload of candies and chocolates everywhere you look. While they're delightful, sometimes you crave a treat that offers a bit of everything – salty, sweet, crunchy, and chewy.
That's where our Halloween Trail Mix comes into play!
With ingredients like popcorn, pretzels, nuts, and the quintessential candy corn, you have a mix that's perfect for satisfying all those cravings in one go!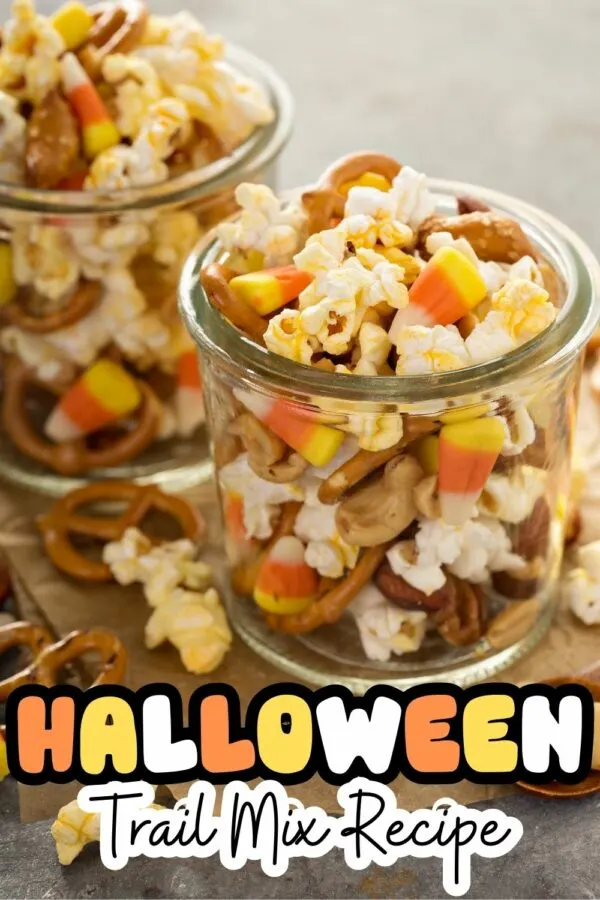 Making The Most Of Your Halloween Snack Mix:
Variations Galore:

Feel free to customize your Halloween Trail Mix with other ingredients.
Think dried fruits, other candy varieties, or even sprinkles for a festive touch.

Gift It:

This mix makes a great gift. Fill up mason jars, tie with a spooky ribbon, and you have a delightful gift for teachers, neighbors, or friends.

Party Time:

Set up a DIY Trail Mix station at your Halloween party.
Provide the base ingredients and let your guests add their favorites.
To sum it up, this Halloween Trail Mix is more than just a snack – it's an experience! The harmonious blend of sweet and savory ensures it's a treat everyone will come back for.
So, this October, when you're gearing up for the spookiest time of the year, make sure this Halloween Snack Mix is on your to-do list. Happy Halloween snacking! 🎃🍿🥨🌰🍬
FAQs for this Halloween Trail Mix Recipe
Is this Halloween Trail Mix gluten-free?
While ingredients like popcorn and nuts are naturally gluten-free, many store-bought pretzels and some candy corn brands might contain gluten. If you need a gluten-free version, ensure you buy gluten-free pretzels and check the candy corn's ingredient list.
Can I add dried fruits to the mix?
Absolutely! Dried fruits like raisins, dried cranberries, or dried apricots can add a sweet and chewy element to the mix.
How long can I store the Halloween Snack Mix?
If stored in an airtight container in a cool, dry place, the mix should stay fresh for up to 2 weeks. However, its longevity might vary depending on the freshness of the ingredients you started with.
Can I use microwave popcorn for this recipe?
Yes, you can. Just ensure you choose a lightly salted variety and avoid overly buttered ones, as they might make the mix too greasy.
What kinds of nuts work best for this trail mix?
Almonds, cashews, peanuts, and pecans are popular choices, but you can use any combination you like. Just ensure they are unsalted or lightly salted.
Can this mix be made in advance for a party?
Yes, you can prepare this mix 1-2 days in advance. Store in an airtight container to maintain freshness.
Printable Halloween Snack Mix Recipe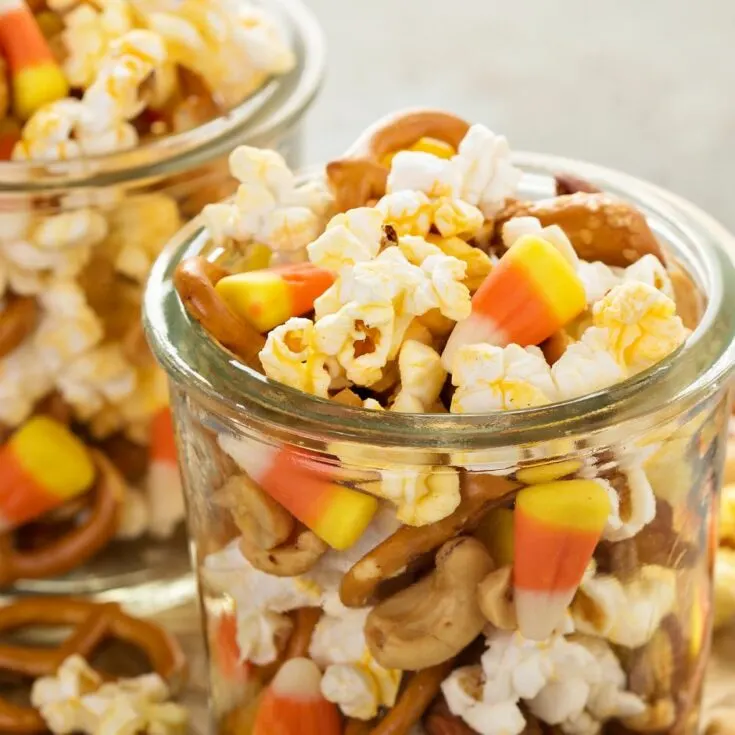 Halloween Snack Mix Recipe
Whip up a spooktacular Halloween Trail Mix that's both sweet and savory! Featuring popcorn, pretzels, nuts, and candy corn, this Halloween Snack Mix is the perfect treat for parties and movie nights. Dive into the festive spirit!
Ingredients
4 cups popped popcorn (lightly salted)
2 cups mini pretzels
1 cup mixed nuts (almonds, cashews, peanuts – your choice!)
1 ½ cups candy corn
Optional: ½ cup chocolate chips or M&M's for an added chocolatey touch
Instructions
Prep Ahead: Make sure your popcorn is popped and salted lightly. If you're using unsalted popcorn, sprinkle a pinch of salt for that savory kick.
Mix It Up: In a large mixing bowl, combine the popcorn, mini pretzels, and mixed nuts.
Sweeten the Deal: Add in the candy corn (and chocolate chips or M&M's if you're using them) and give the mix a gentle toss to ensure everything is well-distributed.
Serve & Store: Dish out your Halloween Trail Mix into individual bowls for your guests or put them in snack-sized bags for on-the-go treats. Store any leftover mix in an airtight container to keep it fresh.
Recommended Products
As an Amazon Associate and member of other affiliate programs, I earn from qualifying purchases.
More Spooky Halloween Recipes to Try