The Ultimate Indulgence: Cheesecake Oreo Brownies Recipe
Are you ready to experience a divine blend of flavors that will send your taste buds into overdrive? Look no further than our irresistible Oreo Cheesecake Brownies recipe.
Brace yourself for a mouthwatering treat that combines the richness of brownies, the creaminess of cheesecake, and the irresistible crunch of Oreo cookies.
This indulgent dessert is guaranteed to satisfy your sweet tooth and leave you craving for more.
In this article, we'll take you through easy-to-follow steps, share key tips for success, and offer ideas on how to impress your family and friends with your baking skills. Get ready to elevate your dessert game with our ultimate indulgence, the Oreo Cheesecake Brownies recipe.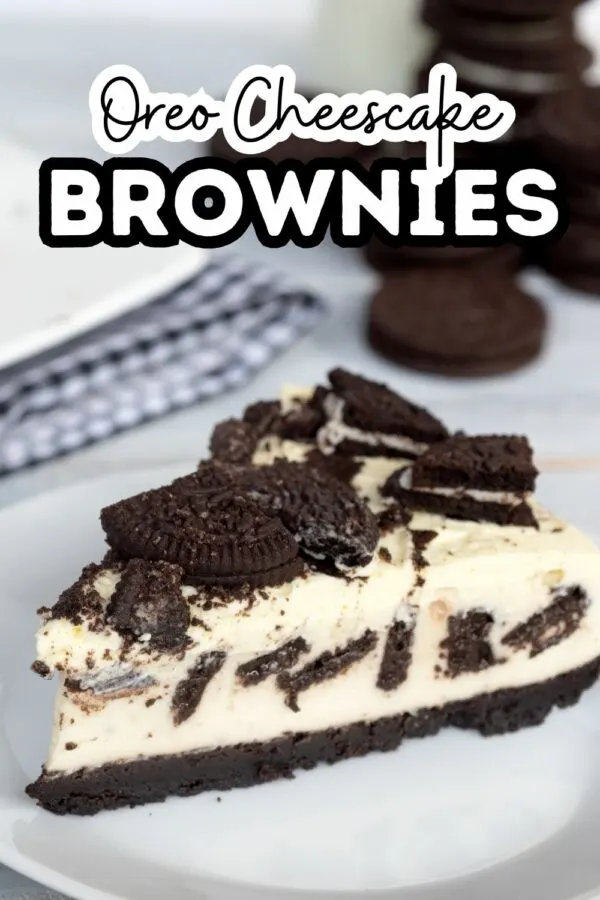 Table of Contents
The Perfect Blend of Flavors
As we embark on this culinary adventure, let's delve into what makes these Oreo Cheesecake Brownies the perfect blend of flavors.
Picture sinking your teeth into a decadent brownie, its fudgy texture enveloping your taste buds in a symphony of chocolatey goodness.
But wait, there's more!
Just as you start to savor the rich brownie, a velvety cheesecake swirl dances across your palate, adding a delightful creaminess to the mix. And as you relish this exquisite combination, the unmistakable crunch of Oreo cookies surprises you, adding a delightful contrast of texture to this indulgent treat.
The magic of these Oreo Cheesecake Brownies lies in the balance of flavors that seamlessly blend together, creating a taste sensation like no other.
The deep cocoa notes from the brownie batter harmonize perfectly with the tangy sweetness of the cheesecake swirl, elevating the overall taste experience. And let's not forget about the Oreo cookies that take these brownies to a whole new level of indulgence. With their chocolatey crunch and vanilla cream filling, they provide the ideal balance to the rich and creamy components of the dessert.
So, as you prepare to create your own batch of Oreo Cheesecake Brownies, remember that the perfect blend of flavors is the secret ingredient that makes this dessert shine.
Easy-to-Make Cheesecake Oreo Brownies
Now that you understand the magic behind the perfect blend of flavors in these Oreo Cheesecake Brownies, it's time to dive into the easy-to-follow steps that will bring this delectable dessert to life.
Step 1: Gather Ingredients for Oreo Cheesecake Brownies
Ensure that you have all the necessary ingredients handy before you begin. You'll need Oreo cookies, cream cheese, sugar, eggs, vanilla extract, butter, flour, cocoa powder, and salt.
Having everything prepared and within reach will make the process much smoother.
Step 2: Prepare the Brownie Batter
Start by preheating your oven to the specified temperature.
In a mixing bowl, combine melted butter, sugar, eggs, and vanilla extract. Mix well until the ingredients are fully incorporated.
Then, add flour, cocoa powder, and a pinch of salt to the mixture, ensuring everything is combined into a smooth batter.
Step 3: Prepare the Oreo Cheesecake Filling
In a separate mixing bowl, beat cream cheese, sugar, eggs, and vanilla extract together until creamy and smooth. Make sure there are no lumps remaining, as this will affect the overall texture of the cheesecake layer.
Step 4: Add in Oreo Cookies
Crush up six Oreo cookies in a bowl. Carefully, mix the broken Oreos into the cheesecake filling. Be careful not to over stir.
Step 5: Assemble and Bake
Pour the brownie batter over the layer in the baking pan, spreading it evenly to cover the bottom completely. Then, carefully pour the cheesecake filling on top of the brownie layer.
Step 6: Bake and Cool
Place the baking pan in the preheated oven and bake for 30-45 minutes. Keep an eye on it to ensure it doesn't overcook.
Once the brownies are baked to perfection, remove them from the oven and let them cool in the pan for a while. Then, transfer them to a wire rack to cool completely.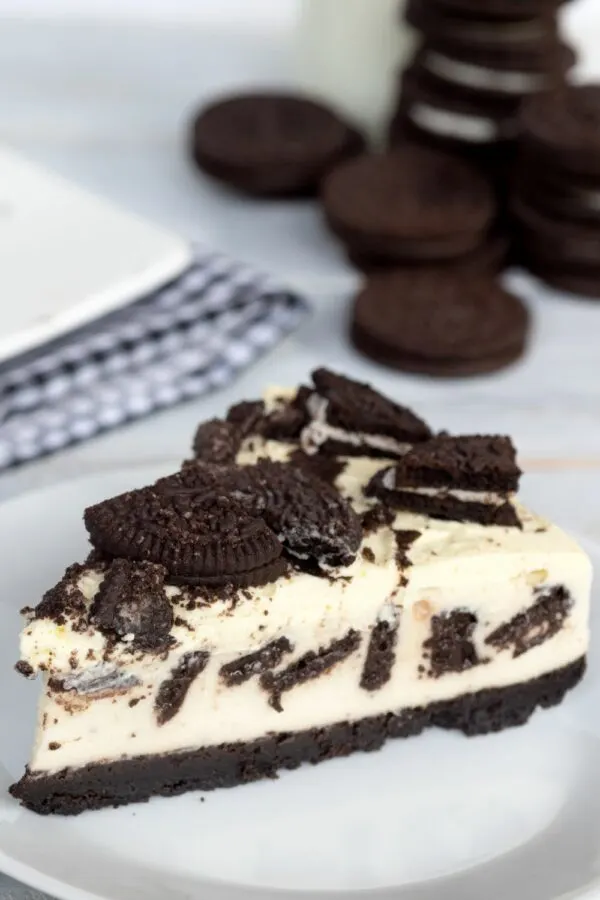 Impress Your Family and Friends with these Oreo Cheesecake Brownies
With the perfect combination of velvety chocolate, creamy cheesecake, and the irresistible crunch of Oreo cookies, your Oreo Cheesecake Brownies are sure to elicit oohs and ahhs from your family and friends.
But why stop there?
Elevate your indulgent creation to new heights by adding a touch of finesse and charm.
As we all know, presentation is key when it comes to food.
After your Oreo Cheesecake Brownies have had a chance to cool, take a moment to give them a finishing touch. A sprinkle of crushed Oreos will not only add an elegant aesthetic appeal but will also create a stunning contrast against the rich, dark brownie and luscious cheesecake layers.
Your family and friends will be captivated by the beauty of your creation even before taking that first heavenly bite.
Printable Oreo Cheesecake Brownies Recipe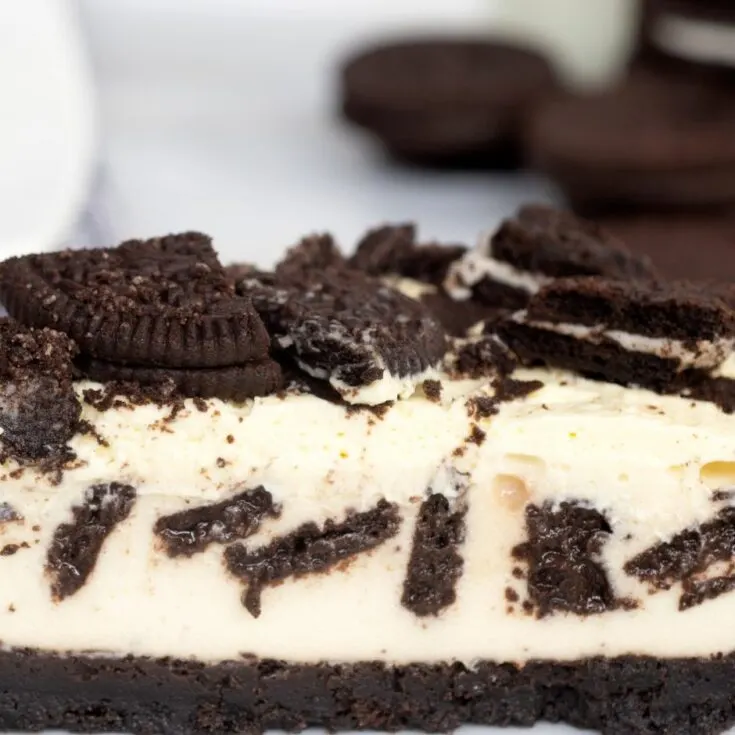 Yield:

12
Oreo Cheesecake Brownies
Total Time:
1 hour
40 minutes
Ingredients
15 Oreo cookies (6 for the filling)
8 oz cream cheese, softened
1 cup sugar, divided (3/4 cup for brownie, 1/4 cup for cheesecake)
3 eggs, divided (2 for brownie, 1 for cheesecake)
2 tsp vanilla extract, divided (1 tsp for brownie, 1 tsp for cheesecake)
1/2 cup butter, melted
3/4 cup flour
1/4 cup cocoa powder
1/4 tsp salt
Instructions
Preheat oven to 350°F (175°C). Grease or line an 8x8-inch baking pan.
Brownie Batter: In a bowl, combine melted butter and 3/4 cup sugar. Mix in 2 eggs and 1 tsp vanilla extract. Gradually fold in flour, cocoa powder, and salt until combined. Pour into prepared pan, spreading evenly.
Cheesecake Filling: In another bowl, beat together cream cheese, 1/4 cup sugar, 1 egg, and 1 tsp vanilla extract until smooth. Crush 6 Oreo cookies coarsely and fold into the cheesecake mix.
Assemble: Gently pour and spread the cheesecake filling over the brownie batter in the pan.
Bake: Place in preheated oven for 35-40 minutes or until a toothpick inserted in the center comes out with a few crumbs. Avoid overbaking.
Cool and Serve: Let brownies cool in the pan for about 15 minutes, then transfer to a wire rack to cool completely. Once cool, crush the remaining Oreos and sprinkle on top. Cut into squares and serve.
More Decadent Brownie Recipes to Try