These 14 simple hacks for Valentine's Day is the perfect way to show some love this February 14th! Shower those you love with one of these simple hacks for Valentine's Day.

14 Simple Hacks for Valentine's Day
Have an EPIC Valentine's Day with One of These Hacks
Valentine's Day is right around the corner and I'm super excited. I love Valentine's Day because….well, it's all about love! You know me….I'm all about the hugs and cuddles in my house so Valentine's Day is just a day where I'm encouraged to be the kissy monster even more! We don't view Valentine's Day as a couples holiday in our house- instead we look at Valentine's Day as a day to show love towards everyone. The kids and I spend the day doing random acts of kindness, I always volunteer for the Valentine's Day party at school, and we spend time being as loving as we can.
To add a little bit of fun to your Valentine's Day I've rounded up a few….well, 14 to be exact…ideas to help make your Valentine's Day EPIC this year!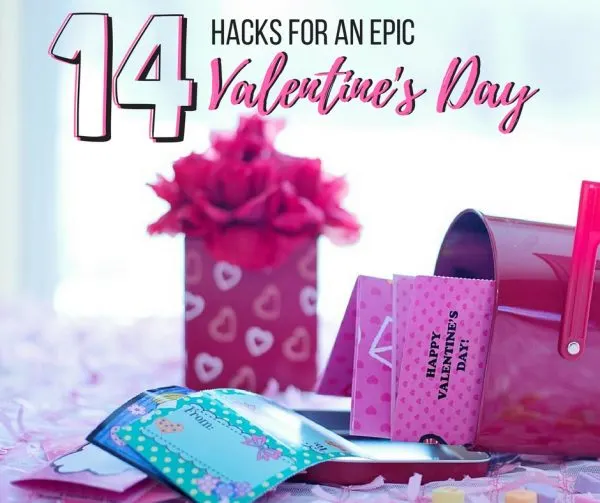 For breakfast unroll a can of cinnamon rolls and re-shape them into hearts.
Make a heart shaped cake by baking a round cake and a square cake then cut the round cake in half and add it to the corners of the square cake to create a heart shape. Frost and decorate so no one knows the difference!
Tie heart ornaments onto your picture frames to add a little bit of love sprinkled around.
Fold construction paper strips into heart shapes and connect together to make a simple Valentine's Day garland.
Cut out heart shapes into refrigerated biscuit dough with a cookie cutter. Top with pizza sauce and cheese for personal heart pizzas.
Make dancing conversation hearts by dropping them in a glass of seltzer water and Alka Seltzer tablets.
Bend a pipecleaner into a heart shape, dip in paint, and make a fun Valentine's Day art craft.
Use conversations hearts as a vase filler.
Turn Cuties into conversation hearts by writing fun words and phrases on them with a marker. Then hand them out to people to brighten their day.
Cut a sponge into a heart shape and use to sponge paint a pretty picture.
Add a splash of Grenadine to Sprite for a delicious Valentine Spritzer.
Glue paper hearts to a Willow wreath for a sweet and rustic look.
Mix together strawberry icing and white chocolate chips- melt in the microwave and create a delicious 3 minute Valentine fudge.
Use a small heart shaped cookie cutter (I like this set because it comes with lots of different sizes for a great price) to cut cheese, fruits and vegetables into shapes. Some good fruits and veggies to cut into hearts are: watermelon, apples, honeydew, cantaloupe, pears, carrots, cucumbers,
Do you have any fun and simple hacks for Valentine's Day? Share in the comments below!