I participated in an Influencer Activation on behalf of Skinnygirl. I received a product sample and a promotional item to facilitate my review.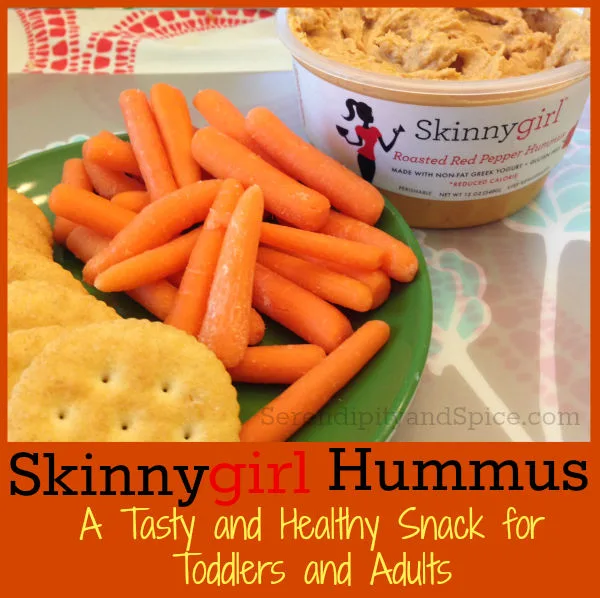 Skinnygirl Hummus a Yummy Snack for Toddlers!
WHAT?! Skinnygirl for toddlers?!
Yep, the same company that brings you delicious low calorie adult beverages is now making just as delicious snacks which are perfect for picky toddlers! You know that I'm ALWAYS on the hunt for easy snacks to feed Little Man that I can feel good about giving him. So, when I got the opportunity to try Skinnygirl Hummus I was quite intrigued…..Little Man and I do love some hummus!
Have you noticed how popular hummus has become? I mean it's such a versatile food that can be used as a snack dip, a spread for sandwiches, or a fancy appetizer….it's popularity is growing more and more every day.
Skinnygirl Hummus has a touch of non fat greek yogurt mixed in making it oh so creamy and super delicious without adding extra calories….plus, it's made with all natural ingredients and is gluten free! It's a delicious snack that I can enjoy with Little Man and not feel guilty for indulging in junk food.
We got to try the Roasted Red Pepper Skinnygirl Hummus which was quite delish! The creaminess of the greek yogurt and the flavorful punch of the red pepper made this my new favorite hummus. This paired perfectly with some carrots and whole grain crackers that made the perfect mid-afternoon snack.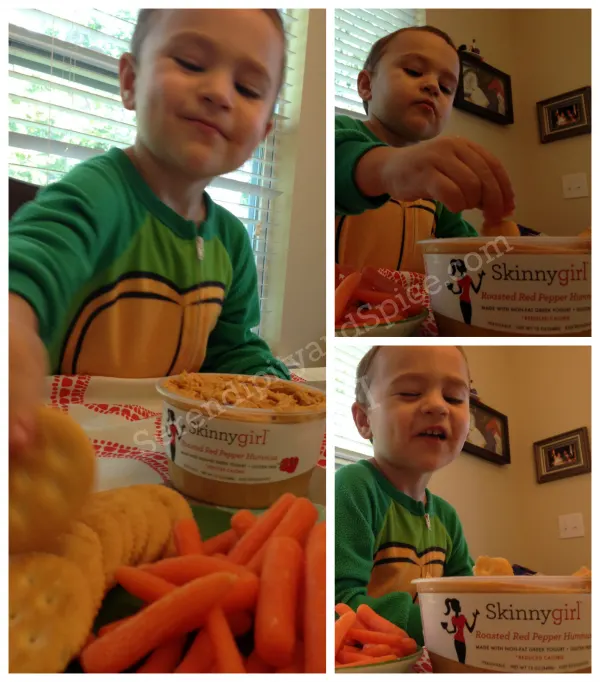 Now that's one happy little boy enjoying his mid-afternoon snack!
Skinnygirl Hummus comes in several flavors including regular, roasted garlic, and cilantro jalapeno. You can easily find it at Kroger, Walmart, Bristol Farms, and other grocery stores' refrigerated section.
Which flavor are you excited about trying? Share in the comments below!
And, here's a coupon to get .75 off your first container to try!