This site contains affiliate links, 3rd party ads, and sponsored content. For more information please read our Disclosure Policy. As always, I only recommend products or services I personally use and love!
Does your little one suffer from sleep anxiety in kids or do they just not want to go to bed?  Read on for these tips on dealing with bedtime anxiety in children.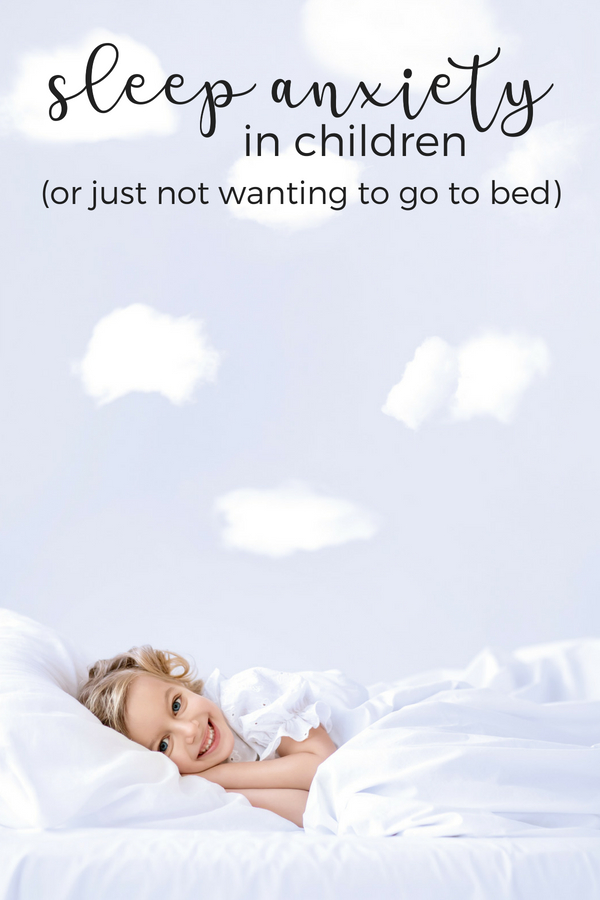 Tips for Dealing with Bedtime/Sleep Anxiety in Children
Is It Just Not Wanting to Go To Bed or Is It Sleep Anxiety in Kids
*Disclaimer- I am not a medical professional, just a mom who has noticed these things in her own children.  If you believe your child is suffering from an anxiety disorder please consult your pediatrician.
For those of you who know me, know that I'm a HUGE advocate for co-sleeping– so much so that our 3-year-old little girl is still co-sleeping with me and Hubs.  I know she suffers from a form of "sleep anxiety in children" so I haven't pushed the issue of getting her to sleep in her own bed.
But, I have noticed a difference between when she's experiencing sleep anxiety and when her brother and her are just trying to stay up late.
Getting children to go to sleep can be a challenge for most parents. However, if your child starts to show anxiety about bedtime, or genuine fear, it's time to get to the bottom of the cause and take action to help them get a healthy and restful sleep every night.
How Much Sleep Do Children Need?
In general, school-aged children need ten to eleven hours of sleep per night. Unfortunately, sleep stealers such as homework, TV, DVDs, gaming, texting, and so on, can all have an impact on their sleep.
Even five-year-olds want to stay up late and watch TV. They are anxious that they might be missing out on lots of fun. Even when they are obviously tired, or even over-tired, it can be tough to get them to settle down for the night.
A calming routine of bath, PJs and a bedtime story can help them wind down enough to be able to sleep.  We try to start our night time routine directly after dinner at 6:30pm.  But, many nights it's still after 8pm when we've finished up and the kids are in bed.  With school starting we're going to have to move this time up because they'll need to wake up at 7am to start getting ready for school.
In order to make sure they get the recommended amount of sleep we'll have to make sure they're in the bed and fast asleep by 8pm.
Wow, even school-aged children still need 10-11 hours of sleep a night! Check out this post on the difference between sleep anxiety in children and just wanting to stay up late... #parenting #kids #anxiety #bedtime
Click To Tweet
Night Terrors
Some children are afraid of the dark. A nightlight can help. You can also play games in the dark to make it seem less scary, such as a treasure hunt with a flashlight or hide and seek in dark places like closets.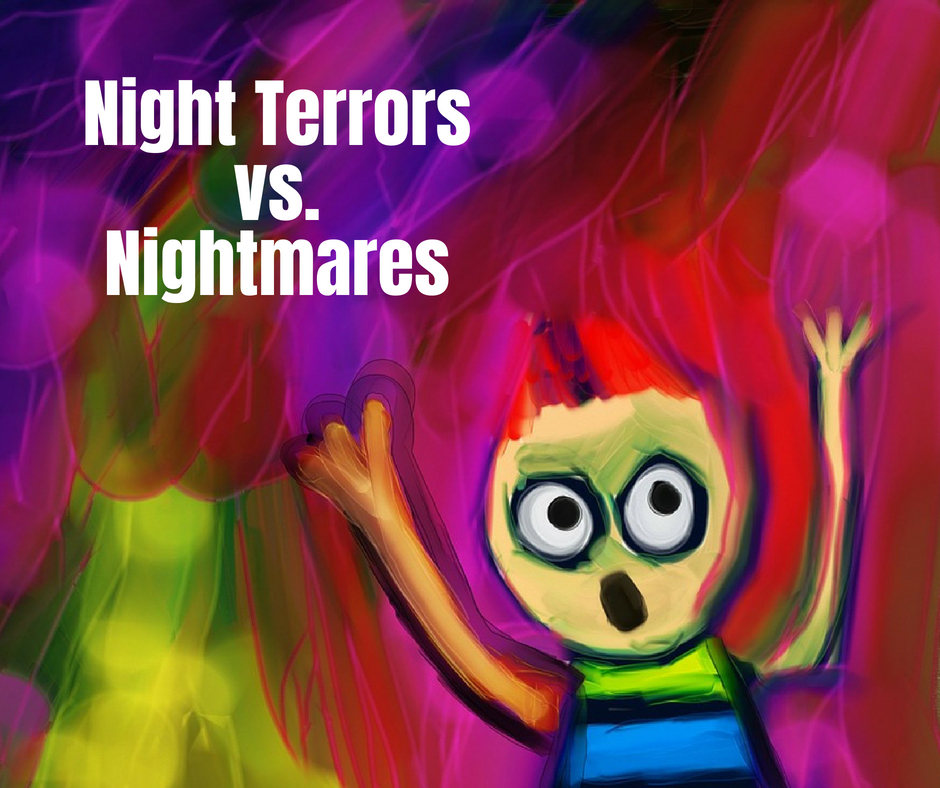 Other children don't like to sleep on their own. Parents will often let the child come in with them, and they all fall asleep and end up sharing the bed all night.
But when it comes to Night Terrors there's more involved than just being afraid of the dark and having nightmares.  Night terrors are a form of sleep anxiety in children and they are far more dramatic than waking from a nightmare.
Little Man had night terrors when he was 2-3 years old and they scared me to death.  After a trip to the pediatrician, we found out that he was actually still asleep and night terrors were a form of sleepwalking.  He would wake up screaming, crying, kicking, terrified, and completely inconsolable.
We countered this by offering a "bedtime friend"…a stuffed toy that he only used at night time.
Night Terrors go beyond just a nightmare. Children with night terrors awaken scared and inconsolable. Check out this post to learn more about sleep anxiety in children...
Click To Tweet
Nightmares
Many children have nightmares. Avoiding scary subject matter in books and movies can help. Limit the amount of news they see on TV and what topics are discussed around the dinner table. If there are family tensions in the house, don't allow the conflict to spill over to the point where it will make your child anxious.
Some nightmares are based on reality, like the time they were chased by a big dog. Deal with real-life events like this at the time by soothing them but not making a huge fuss. Try distracting them instead so they don't dwell on it.
Similarly, if they have a nightmare, don't make them relive it by telling you about it. This might cause them to dwell on the dream and make it a recurring one. Reassure them that it was only a dream that came from their own imagination, and then distract them with talk of more interesting topics.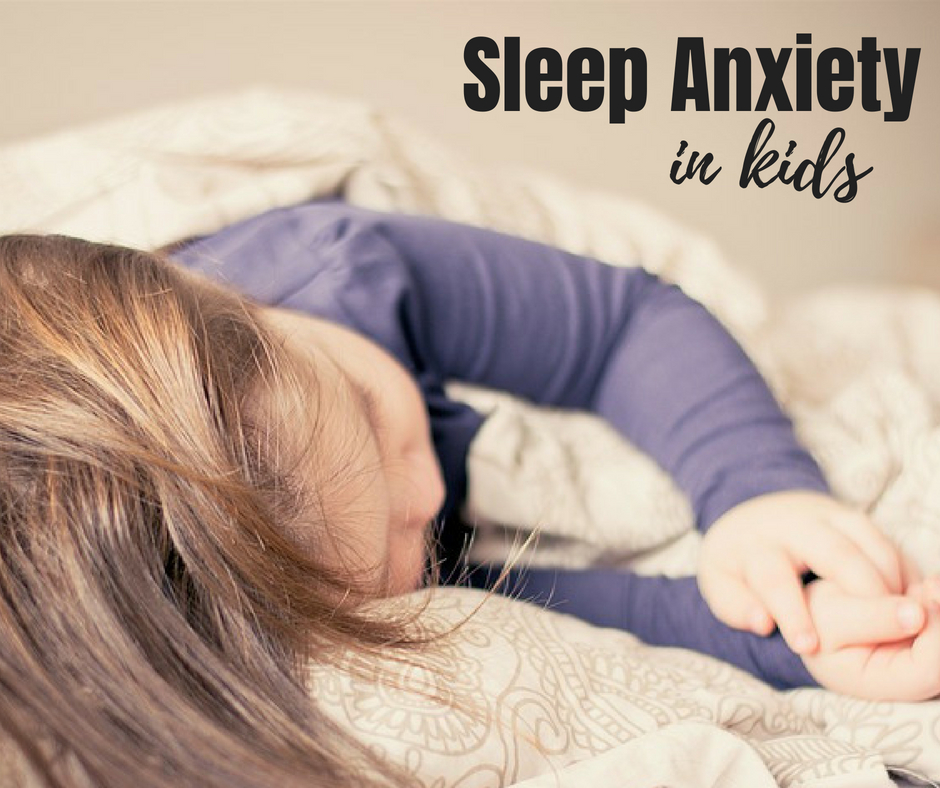 Addressing Sleep Anxiety in Kids
We have tried many different tactics in addressing the sleep anxiety that our daughter faces.  She's doing much better now that we've introduced a bedtime friend.  This gives her a sense of security by having something she can cuddle with and makes her feel better.
Handling sleep anxiety in kids is a process and there's no overnight fix.  The only way to truly overcome sleep anxiety in children is to show them that the night isn't as scary as they think it is.  You can do this by creating a consistent routine giving structure to bedtime, empowering your kids by giving them a light to see the unseen, and acknowledging their fears head on and showing them there is nothing to be afraid of.
Disney Store has Launched a New "Disney store's Sleep Shop Hotline" and Expert Tips to Infuse Magic into Bedtime for Families and Fans
Call 1-877-7-MICKEY to hear five special messages from beloved Disney characters for bedtime.
Beginning today, families and fans can add a little Disney magic into the bedtime routine with the new Disney store's Sleep Shop Hotline*. The toll-free number, 1-877-7-MICKEY, has five special messages from Mickey Mouse, Minnie Mouse, Donald Duck, Daisy Duck and Goofy to give kids something to look forward to at bedtime. The phone number will run from today through August 31 and is available throughout the United States and Canada.
In an effort to help improve the bedtime battle, Disney store and shopDisney have launched a new "Sleep Shop" assortment of children's sleep items.
What others are reading: