This post brought to you by Manwich. The content and opinions expressed below are that of Serendipity and Spice.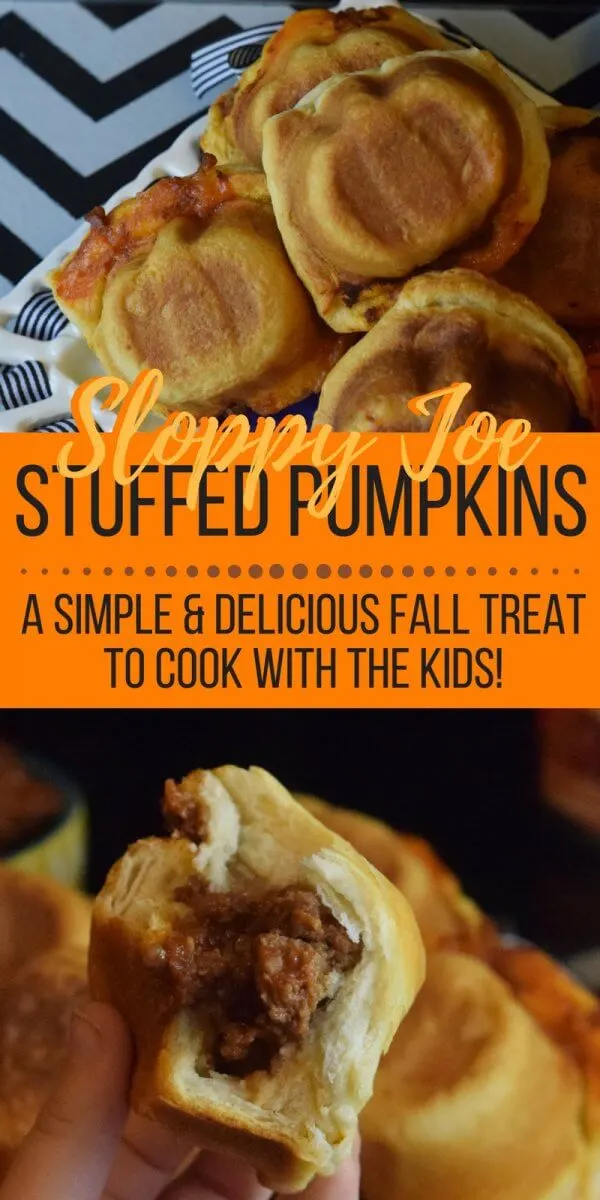 These sloppy joe stuffed pumpkins are the perfect recipe for cooking with kids. Not only are these sloppy joe pumpkins a fun fall treat but they're super delicious and oh so easy to make!
Sloppy Joe Stuffed Pumpkins Recipe
A Simple and Delicious Kid Friendly Recipe for Fall
As Fall arrives, I get in the mood for meals my mom use to serve – warm, hearty, tasty that when you come in for dinner time the entire house was filled with the aroma of a great meal. Now that I have kids of my own I want them to enjoy those same experiences and memories – great, mouthwatering aroma, everyone at the table talking and sharing the news of their day, and a meal that not only taste great but makes memories and fills your heart with love.
I appreciate how quick, easy and parent friendly Manwich is–not to mention, the Original still has that same great taste I loved as a child. And they've now kicked it up a notch with the BOLD flavoring and Thick & Chunky!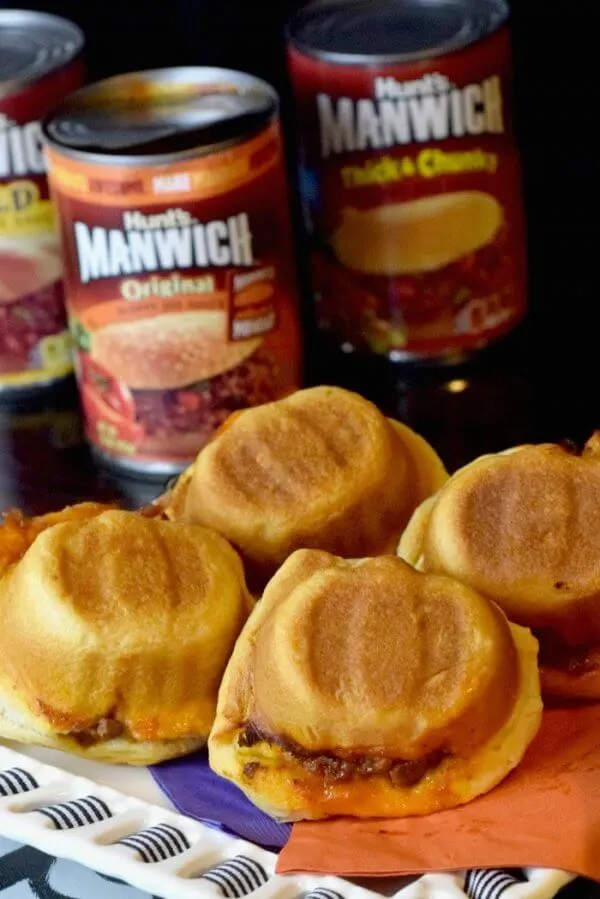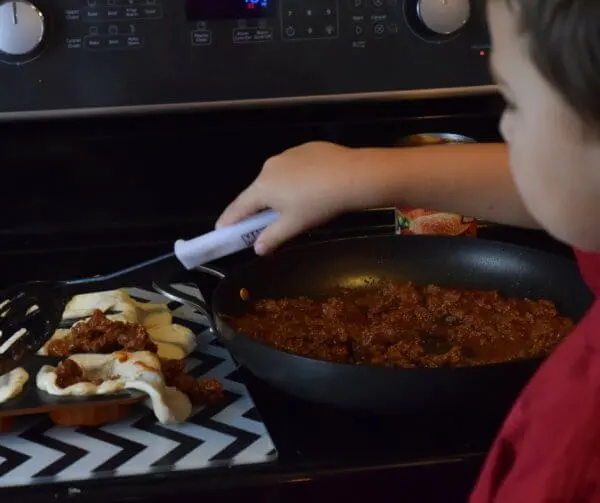 Little Man always wants to be helping in the kitchen and these Sloppy Joe Stuffed Pumpkins are the perfect kid-friendly recipe for him to help out with.
Around here we love Fall with all the pumpkins, beautiful reds, golds and orange leaves being outside and enjoying the crispness of the air. This time of year it's imperative that we have a super simple meal that we can whip together for dinner.
Today it is Fall that inspired this twist on a family favorite, these Sloppy Joe Stuffed Pumpkins are so much fun! I used a simple pumpkin muffin tin to make this dinner kid friendly and fun. While I was cooking the meat, I had Little Man use his kitchen safety knife to cut each canned biscuit in half and place the half into the pumpkin muffin cups.
We mixed together the cooked ground beef and Manwich sauce to create the filling. Then Little Man carefully dropped a spoonful inside each biscuit. He folded the biscuits shut and we baked them at 350 degrees for about 10 minutes….or until the biscuits were a nice golden brown.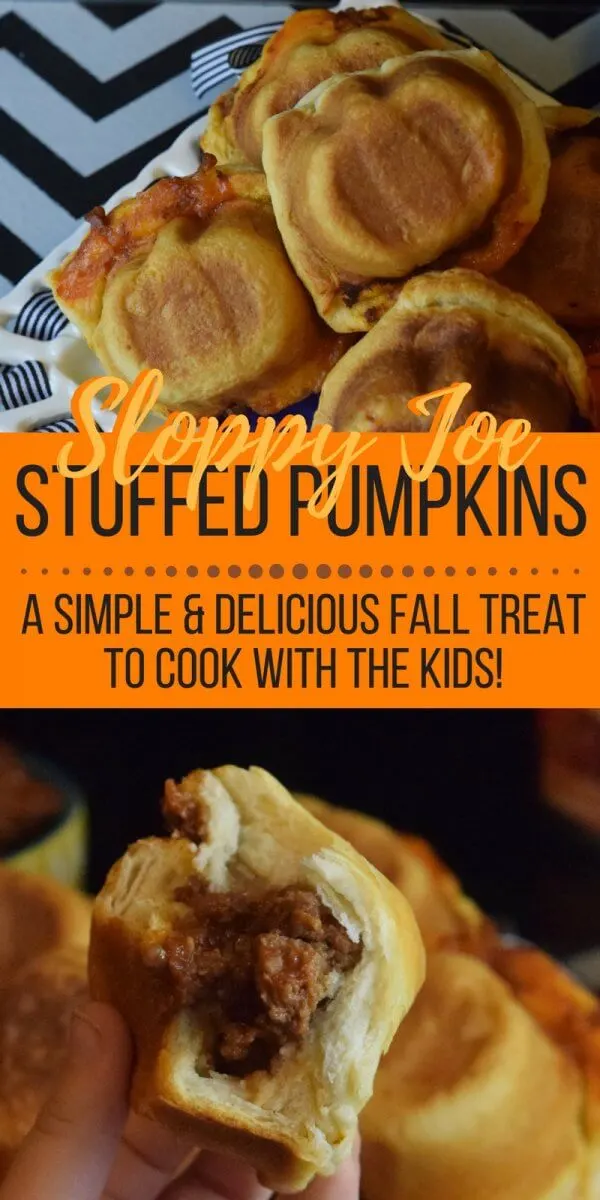 Yield:

4
Sloppy Joe Stuffed Pumpkins - Cooking With Kids Recipe
Ingredients
Ingredients
1 lb ground beef (I use 97% fat free)
1 Can Manwich
1 8-pack refrigerated biscuits
Non-stick Cooking Spray
Instructions
Spray muffin tins with non-stick cooking spray.
Brown ground beef in skillet.
Drain excess grease off of ground beef.
Stir in Manwich.
Cut biscuits in half and place in muffin cups.
Drop a spoonful on Manwich filling into each biscuit.
Close biscuits and bake at 350 degrees for 10 minutes.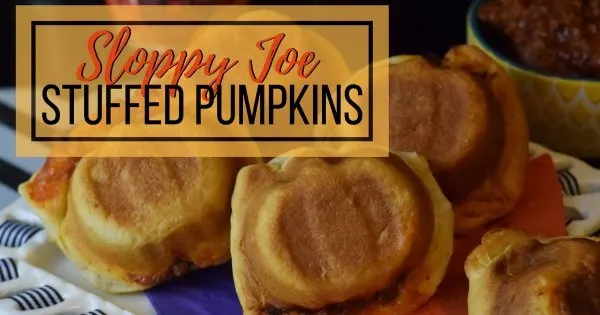 All I can say is WOW – Miss Jellybean ate 3 and of course Little Man was thrilled with his creation in the kitchen and ate 3 also. For a great, easy, kid tested and approved dinner – Make Tonight a Manwich Night! Check out these delicious recipes and more from Manwich!

3.3.3070
Check out these recipes and more