Today we have Chidinma from the Fruitful Kitchen sharing her delicious slow cooker french onion soup recipe.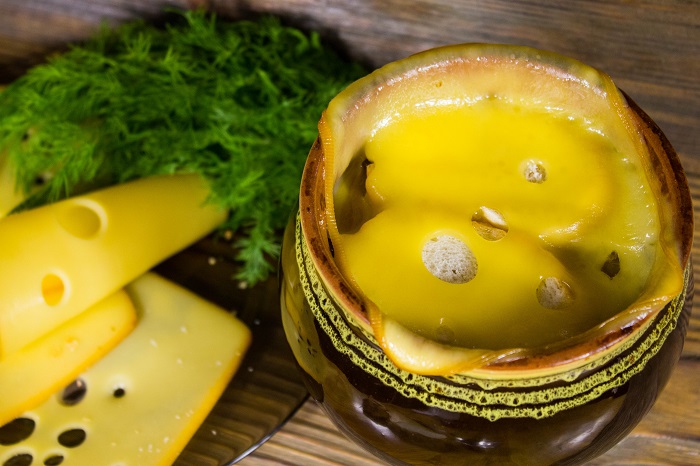 Slow Cooker French Onion Soup Recipe
You Just Have To Try This Slow Cooker French Onion Soup!
Don't you just love when the snow's falling and you're at home, enjoying flavorful lunch with your family?
For me, that's the best part of these freezing days. Since I'm one of those people who're always working on new recipes, the winter is just the perfect time to discover a lot of them. So, it's not surprising that I spend the good part of my day going through recipes on my blog.
Since it's so cold these days, I was looking for a warm dish that will be finger-licking, but at the same time a breeze to make, so I can do other things around the house while lunch's cooking. And I'm happy because I found exactly what I wanted.
This Slow cooker French Onion Soup recipe is perfect for everyone, whether you love spicy food or the food that doesn't have such a strong taste. Who wouldn't love the simple combination of salt, pepper, Worcestershire sauce and beef broth?
I wanted to do a good deed so I decided to share this recipe with you guys. You'll definitely love it. Let's find out how to make this soup!
Slow Cooker French Onion Soup Recipe
Number of Servings: 8 / Prep Time: 15 min / Cooking time: Active: 30 minutes, Inactive: 4-8 hours

Ingredients
1 baguette, sliced and toasted
4 pounds yellow onions, chopped
10 cups beef broth
1 tablespoon sugar
1 bay leaf
1 1/2 cups grated Gruyere cheese
1/4 cup all-purpose flour
1/2 cup unsalted butter, melted
2 tablespoons balsamic vinegar
2 tablespoons extra-virgin olive oil
1 tablespoon Worcestershire sauce
8 slices of French bread
Salt, to taste
Freshly ground pepper, to taste
Minced chives
Are you ready to make this marvelous soup?
Step 1: Without the right dish you can't make a proper lunch, right?
So, you'll need a large skillet or a large pot. Add olive oil, butter and chopped onions and cook over medium-high heat for around 10 minutes. And speaking of olive oil, did you know that we can use olive oil while baking brownies? Anyhow, let's continue.
Let me tell you a little secret to speed up this step. Sprinkle onions with 1 tablespoon of sugar, to enhance the caramelization and then stir until onions get a nice, brown color.
Step 2: Stay focused!
Now you'll need a small bowl so you can mix flour, balsamic vinegar, and Worcestershire sauce. Of course, the mixture has to be smooth, otherwise, you just ruined your lunch.
Step 3: I just adore slow cooker!
Transfer onions to your favorite slow cooker, and pour in beef broth. Then add bay leaf, flour combination, salt and pepper and stir until it's completely mixed.
Step 4: Hey, slow down
Cover and cook for 4 hours, on high. Or if you have things to do, you can cook on low for 7-8 hours.
Step 5: Don't you love melted cheese?
It's time to ladle this marvelous soup into bowls (oven proof of course) and top each bowl with 1 slice of bread. Then sprinkle cheese around and broil for 5 minutes.
Step 6: It looks amazing!
The soup is ready. But, did you forget that it has to look as great as it tastes? Garnish soup with chives before served and enjoy the look and the taste of your meal!
French onion soup tastes best while it's hot, so don't let it cool under any circumstance.
If you loved this soup and want another delicious recipe, try this one: Okro Soup with Mushrooms. Now it's time to make this finger-licking soup and to fully enjoy this winter day!
Author Bio: Chidinma is the founder of Fruitful Kitchen, a blog that shares delicious recipes and lifestyle tips. Most of her recipes help women with fertility issues, especially fibroids, PCOS, and Endometriosis. Sometimes, however, you will find other interesting recipes, as well as cooking tips and tricks there.