This slow cooker honey garlic pork chops recipe is a family favorite and oh so easy to make! These honey garlic pork chops pair perfectly with rice and steamed veggies for an easy dinner recipe on busy nights!
I like cooking with boneless pork chops because they're relatively inexpensive…I can usually find boneless pork chops or pork loin on sale for $2.49 a pound. And with prices at the grocery store rising, I need to find all the ways to cut back on our bill. Typically, I'll go to Sam's Club or Costco and have them slice a boneless pork tenderloin into chops….did you know they'll do this for you for no extra charge?! Then I'll package the boneless pork chops up into ziploc bags and toss them in the freezer.
Going with boneless pork chops or a pork loin is also the healthier option when it comes to pork. These are lean cuts of meat packed full of vitamins. Just make sure you trim off the excess fat. It's actually a misconception that pork is bad for you. Now, like anything else, it's all about moderation. But, a nice lean pork tenderloin is actually leaner than skinless chicken thighs (according to the US Dept of Agriculture)….seriously, who knew!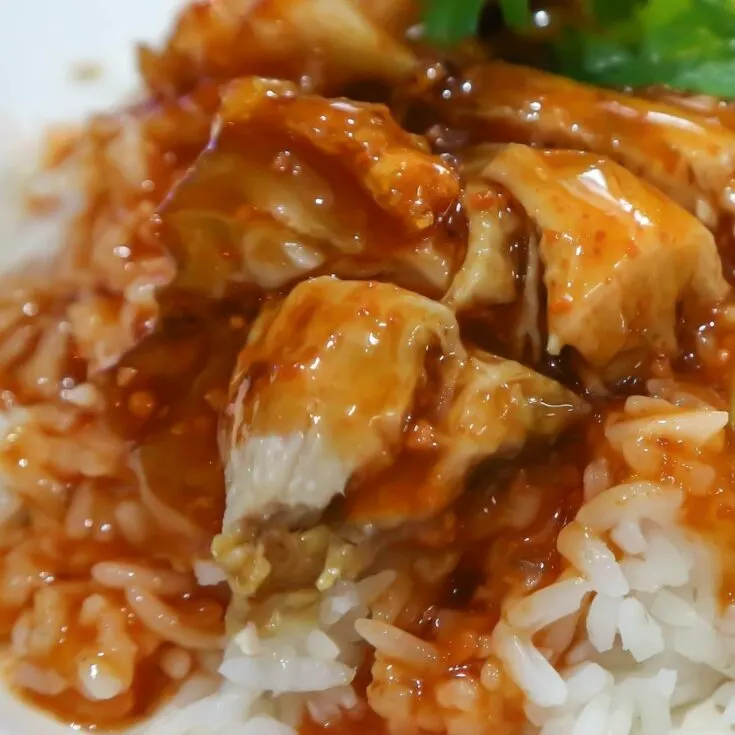 Yield:

6
Slow Cooker Honey Garlic Pork Chops Recipe
Throw boneless pork chops in the crock pot for a simple dinner. This slow cooker honey garlic pork chops recipe is so simple and a family favorite!
Ingredients
2lbs Boneless Pork Chops
1/3 Cup Honey
1/2 Cup Chicken Broth
6 Cloves Garlic (Finely Chopped)
3TBS Soy Sauce
2TBS Corn Starch
Instructions
Mix together honey, chicken broth, garlic, and soy sauce.
Place pork chops in bottom of slow cooker.
Pour mixture over pork chops.
Cook on low 6-8 hours.
Remove 1/4 cup of liquid from slow cooker.
Combine with corn starch.
Pour cornstarch mixture into slow cooker and mix well.
Allow sauce to thicken.
Serve hot.
Recommended Products
As an Amazon Associate and member of other affiliate programs, I earn from qualifying purchases.
More Simple & Delicious Pork Chop Recipes to Try: