Simple. Delicious. Nutritious. This Slow Cooker Turkey Pot Pie Recipe is the perfect healthy comfort food!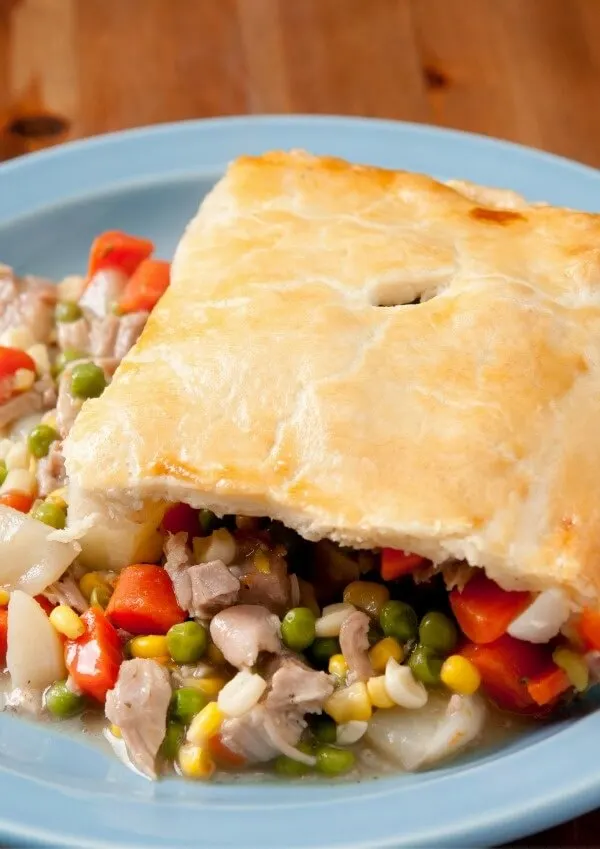 Slow Cooker Turkey Pot Pie Recipe
Comfort Food That's Simple & Nutritious
The weather outside has me on a comfort food kick–but who has hours to make dinner every night when there's kids to keep alive, laundry piling up, dishes to be done, pets that want to go for a walk, toy minefields to disarm…or at least make the kids undo their daily tornado attacks…and on and on.
I feel like I'm constantly running in circles trying to get everything done and NOTHING ever gets all the way done. Hubs came home the other night from work and came out of the bathroom commenting "Honey, you don't have to leave me hints this obvious, you can just ask me to clean the toilet"….my response "What are you talking about?".
Apparently in my haste of cleaning and chasing after my climbing addicted toddler I started to clean the toilet but just left the toilet brush sitting in the toilet bowl full of cleaner. Yep, Little Miss Jellybean had managed to climb up on a box and get stuck– so obviously I had to leave what I was doing and grab the video camera! You can see that cute little clip here:
Anyway, after all of that fun I completely forgot about cleaning the bathroom and moved on to another half finished task.
That's why I LOVE this Slow Cooker Turkey Pot Pie Recipe…I can set it and forget it! If you haven't discovered the joys of slow cooking yet– you HAVE to try it– it's the BEST thing ever! I love that I can just throw everything into my slow cooker– this one is my favorite— and dinner will be ready while I tackle all of the other things on my never ending list.
Slow Cooker Turkey Pot Pie Recipe
Slow Cooker Turkey Pot Pie Recipe
Author:
Prep time:
Cook time:
Total time:
Ingredients
3 cups diced cooked turkey breast (check your grocer's refrigerated section and you can find just turkey breasts– this is also a great recipe to use up leftover turkey from the holidays)
3 Cups of chicken broth [url href="http://serendipityandspice.com/how-to-make-homemade-chicken-broth/" target="_blank"](make your own[/url]…it's AMAZING)
1/2 teaspoon salt
1/2 teaspoon pepper
1 medium onion, chopped
1 bay leaf
3 cups potatoes, peeled and cubed
1 package frozen mixed veggies (16 oz)
1 cup milk
1 cup flour
1 teaspoon pepper
1/2 teaspoon salt
1 9-inch refrigerated pie crust
Instructions
In Crock Pot, combine chicken, broth, 1/2 teaspoon salt, 1/2 teaspoon pepper, celery, onion, bay leaf, potatoes, and mixed vegetables.
Cover and cook on low 8 to 10 hours or on high 4 to 6 hours.
Remove bay leaf.
Pre heat oven to 400 degrees.
In a small bowl, mix milk and flour.
Gradually stir flour and water mixture into Crock Pot.
Stir in pepper, poultry seasoning, and salt.
Remove the liner from Crock Pot base and carefully place 9-inch pie crust over the mixture.
Place the crockery liner inside preheated oven and bake (uncovered) for about 15 minutes, or until browned.
If your liner is not removable, put the mixture in a casserole dish, cover with the pie crust and bake as above.
For more delicious slow cooker recipes make sure you check out my Recipes board:
Follow Melissa @Serendipity and Spice's board Serendipity and Spice©: Recipes on Pinterest.