Today I'm sharing with you how I knock out meal planning for the week in 10 minutes. Yep, just 10 minutes to plan my family's meals for the week– meal planning for a month takes me 30 minutes max!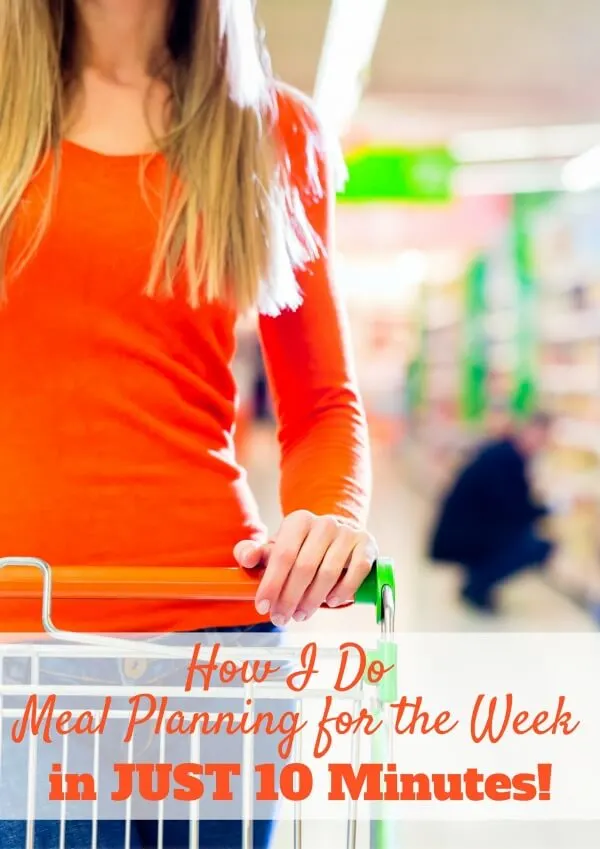 Meal Planning for the Week in 10 Minutes
The EASIEST Way to Meal Planning
So I'm the WORST when it comes to meal planning! I think about it. I make a plan to do my meal planning. But I always run out of time. Our lives are so busy that it's just easier to go out to eat than it is to make a meal plan. I mean, finding recipes I want to make, getting the list of ingredients together, heading to the grocery store, and deciding what to have on which day….it takes a lot to plan out meals for the week.
Well, that was until I discovered Healthy Kids Inc!
With Healthy Kids Inc I can plan my meals for the entire week in about 10 minutes! They have this unique drag and drop program that I'm in love with. See, they have a database with hundreds of different recipes– when you see one you like you just drag it over to the calendar and drop it into the day that you want to make it.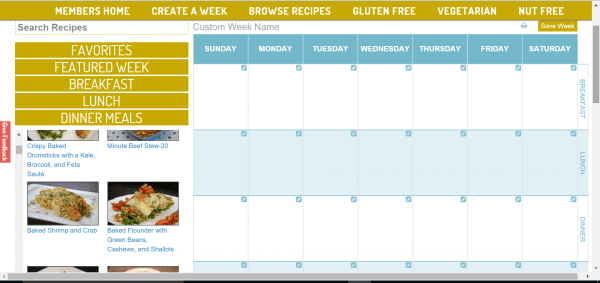 There are spots for breakfast, lunch, dinner, snacks, etc. It takes all of the guess work out of what there is to eat….and it keeps me eating healthier because instead of going to the pantry and grabbing one of the kids' snacks I can look at the calendar and choose a healthy snack.
I love that the Healthy Kids Inc system also has a place where you can search for gluten free, nut free, and vegetarian meals….it makes dinner planning so easy for when my vegetarian brother in law comes to visit!
So I know you're wondering…"with all of these choices how do you meal plan in 10 minutes?".
Well, I start off picking a few new recipes from "Feature Week"…there's always something that looks amazingly delicious. Using the drag and drop feature this takes like 30 seconds!
Then I go the the "Favorites" section and choose a few of my tried and true trustworthy meals– again, using the drag and drop feature saves me so much time!
Finally, I go and browse the recipes for any filling in that I need. Once again, using the drag and drop feature makes my weekly meal planning a breeze.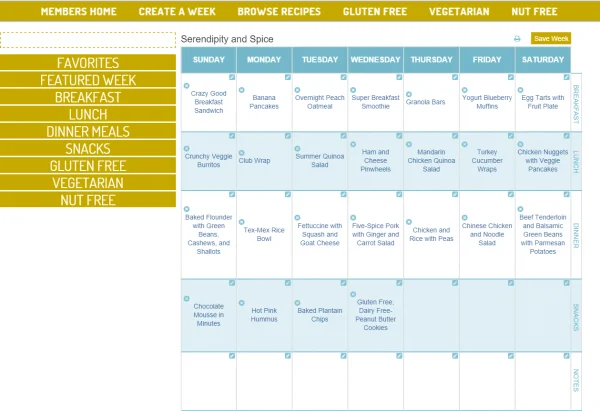 Now that I know all of the meals I want to make for the week it's time to compile the grocery list. This used to be the most time consuming part for me because I would have to look up each recipe, check the pantry to see what I needed, and build my grocery list. With the Healthy Kids Inc website my grocery list is automatically compiled for me….and it lists the exact quantity of each item I need along with what section of the grocery store it's located in!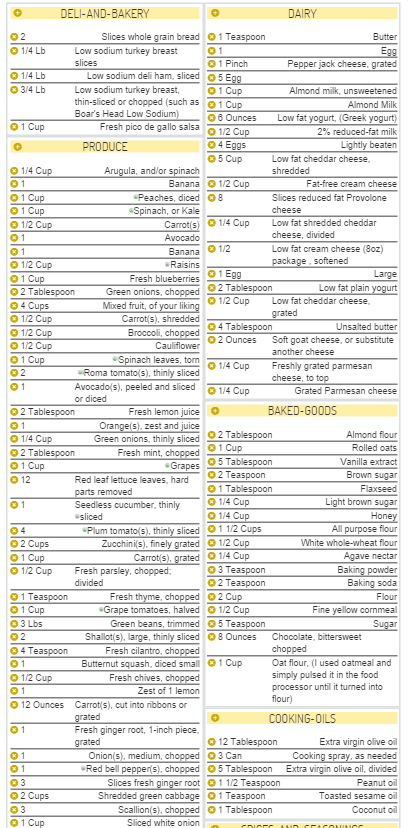 I just print this list out, double check it against what I already have, and then I'm ready to shop!
Tip: Check and see if your local grocery store offers online grocery shopping…I love it. I don't even have to visit the grocery store….I order online, schedule a pick up time, and they bring the groceries out and load them into my car. It saves so much time AND money…because I'm no longer just "browsing" and "impulse buying"!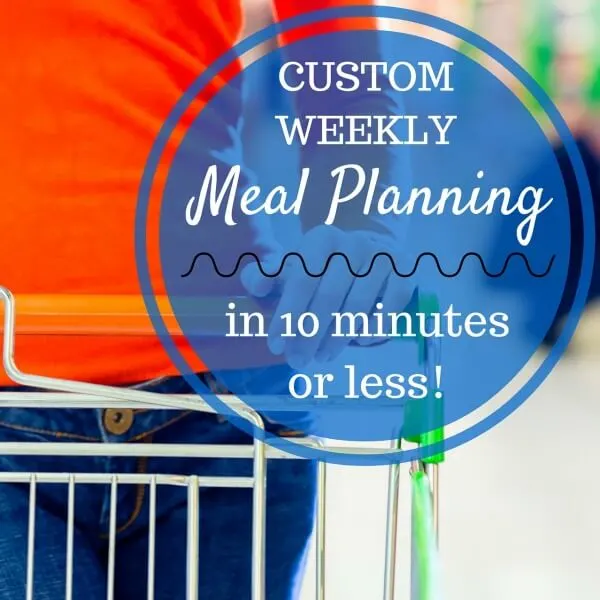 Once I have all of my groceries, making dinner each night is easy peasy! I just refer to my meal planning calendar on Healthy Kids Inc to see what I'm making….they are awesome because it gives me step by step instructions and even offers a video! Plus, each recipe also gives me the nutritional information so I can make healthier choices.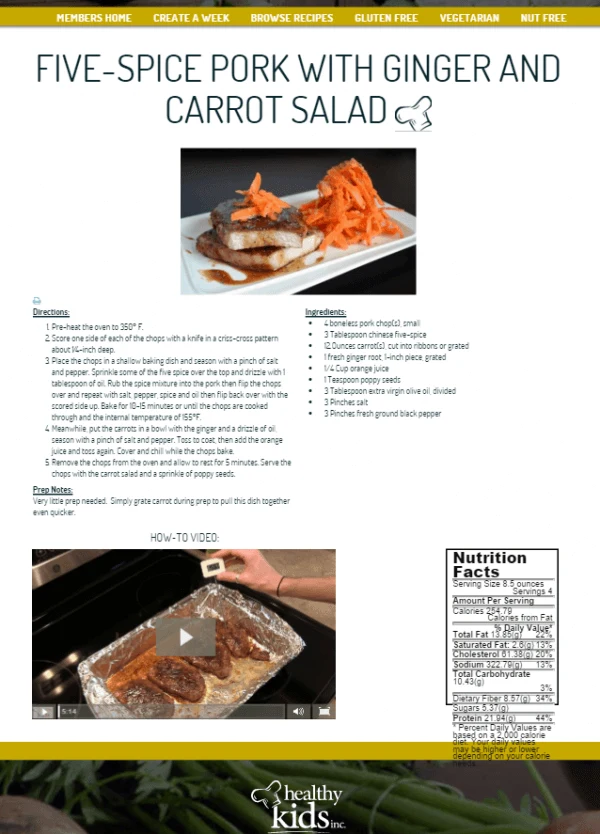 I have saved so much time, energy, and money using Healthy Kids Inc by doing weekly meal planning. Something that I used to avoid because it would take me an hour or more each week now takes me about 10 minutes a week and is so easy…I really enjoy it and it makes me feel like Super Mom!
Healthy Kids Inc is less than $6 a month when you sign up for a full year– it's worth every penny! Go give it a try– they have a one month option for $10 to see how you like it….trust me….you're going to LOVE how much time you save!
Disclosure: This post does contain affiliate links. I did receive a free trial to Healthy Kids Inc to facilitate this review but as always, all opinions are completely my own honest views.
Some of the TOP Recipes on Serendipity and Spice:
Bacon Roasted Onion Brussel Sprouts Recipe
Chicken and Apple Baked Polenta Recipe
O-M-G BEST Crockpot Chicken EVER Recipe – pinned over 15k times!