The BIG List of Star Wars Lego Sets Under $15! Legos can get expensive…especially Star Wars Lego Sets….but all of these Star Wars Lego Sets are under $15! They make the perfect Christmas gift for kids young and old!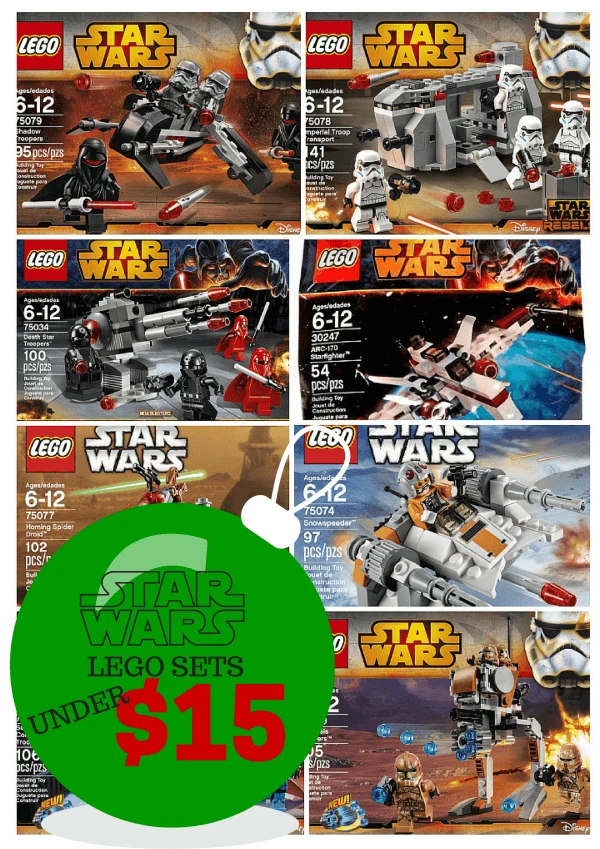 Star Wars LEGO Sets Under $15
Affordable Gifts for Kids Young and Old
The holidays are upon us and with the release of the newest Star Wars movie right before Christmas this is going to be A Star Wars Christmas year. Hubs is beyond excited about the latest installment of the Star Wars saga– he and Little Man have been playing with their light sabers and watching Disney's Star Wars Rebels non-stop!
So I've been on the hunt for fun Star Wars gifts that are also affordable. I mean, Hubs has been dropping hints left and right about wanting the Star Wars LEGOS Dealth Star but I'm thinking that's a bit out of the budget for this year….well, it's WAAAAAAAAY out of the budget for this year…..I mean, did you see how much it costs?! That's the gift for a serious Star Wars fan…who doesn't have a 4 year old that's probably going to lose half the pieces anyway. I even contemplated getting Hubs the Star Wars LEGO Millennium Falcon but that's still a bit pricey…especially when I can get them like 10 of these Star Wars LEGO Sets under $15 for the same amount I would spend on the single LEGO set.
Plus, by getting some of these less expensive sets I have more money to spend on other Star Wars goodies like these Star Wars Christmas Decorations and (coming soon) a few Star Wars books as well as some other fun toys. So here's my big list of Star Wars LEGO sets for under $15….a perfect gift for any Star Wars fan!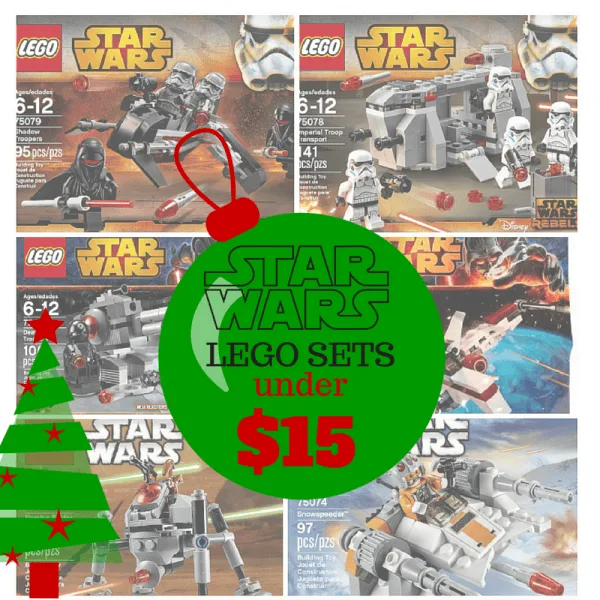 Star Wars LEGO Sets Under $15
Lego, Star Wars Microfighters Series 1 Star Destroyer
LEGO Star Wars Homing Spider Droid
LEGO Star Wars Set #30247 ARC-170 Starfighter
LEGO Star Wars Republic Gunship
LEGO Star Wars Mini Building Set #30242 Republic Frigate
Lego, Star Wars Microfighters Series1, AAT [Armored Assault Tank]
LEGO Star Wars 75036 Utapau Troopers
Lego, Star Wars, Kashyyyk Troopers
LEGO Star Wars Mini Building Set #30056 Star Destroyer
LEGO Star Wars BrickMaster Exclusive Mini Building Set #20019 Slave I
LEGO Star Wars 75034 Death Star Troopers
LEGO Star Wars TIE Bomber and Asteroid Field
LEGO Star Wars Geonosis Troopers
LEGO Star Wars 75037 Battle on Saleucami
LEGO Star Wars Senate Commando Troopers
LEGO Star Wars Shadow Troopers
Star Wars LEGO Mini Builing Set 3219 – TIE Fighter
LEGO Star Wars Imperial Troop Transport
LEGO Star Wars Jedi Starfighter and Kamino
LEGO Star Wars Exclusive Mini Building Set #30051 XWing Starfighter
LEGO Star Wars Set #30244 Anakin's Jedi Intercepter
LEGO Star Wars 9678 Twin-Pod Cloud Car and Bespin