Blogging can be a lot of fun, rewarding, and profitable. It was my outlet when Little Man was born and now it's my full time income. Over the next few weeks I'm going to walk you through how to start a successful blog.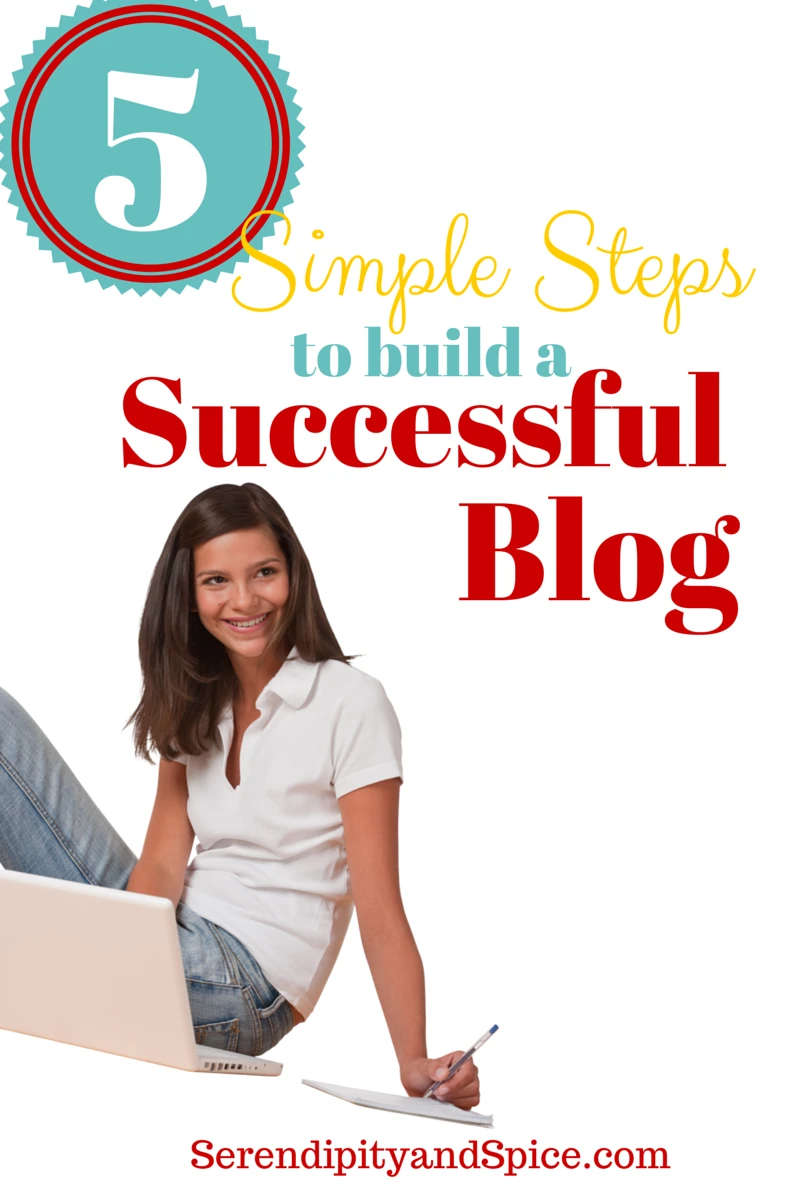 How to Start a Successful Blog
Have you ever thought about starting a blog?
Is there something that you're passionate about that you would love to share with the world?
Do you enjoy writing?
Well, stop putting it off and just start a blog already!
After Little Man was born I found myself feeling isolated and disconnected from the world. One day I decided….why not start blogging…it looked like fun….I enjoy writing….I LOVE cooking (not the cleaning up after)….I'm always wanting to share my finds with others….so I started Serendipity and Spice.
I never expected Serendipity and Spice to grow like it has and actually become successful….it was just my way of connecting with the world as a new mom and giving myself something to do during those long nights of Little Man keeping me up. Well, here we are 3 years later and I'm making a full time income, starting another blog, writing an e-book, and getting over 1 million pageviews a month!
Over the past few months I've been asked over and over again from friends, family, and readers "how do I start a blog?". Well, I'm going to tell you how to start a successful blog.
What you'll learn-
How to start a blog.

And so much more…..
Okay, so let's get started with the basics of how to start a successful blog:
1. Pick a Blog Name
First and foremost you need to decide on your blog name. I highly suggest making it something that can grow with you….something like MomOfToddlers isn't going to work 10 years from now unless you keep having kids so you'll always have a toddler.
Pick something that's catchy, easy to remember, and makes sense for the type of blog you want. Serendipity and Spice is catchy but it's not really easy to remember and it skirts along whether it makes sense for the type of blog it is. See, Serendipity and Spice, makes sense to me because Serendipity means happy accidents and Spice is for the spice of life….so, since my blog is mainly family and cooking it makes sense that happy accidents are the spice of life….but that's not so easily understandable for people who just stumble onto my blog. Now, Raising Jetsetters (my family travel blog), is catchy, memorable, and makes sense….you almost immediately know that it's about travel with kids.
2. Domain Name is a MUST
Now, once you've decided on a blog name, go buy the domain name. If you're wanting to start a blog that can potentially make you money in the future then you'll want to start it off right….which means getting a domain name and self hosting….don't worry…it's not nearly as scary, expensive, or as complicated as it sounds.
Personally, I suggest purchasing your hosting and domain through RFE….that's who I use and they're affordable while their customer service is top notch! They'll give you your domain name free when you sign up for their hosting…which is super cheap. By purchasing your domain name NOW you'll be saving yourself a BIG headache in the future….plus it gives you more credibility to have a .com.
3. Self-Hosting
By setting yourself up with self-hosting you will own your content…which is vital in the blogging world! I know, self-hosting sounds super scary and difficult…I was terrified when I started the switch to self-hosting….but really, it's nothing, it's so much better than using blogger or some other platform.
I'm sure you're wondering what I mean by "you will own your content"! Well, if you use a platform that handles your hosting like Blogger…ultimately Blogger has control over your content. If they decide that they don't like your content they can shut you down and delete all of your hard work! Yep, I've known people that had this happen and they weren't posting anything bad but Blogger maintains that right in their terms of service. So, it's best to just go ahead with a self-hosted WordPress site.
4. Use WordPress.org
Now this is VERY important…you want to use WordPress.org NOT WordPress.com. If you use BlueHost for your hosting and domain they can easily install WordPress.org for you and basically have you set up to go in minutes. The difference is that with WordPress.org you own your content and can write sponsored posts, run ads, make money, etc. With WordPress.com you are not allowed to do that…it's in their Terms of Service. Both platforms are free….just make sure you use the .org.
5. Design
I'll go more in depth with design in the next post but you'll need to start thinking about the design of your blog. Start looking at themes and decide on something you like. Most of the free WordPress themes aren't very customizable and they're rather boring.
Most people choose either Genesis or Thesis as their framework (the building blocks of your site) and then choose a child theme (the overlay and design of your site). For example, my framework is Genesis (I LOVE it! When we get into design I will be working off of the Genesis framework to show you different things.) and the child theme is Innov8tive. There are hundreds of child themes to choose from with these two frameworks and then add in customizing and you have your own unique look! Unfortunately neither of these frameworks are free but it's well worth the money spent to have a professional looking blog.
You can also go the custom route and have a designer do your site for you….I definitely suggest using Fiverr to have a custom logo designed. You simply make a free account and then browse through people offering their services….just look at their designs and find someone that does a style you like. Then contact them about designing a custom logo for just $5! Most of the designers on Fivrr are there to get noticed and many offer additional services at great prices.
So go, get started on building your blog and I'll see you next week for a lesson on blog design!
One final note though….I highly suggest getting the iBlog magazine…it's full of great information about blogging and your first issue is free!!
What questions do you have about blogging?