This Eggplant Casserole Recipe is a delicious vegetarian meal that's packed full of flavor! One dish meals are the BEST and this eggplant casserole recipe does not disappoint!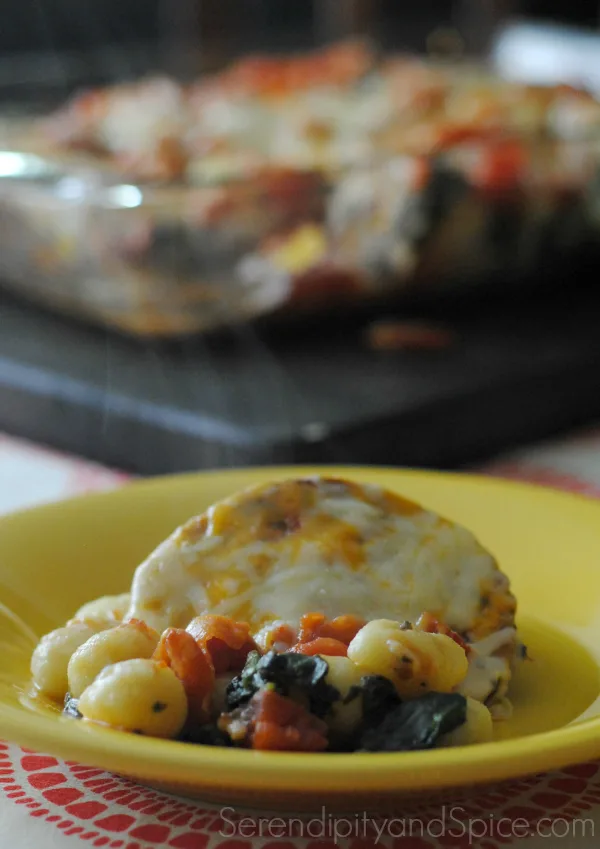 Eggplant Casserole Recipe
A delicious vegetarian meal that's packed full of flavor!
So lately I've been trying to squeeze in at least one vegetarian meal a week…luckily, being right in the middle of Lent is helping since we don't eat meat on Fridays. Hubs usually likes for me to make fish on Fridays but this week I decided to switch things up with this Eggplant Casserole recipe. It was a DELICIOUS vegetarian meal that was PACKED full of FLAVOR!
Ever since Miss Jellybean was born I've been on a kick to simplify our lives….one of my FAVORITE ways to simplify our lives is to use less dishes at dinner time….I HATE doing dishes….I love to cook but can't stand the clean up afterwards. I'm fortunate enough that Hubs usually handles the clean up when I cook but some nights he's just too tired after working for 12 or 14 hours (he's a training manager which equals CRAZY long hours!) so I wind up cleaning up the dishes after dinner. That's why I've started focusing on slow cooker meals and one dish meals….both make dinner clean up a snap!
I chose an eggplant casserole recipe because eggplant is a pretty hearty veggie that can easily replace the meat of a meal without feeling like you're eating rabbit food (as Hubs calls all vegetables- not just salads). Eggplant has a wonderful earthy flavor that bakes up so delicious (you can fry it too but I'm trying to be healthier 😉 ). Plus, this is the perfect meal to make when my sister and her fiance are visiting because they are true vegetarians….so at least I know how to make one delicious meal they can eat. You can also easily make this meal vegan by just removing the cheese.
I'm a huge fan of gnocchi (pronounced no-key….it took me like a year to figure that out back when I started eating it years ago)….I'm always trying to come up with dishes that I can add gnocchi to! In fact I just made a gnocchi soup tonight that I'll be sharing soon…..oh my gosh it was to die for! But you're hear to find out about this delicious eggplant casserole recipe…so back to that. Are you ready for how simple this recipe is to make?!

Eggplant Casserole Recipe
Ingredients-
3TBS Olive Oil
Eggplant
1 Large Can of Diced Tomatoes
1 Bunch Spinach
1 Package Potato Gnocchi
1/2 Cup Monterrey Jack Cheese
1/2 Cup Mozzarella Cheese
1 tsp Salt
1 tsp Pepper
1/2 TBS Garlic Powder
1 TBS Italian Seasoning
Directions-
Peel and slice eggplant and place in a casserole dish.
Mix together salt, pepper, garlic powder, and Italian seasoning.
Drizzle eggplant with olive oil and sprinkle with seasoning mix.
Turn oven broiler on high and broil eggplant for 5 minutes.
Remove eggplant from broiler and flip over, drizzle with olive oil, sprinkle with seasoning, and return to broiler for another 5 minutes.
Remove spinach leaves from stalks and add to casserole dish.
Add gnocchi to casserole dish and bake for 20 minutes.
Drain tomatoes and pour over casserole.
Sprinkle cheese on top of casserole and continue baking for 5 minutes or until cheese is melted.
Serve hot!

What's your favorite way to eat eggplant? Share in the comments below!
Other recipes you may enjoy: