The Anchor Clock Update
Inspiration for the Preppy Pirate Room
Have you ever found a piece (art, furniture, knick-knack, whatever) that completely inspired a room? I mean a piece so perfect that you never even thought about changing things up in a room until that one item caught your attention?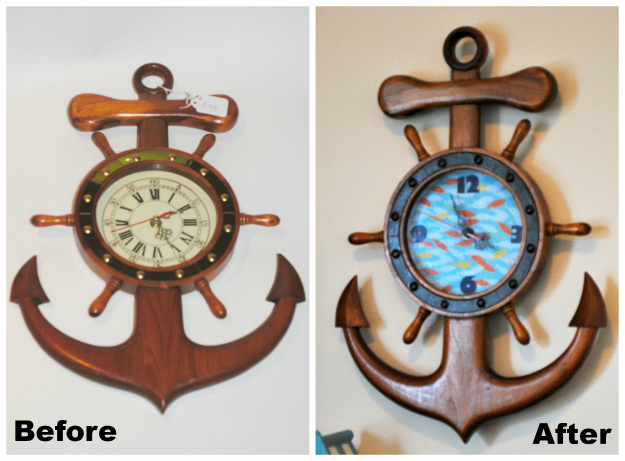 Well, this is that piece! This anchor clock caught my attention at a yard sale for $3! Yep, just $3! I immediately fell in love with it and started planning on how to incorporate it into Little Man's room. Well, once that started I had completely overhauled the entire look of Little Man's room (in my mind anyway) and now I'm on a mission to get my HUGE list of things to change done!
In case you missed it, we are building a house! YEAH! But it's going to take 6 more weeks to build so my goal is to get everything for Little Man's room done so when we move he'll have his new Preppy Pirate theme (oh the ideas I have!) all done and set up. Luckily I have some time! 🙂
So what exactly is a Preppy Pirate theme you ask? Well, I love the idea of pirates for his room but I'm not into the skulls and cross bones that accompany pirates so I'm putting a preppy sailor spin onto the idea…..just wait– you're going to LOVE it!
Alright, back to the clock….
Anyway, I found this clock at a yard sale and loved it– except for the brass accents and the face is a little too grown up for Little Man– I want something just a little bit more whimsical. The anchor is made of solid wood and looks like something I would find in Pottery Barn for close to $100! But that brass is just too ugly!
So, I grabbed some painters tape, Rustoleum's Oil Rubbed Bronze paint, a paint brush, and went to work.
In about 5 minutes I had the outside of the clock taped up– note: when putting painters tape around a round opening it's easiest to use little bitty strips so the tape will go with the curve.
Then I just painted the brass to this beautiful bronze. To completely cover the brass I let the first coat dry overnight and applied a second coat. Now you can't even tell the brass wasn't bronze in the first place. 🙂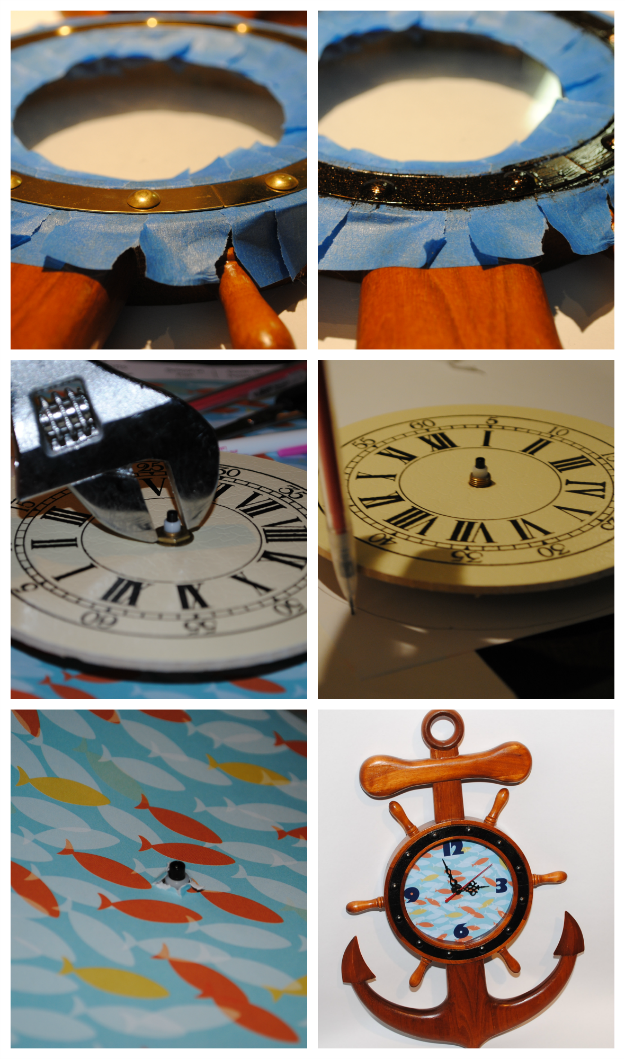 Next I wanted to update the face of the clock– but I didn't want to damage the original face so Little Man can use the clock when he's older or we can move it to some other place in the house later on. I simply found some scrapbooking paper that I liked– this fish design is super cute and will go with the whole pirate/nautical theme.
To replace the face of the clock–
1. Remove the arms– the second hand usually pops right off and the other hands will just slip off.
2. Trace the clock face onto the back of the scrapbook paper and cut out.
3. Lay the scrapbook paper on the clock face and cut a small hole where the part that holds the hands juts out.
4. Carefully work the paper down to the face of the clock.
5. Cut numbers out of vinyl and adhere to the scrapbook paper.
6. Replace clock hands (I painted these in the oil rubbed bronze too).
7. Since I didn't want to ruin the original clock face I didn't attach the scrapbook paper to the clock face I just carefully slipped the clock face back into the clock.
And here's the new, improved, more whimsical anchor clock….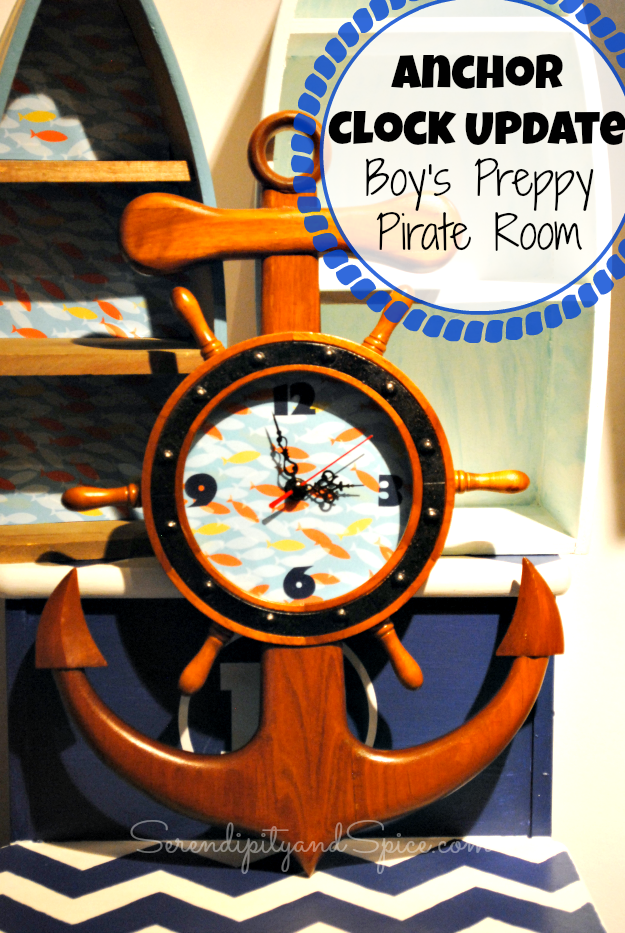 I can't wait to show you everything else I have in store for Little Man's Preppy Pirate room!
What piece did you fall in love with that completely inspired a room?