Toddler Crafts- Halloween Door Decor
A Spooky Last Minute Halloween Craft that's PERFECT for Toddlers!
Crafts with Toddlers can be a lot of fun….especially now that we've entered Holiday season! The next few months are going to be filled with so many fun holiday centered crafts and I'm going to start sharing some great toddler crafts with you!
So, Little Man, much like his mom, LOVES painting! We were at the library's story time last week and the librarian brought out paints and paper for all the kids to make a fall tree painting. Can you imagine…..a room full of toddlers sitting on the floor painting?! That was one very BRAVE librarian! I was terrified that Little Man was going to go crazy with the paint and it would be all over the floor. But he did VERY well– I showed him how to brush the paint on the picture and he followed my directions and for the next 10 minutes he meticulously painted his tree! MIRACULOUS!
So, now that I know he does so well with crafts and painting I'm an even bigger Michael's and Hobby Lobby junkie than I was before…cause Little Man needs his craft stash now too! 🙂 Thank goodness for coupons!!!
I decided we would make this Halloween Pumpkin Door Decor….I think the fact that Little Man made it makes me love it sooooooo much…and he LOVES it too!
I found this cute wooden jack-o-lantern cut out at Michael's for $1.49– so cute! Then I picked up some washable paint for .69 a bottle…I chose to give Little Man 3 colors so he'd have some variety. We bought orange, white, and brown. I also purchased a whole pack of sponge brushes for like $1….these are the easiest for toddlers to learn with.
When we got home I couldn't wait to do our little project together….I mean mother and son crafting together– WHAT could be better?!?!
I quickly grabbed some newspaper and covered the table, grabbed a plate to squirt the paint on, handed Little Man the paint brush and let him go to town. Next time I will remember to change his clothes into something I don't like….but I was so excited to get crafting!
Little Man had a BLAST mixing the colors and painting his pumpkin face! After about 15 minutes he started getting bored and was done– but hey, 15 minutes of arts and crafts is a long time for a toddler! So, we put the pumpkin face up someplace safe to let it dry….Little Man was so adorable– he kept going and checking on it asking me if it was dry yet. 🙂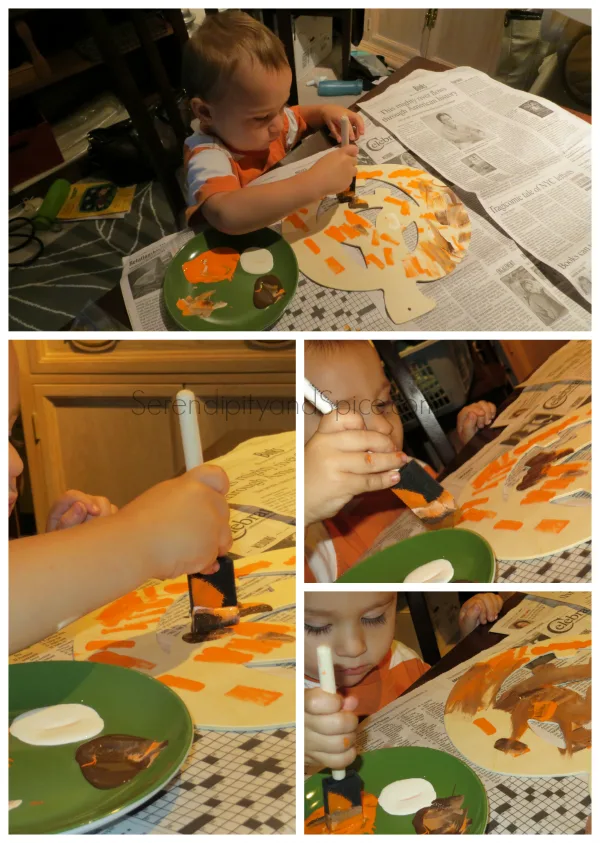 Once it was dry I let Little Man pick out the ribbon– he had 2 choices. I threaded the ribbon through the hole and hung it to the door knocker on the front door. Every time we come home Little Man looks up at it, points, and starts smiling saying "I make pumpkin, I make pumpkin".
How do you capture special memories during the holidays with your kids? Share in the comments below!
You May Also Like:
The Best Classic Board Games for Toddlers
Toddler Christmas Craft- Candy Cane Ornaments
The BEST No Carve Pumpkin Ideas
Free Halloween Printables 4 Pack
Taking a Toddler to the SeaWorld Spooktacular
Taking a Toddler to Mickey's Not So Scary Halloween Party