This post brought to you by Breyers Gelato Indulgences. All opinions are 100% mine.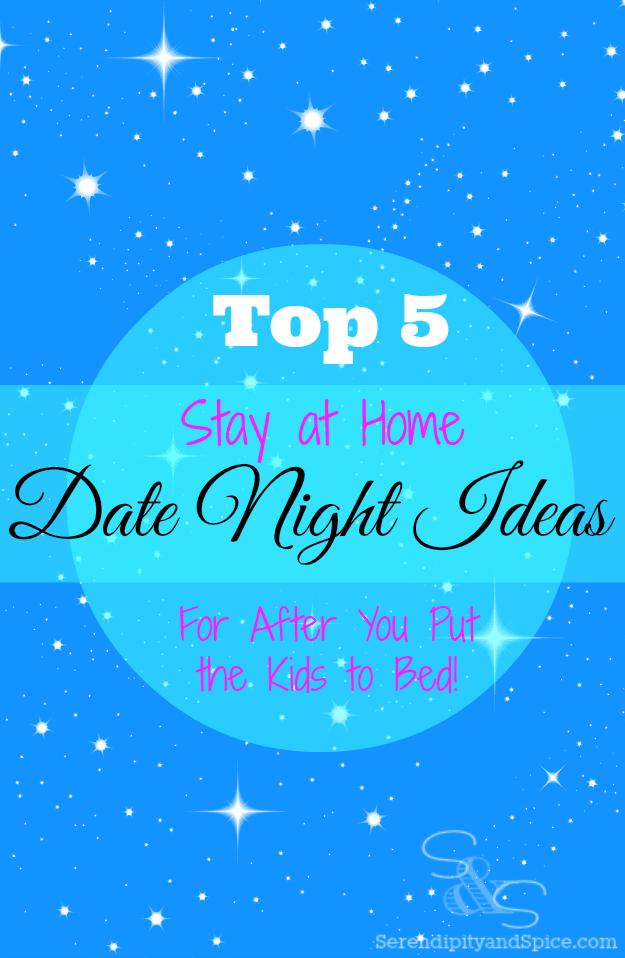 Top Stay at Home Date Night Ideas
For After You Put the Kids to Bed
As parent's it's so important for us to take time out and enjoy some one on one time with our spouses! All too often you hear about people growing apart after having kids and disconnecting from one another. Well, I believe that's it's crucial to have a regular date night to keep the spark alive! We all need the time to reconnect with our loved one and remember the reason we chose that person to build a family with! When I look at the most successful marriages in my family they all have one thing in common– they continue to have a date night on a regular basis.
Now, I totally get not having the time, energy, or babysitter funds to take a date night out….but that doesn't mean you can't have a wonderful date night at home after the kids are tucked in tight and fast asleep!
Today I'm going to share with you my top 5 stay at home date night ideas and how I make them extra special with Breyers Gelato Indulgences.
1. Old Fashioned Dinner and a Movie
Hubs and I try to do this date night every few weeks because we are total movie buffs! After Little Man goes to sleep we'll pick out a movie On Demand or Hubs will pick up a rental on the way home. I'll make a special dinner just for us and we'll curl up on the couch after eating and snuggle in to watch. And no movie is complete without a sweet treat like Breyers Gelato Indulgences!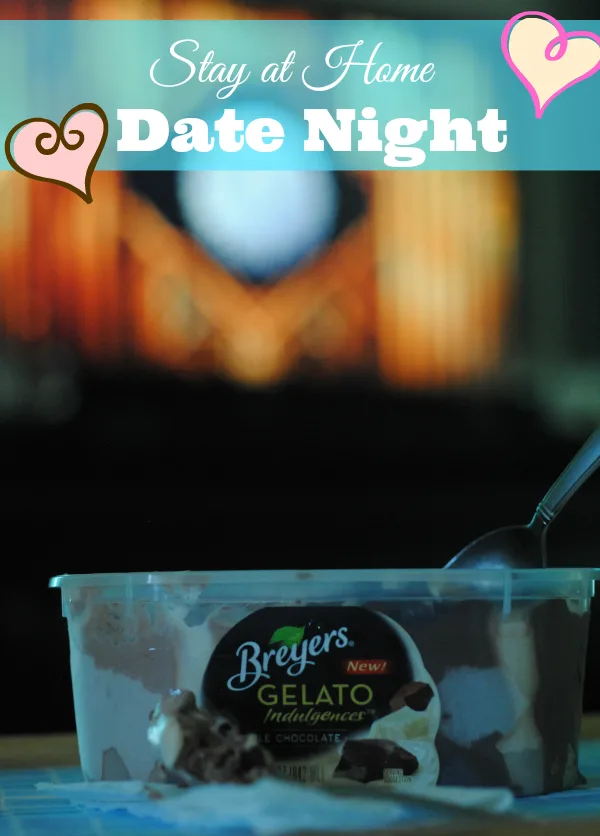 2. Star Gazing
Now wait….before you start thinking this is too cheesy….read through the fun we have. Before Hub's comes home from work I'll print a constellation map with directions on how to find the different stars in the sky. We'll put Little Man to bed and head out to the backyard with a blanket….this is the perfect stay at home date night for these summer nights! I'll pull out the stargazing sheet and we'll talk about our week as we try to identify different constellations….usually we wind up just making some up and getting goofy about it…but it's a fun way to reconnect and unwind. And I always make sure we have yummy snacks to indulge in!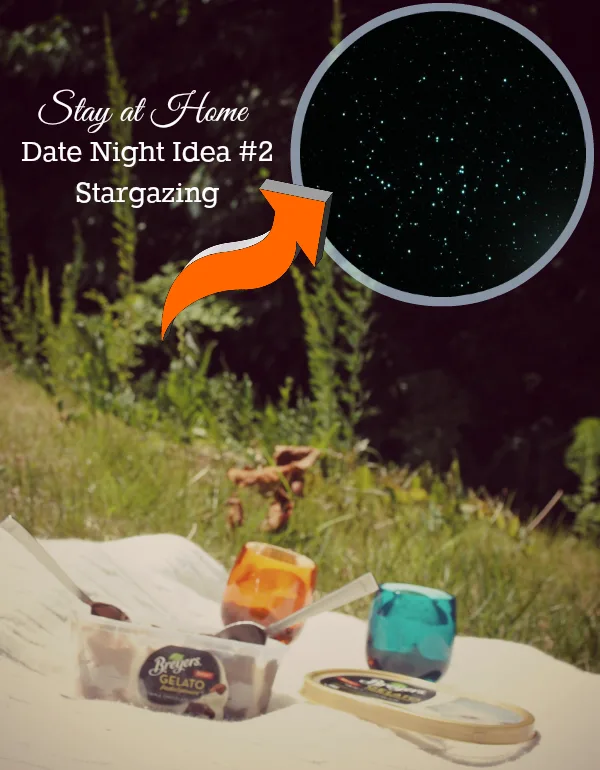 3. Game Night
One thing you probably don't know about me is that I'm SUPER competetive! And so is Hubs! So we have a blast playing board games after Little Man has gone to bed…it's impossible to play while he's awake because he wants in on the action too! We'll usually grab a good 2 person game like Scrabble or Monopoly and play for hours!
4. Pizzaria Night
Pizzaria night is one of my favorite date nights! I usually make Little Man leftovers for dinner and have Hubs pick up fresh pizza dough on his way home from work. Then once we put Little Man to sleep we start our pizza bake off. Hubs will make his version of the ultimate pizza and I will create mine…then we'll taste test them to decide who's the winner! I love that this date night gets us experimenting in the kitchen and we have a LOT of fun just hanging out and sampling each other's ingredients. And what pizza dinner is complete without a sweet dessert afterwards….the Tiramisu Gelato makes the perfect Italian ending!
5. Beer/Wine Tasting Night
Obviously since finding out the news about our new family addition coming in December we haven't done this date night recently but it's on the books for after Jellybean is born! Depending on our mood we would either pick up a few bottles of wine or beer (a lot of grocery and liquor stores will now let you make your own 6 pack) to taste. Again, after Little Man goes to bed we would retreat to our porch and just relax under the stars tasting our adult beverages….and you know I've got a sweet treat ready to go as well!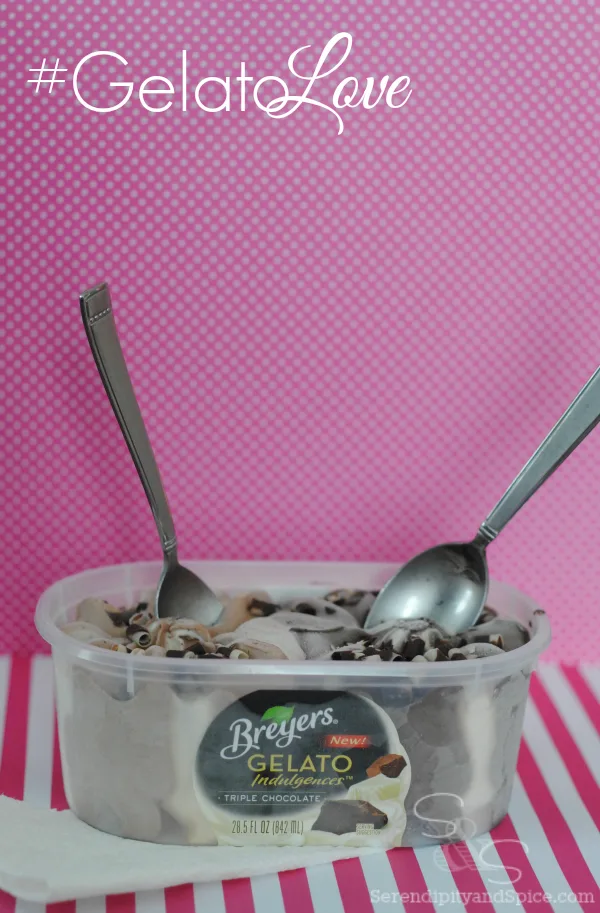 One thing that makes our date nights complete is Breyers Gelato Indulgences. I've always been a huge fan of Breyers frozen treats– nothing compares to them! And, Breyers has come out with 4 new Gelato flavors that are absolutely AMAZING! I got the chance to try all 4 and they are fantastic! I must say my two favorites are the Vanilla Caramel with it's creamy vanilla gelato with yummy caramel sauce and caramel sprinkles and the Triple Chocolate featuring 2 types of chocolate gelato with white chocolate sauce and milk chocolate curls…..YUM!
What's your favorite Stay at Home Date Night? How would you incorporate Breyers Gelato Indulgences into your date night?