This site contains affiliate links, 3rd party ads, and sponsored content. For more information please read our Disclosure Policy. As always, I only recommend products or services I personally use and love!
This turkey, rice, and kale chowder instant pot recipe is a delicious and healthy meal for a cold winter day!  Making pressure cooker recipes is fast and flavorful…give this turkey, rice, and kale chowder instant pot recipe a try tonight!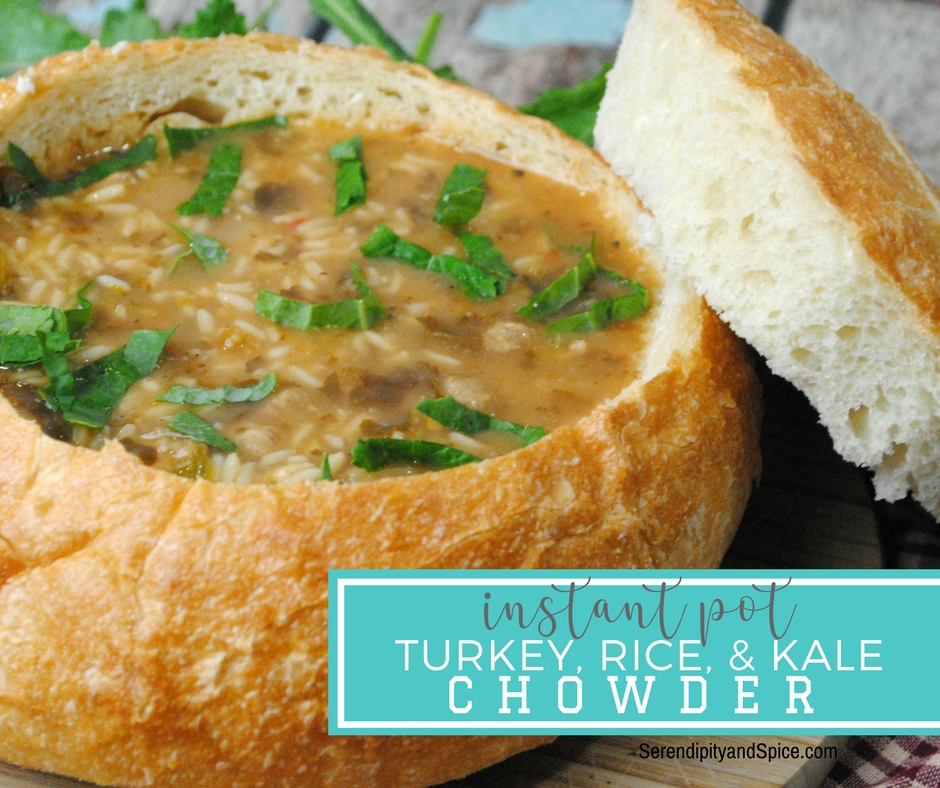 Turkey, Rice, and Kale Chowder Instant Pot Recipe
A pressure cooker soup recipe the whole family will love!
This #InstantPot Turkey, Rice, and Kale Chowder is perfect for a quick and healthy meal! #recipe
Click To Tweet
With this crazy winter cold snap happening across the Eastern United States I've been in the mood for hearty comfort food….unfortunately, my New Year's resolution is to eat healthier.  Since we're less than a week into the new year and experiencing negative 5-degree temps, it's a battle I'm not doing well with!  I really really really want to cozy up on the couch with a big fluffy blanket, some hot tea, and a hearty meal to keep me warm!
Well, who says you can't have hearty and healthy together?!
Y'all know I love my Instant Pot!  I have been obsessed trying out new recipes and finding easier ways to get dinner on the table each night.  Join the Month of Instant Pot Challenge here and get new recipes straight to your inbox.
Well, this Turkey, Rice, and Kale Chowder Instant Pot Recipe is the perfect one pot meal for a cold winter night!
This Turkey Rice & Kale Chowder is the perfect winter dinner! #InstantPot #Recipe
Click To Tweet
Turkey Rice and Kale Chowder – Instant Pot Recipe
Ingredients
2 TBSP extra-virgin olive oil
1 bunch of green onion, chopped
2 TBSP red pepper flakes
1 package of turkey sausage, thinly sliced
24oz of chicken broth
1 C brown rice
1 bunch of fresh kale, chopped
Kosher salt, to taste
Fresh ground black pepper, to taste
1 TBSP Old Bay Seasoning
Fresh basil, chopped
4 round bread loafs (optional)
Instructions
Turn Instant Pot to Sautee function.
Add Olive Oil to Instant Pot
Add chopped green onions, red pepper flakes, and sliced turkey sausage.
Sautee for 5-7 minutes or until onions are translucent
Slowly add half of the chicken broth, stirring as you pour it into your Instant Pot.
Stir in the Old Bay seasoning allowing all of the ingredients to cook for 60 seconds before adding a small amount of salt and pepper. Taste test for the seasoning, if necessary add more.
Press the cancel button on the Instant Pot and turn on the "Rice/Pasta" function.
Add the brown rice and kale.
Stir to blend all of the ingredients.
Close lid on Instant Pot to cook the rice.
When the rice is finished let it sit for 5 minutes before doing a quick release.
Add in the rest of the chicken broth.
Let it the soup heat up for 5-7 minutes before serving.
Serve hot.
https://serendipityandspice.com/turkey-rice-and-kale-chowder-instant-pot-recipe/
This recipe is Copyright Protected. Find this and other delicious recipes at SerendipityandSpice.com
Let's make the bread bowls:
Using a sharp knife, cut a circle in the top of each loaf, leaving a 1 inch border all around. Remove the top of the loaf, then hollow out the middle with a fork or your fingers. Be sure to leave a thick bread shell.
Spoon the soup into each bread bowl and garnish with basil.