Free Thanksgiving Printables
Chalkboard Prints that are perfect for Thanksgiving!
So you guys know how much I LOVE printables!  They're the perfect way to decorate on a budget.  I have four 8×10 photo frames that are in my entry way that I love changing out every few weeks to match the seasons.  See, I'm one of those people that's constantly changing things around and this time of year our house is in constant change with all of the holidays….I LOVE it!  But, decorating for every holiday can get quite expensive!  That's why I love using printables!  I'll usually print these out at Walmart because I can print an 8×10 photo for like $2 so I can easily change out a whole wall for less than $10!  Not bad!
Anyway, chalkboards are HOT lately…the only problem is….my chalkboard writing skills leave a LOT to be desired!  Yeah, I'm pretty bad at chalkboard writing.  Luckily, these free printables look just like fancy chalkboard art so I can still be trendy without the talent! 😉
If you're a big fan of printables too then you'll want to sign up for my weekly email newsletter where I share a free parenting printable exclusively for subscribers….each week it's a new parenting quote and it's always ink friendly….that way you can easily print out the new quote at home and have it as inspiration for the week!  I also try to share new seasonal printables every Friday right here on the blog for free!
Subscribe to our mailing list
Okay, now for this week's free Thanksgiving printables: (just click on the links to be taken to the download…don't worry, they're all stored on box.com so they're completely safe!)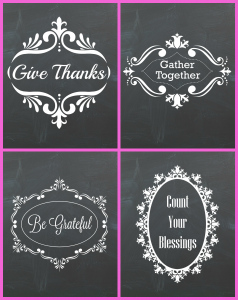 1.  Give Thanks
3. Be Grateful
How do you like to decorate for the Holidays? Share in the comments below!
Please follow and like us: