This site contains affiliate links, 3rd party ads, and sponsored content. For more information please read our Disclosure Policy. As always, I only recommend products or services I personally use and love!
This Girl Scout Samoas Cupcake recipe is so delicious and the perfect way to use up some of those Girl Scout Cookies.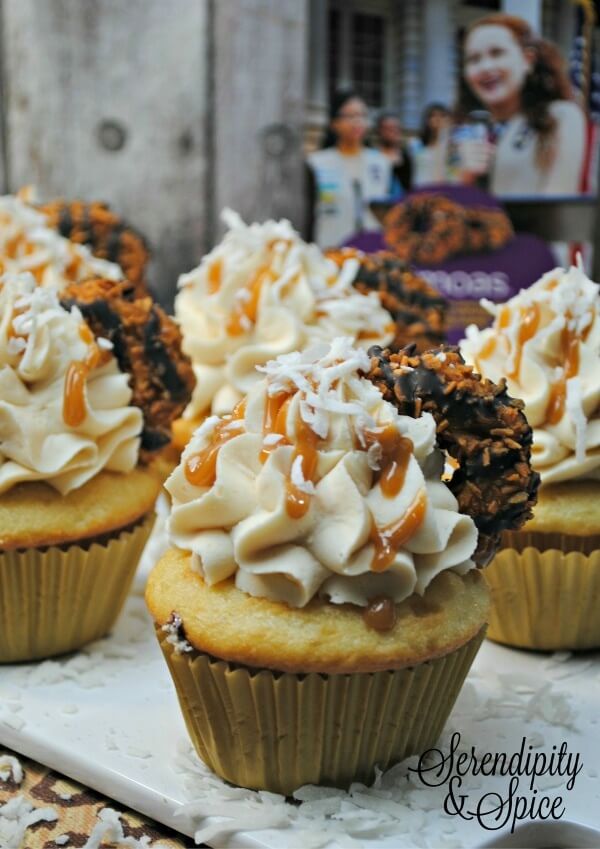 Girl Scout Samoas Cupcakes Recipe
A delicious dessert using Girl Scout Cookies!
Call them Caramel Delights….Call them Samoas….no matter what part of the country you're from you know what delicious little delights I'm talking about.  Those crunchy cookies covered in caramel, coconut, and chocolate….seriously, it's the BEST combination EVER!
I was a Girl Scout when I was a little girl and I remember the excitement when it came time for cookie season.  Back then the ultimate goal was to sell 300 boxes….if you made it to 300 boxes then you would get the best prizes. I don't know what it is now….but I'm sure you have to go MUCH higher than 300 boxes.  I remember one year there was a Girl Scout boom box that I just HAD to have…..luckily my dad worked in a large office with plenty of employees eager to load up on cookies!
Samoas aka Caramel Delights were always one of my favorites….those and Tag-a-longs (I have a copy cat Tag-a-long recipe you've got to try!!)  If you're a fan of Samoas Girl Scout Cookies as much as I am then you definitely need to grab a box and try this Girl Scout Samoas Cupcake Recipe!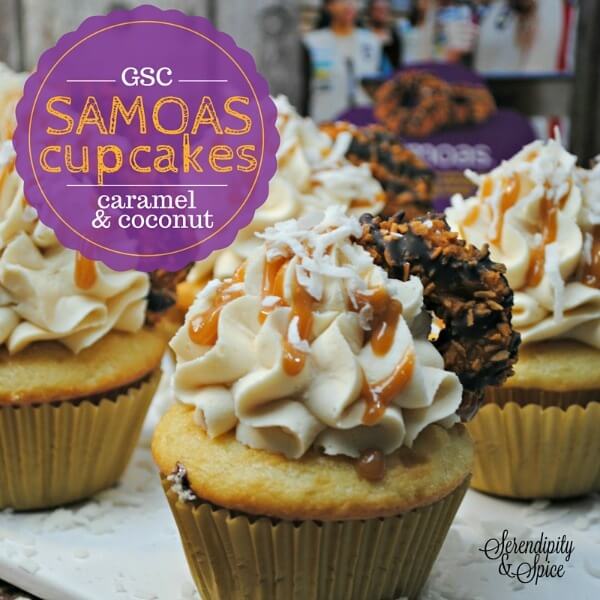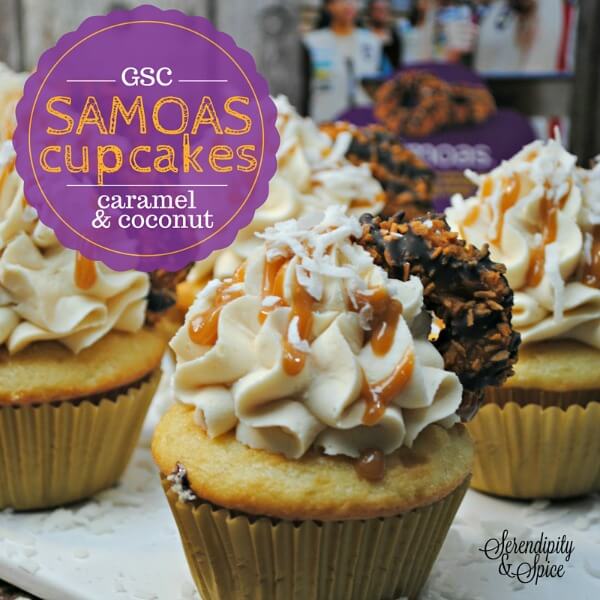 Quick Tip:  This is my favorite icing set because it has every tip I could possibly need to make beautiful cupcakes…and the price is awesome!
Girl Scout Samoas Cupcake Recipe
Girl Scout Samoas Cupcake Recipe
Ingredients
2⅔ C flour
5 TBS cornstarch
2 tsp baking powder
¼ baking soda
½ tsp salt
⅔ C unsalted sweet cream butter softened
6 TBS oil
1½ C sugar
4 Larger eggs
2 tsp vanilla
½ C whole milk
½ C buttermilk
½ C Shredded Coconut
Instructions
Preheat oven to 350 degrees and fill cupcake pan with liners.
In a bowl, combine flour cornstarch, baking soda, powder and salt. Mix
In a bowl with a mixer, mix butter and sugar until fluffy.
Add in oil. Mix
Add in the eggs, one at a time and mix until each is blended after each addition.
Add in the vanilla
Combine both milk into another bowl.
Add in flour mixture, alternating between a bit of flour mixture and milk.
Fold in shredded coconut into batter.
Scoop batter into the liners and bake for 21 minutes.
Girl Scout Samoas Caramel Coconut Frosting
Girl Scout Samoas Caramel Coconut Frosting Recipe
Ingredients
1 C unsalted sweet cream butter
3 C powder sugar
¼ C coconut
5 TBS heavy whipping cream
2 tsp caramel
Instructions
Add in all ingredients into a standing mixer and mix until combined and stiff peaks form.
If powder sugar pebbles form, add in 1-2 more tbsp heavy cream
if thin add in ½ C powder sugar.
mix until stiff and doesn't fall off a spoon.
Now that your cupcakes and frosting are ready it's time to decorate your cupcakes.  Add frosting into a star tipped piping bag, frost the cupcakes, drizzle caramel and sprinkle coconut and then add in a samoa cookie.  For a little extra toasted goodness I like to sprinkle the shredded coconut on a cookie sheet and bake in the oven for about 5-10 minutes….just until you've got a nice golden brown color happening.
What's your favorite Girl Scout Cookie flavor?  Share in the comments below!
You May Also Like:
Copycat Tagalongs Girl Scout Cookies
Copy Cat Girl Scout Cookies Recipes
Ferrero Rocher Chocolate Cupcake Recipe
Sharing is caring! We'd love it if you shared this post: