This spice cake has quite the surprise hidden inside and a delectable icing that's perfect for Thanksgiving.  Make this Hidden Turkey Spice Cake with Maple Nut Icing Recipe and surprise all of the kids and adults at the dinner table this year!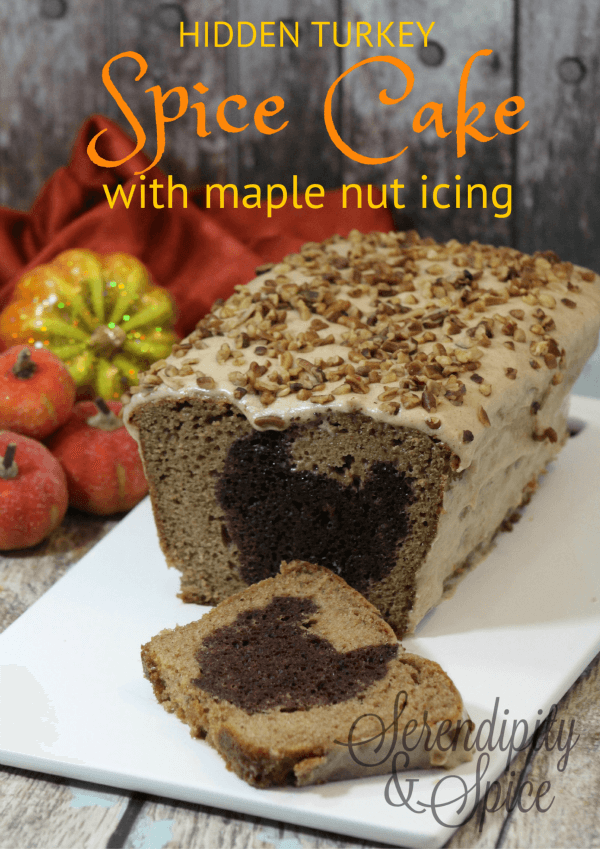 Hidden Turkey Spice Cake with Maple Nut Icing Recipe
A Fun Surprise inside a Delicious Treat!
So I have to admit….even though Thanksgiving isn't until next week…Hubs and I took the kiddos to see Santa Claus this past weekend.  It was really just a spur of the moment kind of thing….seriously…..I keep telling people to enjoy Thanksgiving and not rush to Christmas but I just couldn't help myself.  In my defense I am working on improving my videography skills so that was part of the reason that we went…it was the perfect opportunity to put together a fun little video:
But the kids loved it and that's all that matters….right?!  To make up for my transgressions and get back to the proper holiday check out this super delicious Hidden Turkey Spice Cake with Maple Nut Icing recipe.  You know hiding designs inside of cakes it just way too much fun with the kids.  Little Man is hilarious….he is just blown away that there's a turkey inside of the cake loaf and with every new cut he wonders if the turkey will still be there.
Seriously, if you have kids then you definitely need to make this spice cake….not only is it super cute but it's totally delicious too!  And it's actually really easy to make….I mean, you could use two box cake mixes but making it from scratch is just as easy and tastes sooooooo much better.  Plus, you know exactly what's in it– we're working on cutting out processed foods and taking baby steps to healthier living.
If you're in the same boat as me and know you need to make changes to the stuff your family eats then sign up for our mailing list because that's going to be the focus here on Serendipity and Spice for 2016….. "Baby Steps toward Whole Living"….trust me, you're going to LOVE it!
Anyway, enough of all of that and back to this deliciously simple and fun cake!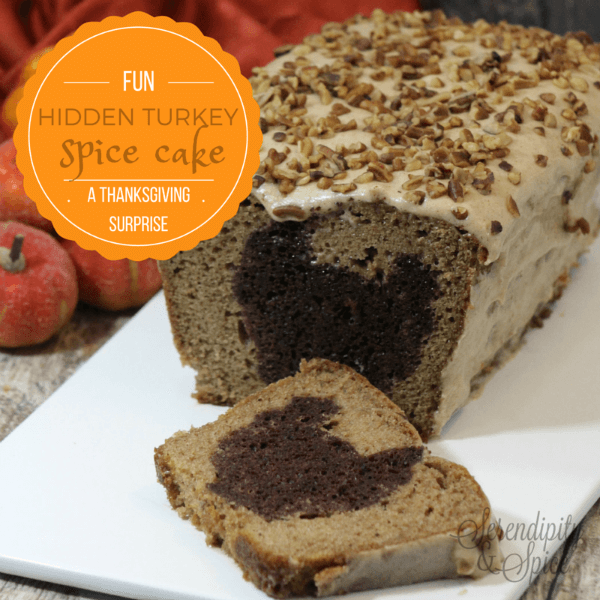 Hidden Turkey Spice Cake with Maple Nut Frosting
Hidden Turkey Spiced Cake Recipe
Ingredients
Turkey Cake (darker) Ingredients:
1¾ C Flour
2 C Sugar
1 C Cocoa
1½ TSP Baking Soda
1½ TSP Baking Powder
1 TSP Salt
2 Eggs
1 C Whole Milk
½ C Oil
2 TSP Vanilla
1 C Boiling Water
Spice Loaf Ingredients:
¾ C shortening
1⅓ C packed brown sugar
1 C white sugar
3 eggs, room temp
2 tsp vanilla
1½ C buttermilk
3 C flour
2 tsp baking powder
¾ tsp baking soda
¾ tsp salt
1 tsp ground cinnamon
¾ tsp ground nutmeg
¾ tsp ground cloves
½ tsp ground allspice
Maple Icing Ingredients:
1 C powdered sugar
1 tsp cinnamon
1 TBSP unsalted butter, room temp
½ tsp vanilla
¼ C maple syrup
1 small bag of diced pecans
Instructions
Turkey Cake Directions:
-Preheat oven to 350 degrees. Prep a loaf pan with baking spray.
-Mix the flour, sugar, cocoa, baking soda, baking powder, and salt in a bowl.
-In a separate bowl add the eggs, whole milk, oil, and vanilla.
-Add the bowl containing the eggs, whole milk, oil, and vanilla to the bowl holding the dry ingredients.
-Mix all together until fully incorporated.
-Beat for 3 minutes on medium.
-Slowly add the boiling water starting with a small amount then pour in the remaining boiling water.
-The batter may be a little runny.
-Pour the chocolate batter into the loaf pan.
-Bake at 350 degrees for about 50 minutes ( loaf will not be completely baked) .
-Cool in pan 15 minutes.
-Flip the loaf onto a wire rack to cool.
-Turn upright to cool completely.
-With the cookie cutter in hand measure for the width of each slice.
-Cut each slice according to the above measurement.
-Using the cookie cutter, cut out the turkeys. Set aside.
Spice Loaf Directions:
Preheat oven to 350 degrees.
Prep a loaf pan with baking spray.
-Set each turkey slice into the loaf pan (these should reach from one end of the loaf pan to the other end of the loaf pan)
-Cream the shortening, brown sugar, white sugar until light and fluffy.
-Add 1 egg at a time, beating after each addition. Stir in the vanilla.
-Sift the flour, baking powder, baking soda, salt, cinnamon, nutmeg, cloves, and allspice in a separate bowl. Set aside.
-Add the flour mixture alternately with the buttermilk blend until incorporated.
-Begin by filling in the batter on both sides and in between the turkey slices and cover the top of the turkey as well with the batter.
-Bake at 350 degrees for about 1 hour or until an inserted toothpick comes out clean .
-Cool in pan 15 minutes.
-Flip the loaf onto a wire rack to cool.
-Turn upright to cool completely.
Maple Icing Directions:
- Whisk all ingredients in a small bowl until smooth and creamy.
-If needed add more powdered sugar if too thin.
-Pour a little more maple syrup, a teaspoons at a time, if too thick.
-Spoon the icing on the cake and spread it all over.
-Sprinkle some chopped pecans on top.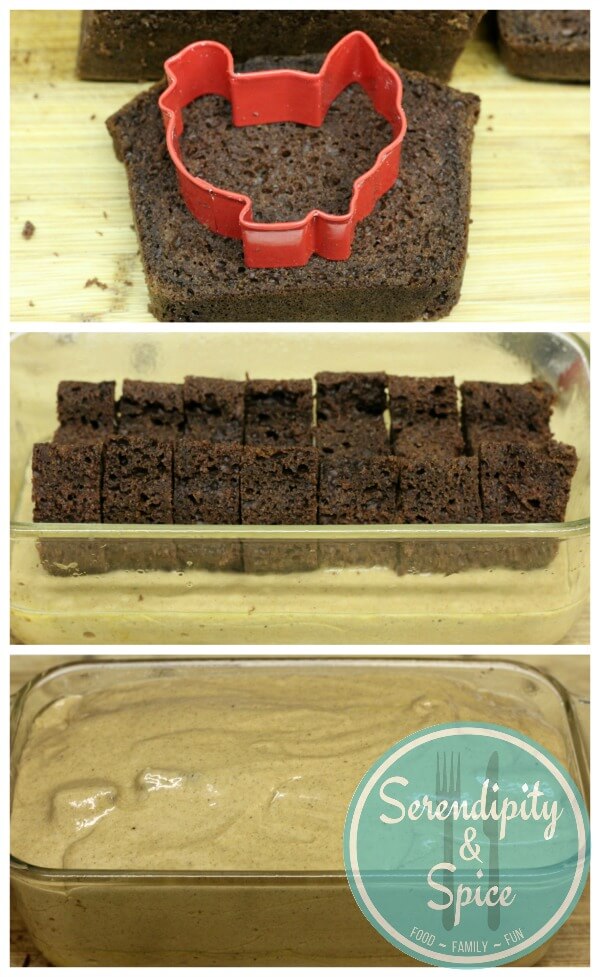 This is a great recipe to make with kids as well.  Little Man is so excited to make this recipe for Thanksgiving because we're going to surprise Grandma and Nonnie with the turkey inside…."they won't know there's a turkey. But then, when we cut it there will be a turkey and they'll be so happy"!
Have you ever made a hidden cake before? Share the details of who it surprised in the comments below!
Other Posts You May Like:
Thrive Market
- It's like the Costco of organics...this is where I get all of my sugar, flour, baking supplies, kids snacks, etc.
Zaycon Foods
- This is where I buy most of my meat products in bulk.  The quality is amazing and the prices just can't be beat!  I mean, $1.89 a pound for boneless all-natural chicken breasts!!  It is bulk but you can always split with a friend or make up a bunch of freezer meals like I do!