This copycat Panera Turkey Chili recipe is so simple to make and ready in just 30 minutes…it's one of the best one dish meals I make! Plus this is a healthy recipe that makes you feel full and satisfied! Try this copycat Panera turkey chili recipe today!
Panera Bread is known for its cozy atmosphere, freshly baked bread, and an array of comforting soups and chili.
One of their standout dishes is the Turkey Chili, a hearty and flavorful bowl of goodness that warms your soul.
But what if you could recreate that delightful taste in the comfort of your own kitchen? Well, today's your lucky day!
In this blog post, we'll walk you through a step-by-step recipe for a Copycat Panera Turkey Chili that will have you feeling like a chef in no time.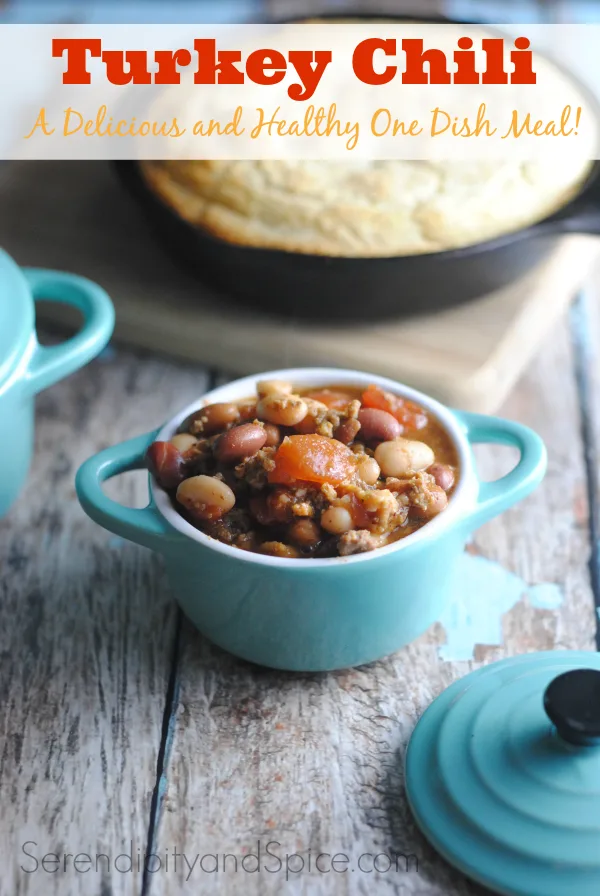 Turkey Chili Recipe
A healthy and delicious meal ready in no time!
I used to HATE chili!
I wasn't a fan at all…. the only chili I would ever eat was a recipe similar to this that my mom would make! She used to make it with ground beef but we're trying to cut back on the red meat around here so I decided to swap it out for ground turkey….you can't even tell the difference!
Trust me….I made this turkey chili recipe for my dad who "can't stand ground turkey" and he had no idea I made the switch from ground beef to ground turkey!
In fact, I made him admit that he really liked it before I told him that I made the switch…I'm sneaky like that!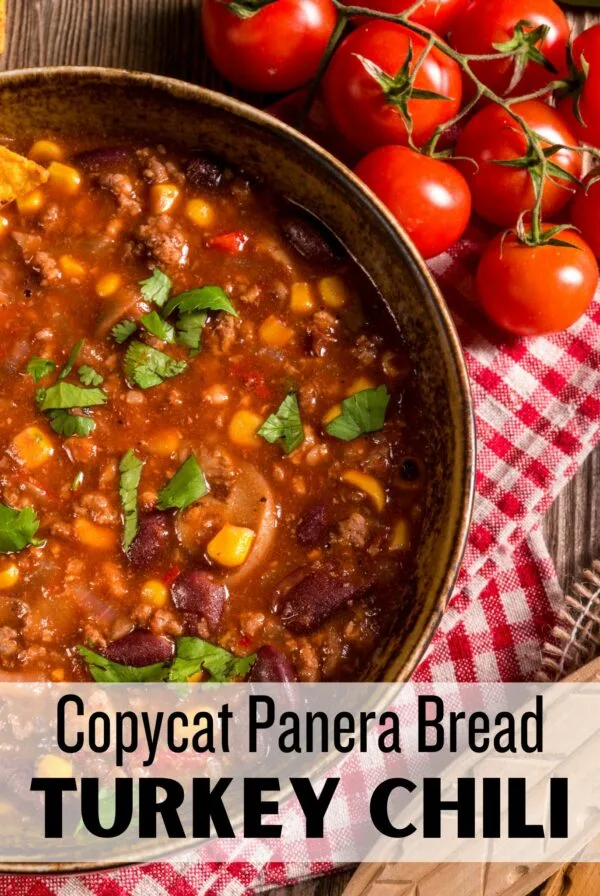 Use Leftover Thanksgiving Turkey to Make this Recipe!
This is also a great recipe to use up leftover turkey from the holidays. I simply take some turkey breast and shred it like I would chicken and just mix it in instead of ground turkey….it makes this recipe so delicious!
I love that this is a hearty meal but it's packed full of protein and nutrients that are so healthy…we're eating healthy but we don't feel like we're eating health food….does that make sense?!
Printable Recipe for Copycat Panera Turkey Chili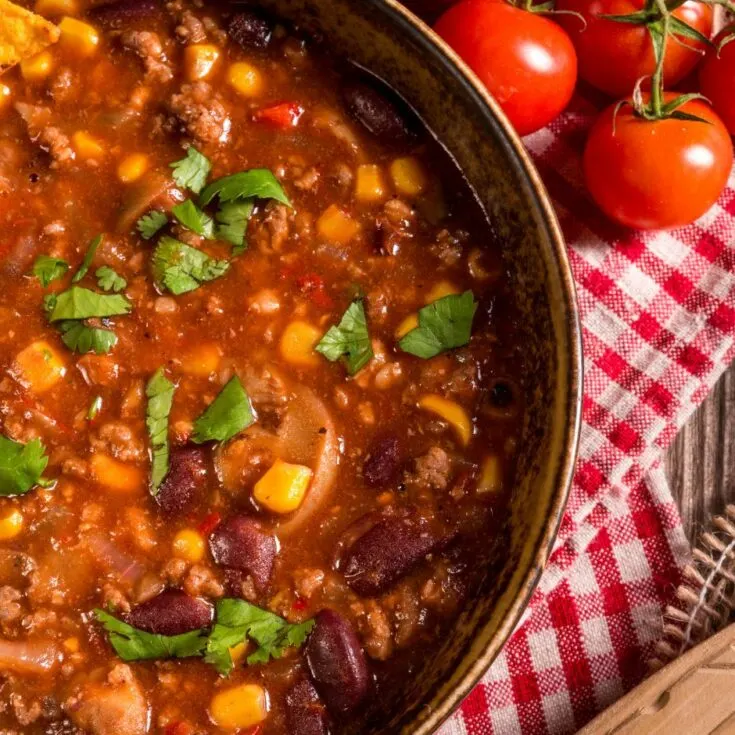 Yield:

6
Panera Turkey Chili Recipe
Discover the ultimate comfort food with our Copycat Panera Turkey Chili recipe. Learn how to recreate the delicious flavors of Panera's signature chili in your own kitchen. Warm up with this hearty and satisfying bowl of homemade goodness today
Ingredients
1 pound ground turkey
1 medium onion, chopped
1 red bell pepper, chopped
1 green bell pepper, chopped
3 cloves garlic, minced
2 cans (14.5 ounces each) diced tomatoes
1 can (15 ounces) tomato sauce
1 can (15 ounces) black beans, drained and rinsed
1 can (15 ounces) kidney beans, drained and rinsed
1 can (15 ounces) corn, drained
2 cups chicken broth
2 tablespoons chili powder
1 tablespoon ground cumin
1 teaspoon dried oregano
Salt and black pepper to taste
Olive oil for cooking
Instructions
Sauté the Vegetables: Heat a large pot or Dutch oven over medium heat and add a drizzle of olive oil. Once the oil is hot, add the chopped onion, red bell pepper, green bell pepper, and minced garlic. Sauté until the vegetables are soft and the onions are translucent, about 5 minutes.
Brown the Turkey: Push the sautéed vegetables to one side of the pot and add the ground turkey to the other side. Break up the turkey with a spatula and cook until it's browned and cooked through, about 5-7 minutes.
Spice it Up: Stir in the chili powder, ground cumin, dried oregano, salt, and black pepper. Cook for an additional 2 minutes to toast the spices, allowing the flavors to meld.
Add the Canned Goods: Pour in the diced tomatoes, tomato sauce, black beans, kidney beans, and corn. Mix everything together until well combined.
Simmer: Pour in the chicken broth to reach your desired consistency. Bring the mixture to a simmer, then reduce the heat to low and let it simmer uncovered for at least 20-30 minutes. This allows the flavors to meld together and the chili to thicken.
Serve and Enjoy: Once your Copycat Panera Turkey Chili is ready, ladle it into bowls and garnish with your favorite toppings, such as shredded cheddar cheese, sour cream, chopped green onions, or fresh cilantro.
More delicious and simple dinner recipes to try!