This is a sponsored post written on behalf of Success® Rice.  As always all opinions and comments are 100% my own.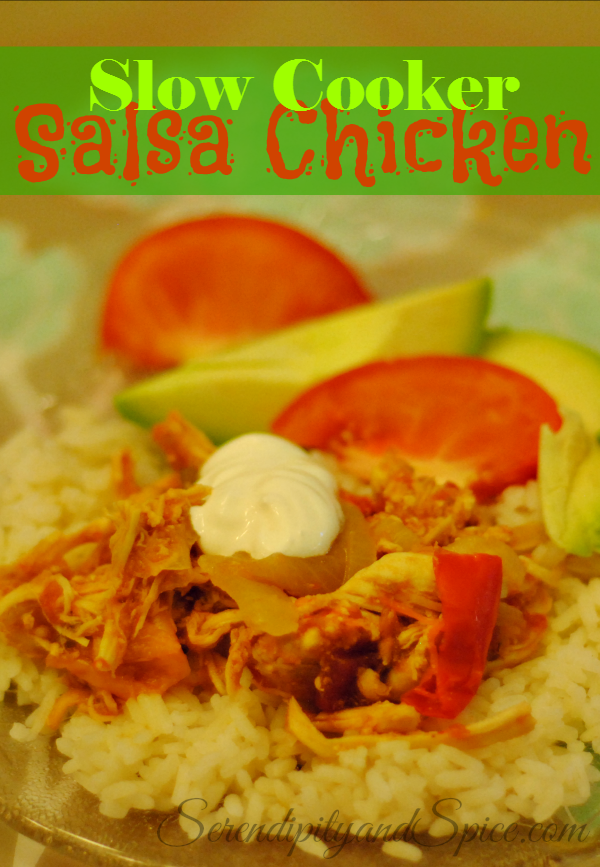 Slow Cooker Salsa Chicken Recipe with Success® Rice
A delicious crock pot chicken and rice meal…perfect weeknight dinner!
So you know how I'm always on the hunt for super simple meals to make during the week, right?!  Well, I hit a home run with this slow cooker salsa chicken recipe using boil in the bag Success® Rice!  
During the week we're in constant Go, Go, Go, mode and before I know it 6 o'clock has hit and dinner is no where in sight!  Well, this slow cooker salsa chicken recipe lets me set most of dinner and forget it until time for dinner!  Then I take about 10 more minutes to boil the rice and we're ready to eat a decent, healthy, SUPER yummy meal with little effort on my part…..MOMMY WIN!  But, sssshhhhhhh….don't tell anyone I didn't slave away at the hot stove for hours! 😉
I love using Boil in Bag Success® Rice, especially on busy evenings, because it's fool proof!  
I'm totally one of those people that walks away from the stove and completely forgets to go back to stir because I've found a zillion other things that need to get done ASAP…we usually wind up with burnt rice.  But, the Boil in Bag Success® Rice can be made on the stove top or in the microwave and although it's ready in just 10 minutes it can actually sit in the hot water for 1/2 an hour before being served…PERFECT for forgetful people like me!  You just boil the water, drop in the bag of rice, let it cook for 10 minutes, turn it off, and cut open the bag when you're ready to serve!
Not to mention that Success® Rice white rice is a nutritious choice for my family.  It's gluten free and a great source of complex carbohydrates.  The whole grain brown rice is made from 100% whole grains and is gluten free as well.  There's four varieties of Success® Rice available at your local grocery store.
Anyway, this salsa chicken recipe is a HUGE hit in my house because it's packed full of flavor and the juice is soooo extra yummy drizzled on the rice.  Plus, I feel good about what I'm feeding my family…there's tons of veggies hidden in with the chicken and we're eating a nice meal at home instead of grabbing take out or fast food.
Okay, ready for this yummy recipe?
Slow Cooker Salsa Chicken Recipe
Ingredients:
3 Boneless Skinless Chicken Breasts
1 16oz Jar of Salsa (I like to use Pineapple Mango…it gives the chicken a sweet little kick)
1 Large Vidalia Onion
1 Orange Bell Pepper
1 Yellow Bell Pepper
1 Red Bell Pepper
Pot of water
1 Bag of Boil in Bag Success Rice
1 Tomato Sliced
1 Avocado Sliced
Directions:
Slice the onion and peppers.
Toss chicken, onions, and peppers in the crock pot.
Pour jar of salsa over the chicken, onions, and peppers. (Don't use frozen chicken…you'll wind up with soggy salsa chicken)
Cook in slow cooker on low for 8-10 hours.
Shred chicken apart in slow cooker using 2 forks.
When it's almost time to eat boil the pot of water.
Toss a bag of Success® Rice in the water and cook for 10 minutes.
Remove rice from water.
Cut open bag and serve rice with chicken drizzled on top.
Garnish with tomato, avocado, and sour cream…if desired.

Make sure you head over to the
O, Oprah Magazine! "How Are You Cooking This Fall?"
Sweepstakes for a chance to win a variety of culinary themed prizes!
For more delicious recipes check out Success® Rice on Facebook, Twitter @SuccessRice, and Pinterest!
Success® Rice has over 300 delicious recipes on their website….which one are you excited to try? Share in the comments below!
This is a sponsored post written by me on behalf Success® Rice.
Thrive Market
- It's like the Costco of organics...this is where I get all of my sugar, flour, baking supplies, kids snacks, etc.
Zaycon Foods
- This is where I buy most of my meat products in bulk.  The quality is amazing and the prices just can't be beat!  I mean, $1.89 a pound for boneless all-natural chicken breasts!!  It is bulk but you can always split with a friend or make up a bunch of freezer meals like I do!