This slow cooker red beans and rice recipe is so simple and perfect for a busy week night meal. Red beans and rice make for a filling meal….and simple when done in the slow cooker.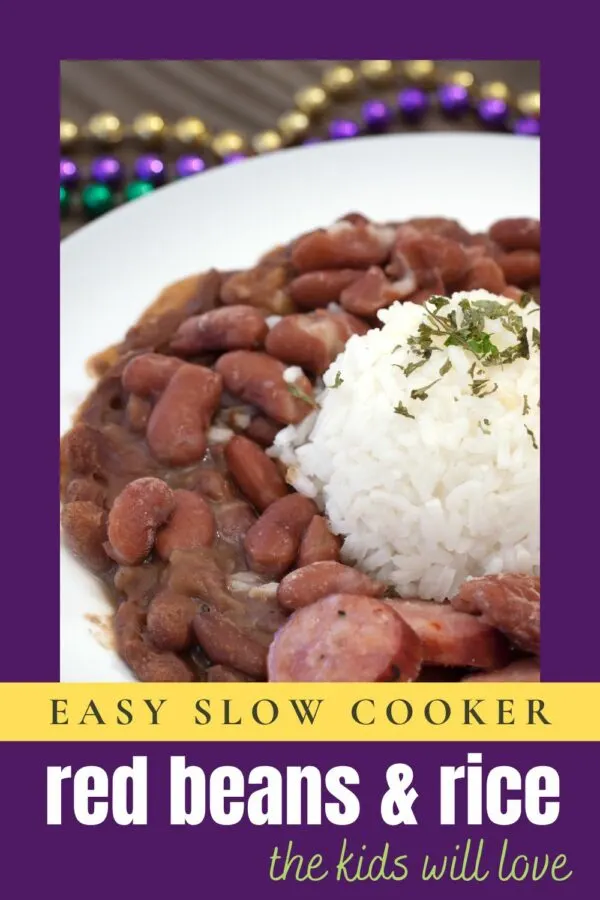 Slow Cooker Red Beans and Rice Recipe
One of the reasons I love my slow cooker is that it saves me a lot of cash throughout the year. I can't tell you how often the simple act of throwing a few ingredients in before heading out for the day has kept me from ordering pizza, Chinese food or grabbing take-out for dinner at night.
That being said, there are some days (or weeks), when money is really tight. That's when a great frugal dish like the one below comes in handy. It tastes great and fills the belly for little money.
The problem with making red beans and rice from scratch is that you have to stand over the stove all day watching it. But, this slow cooker red beans and rice recipe makes dinner so easy because I can toss everything in the crock pot before I head out for the day. Then when we get home we have the BEST red beans and rice recipe ready for dinner!
You can easily change up the heat index of this dish to make it work for everyone. My kids don't like spicy, so we typically go with Turkey Polska Kielbasa because it's mild. But, when I'm making this recipe for just Hubs and me, I like to switch it up with Cajun Andouille sausage and add a bit of sriracha sauce while it's cooking.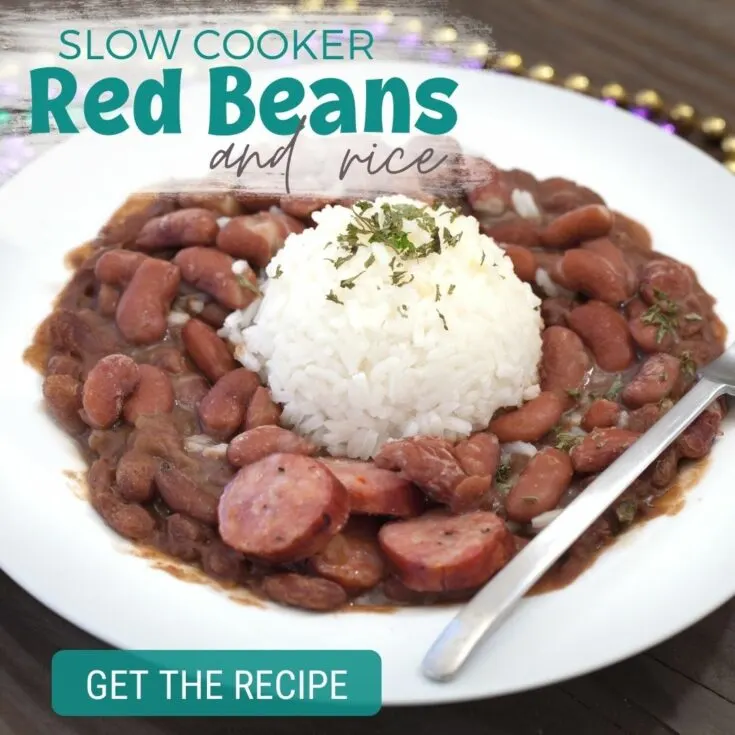 Yield:

4
Best Slow Cooker Red Beans and Rice Recipe
Total Time:
9 hours
5 minutes
This is the BEST slow cooker red beans and rice recipe around! Even the kids ask for seconds!! Cooking red beans and rice in the crockpot makes dinner easy as can be.
Ingredients
1 lb. dried red beans, rinsed and drained well
2 tbsp vegetable oil
3 celery stalks, chopped
1 onion, chopped
1 green bell pepper, seeded and chopped
3 scallions, chopped
2 garlic cloves, minced
3 1/2 C of water
2 2/3 C of beef broth
1/2 tsp crushed red pepper
1 14oz package of sausage (we like Turkey Polska Kielbasa)
4 C of hot cooked rice
Instructions
Rinse and boil beans for 10 minutes to thoroughly remove kidney bean lectin.
Place the oil into a skillet over medium high heat.
Add the celery, onions, bell pepper, scallions and garlic.
Stirring often, cook the mixture for 6 minutes or until the onion is tender.
Transfer to the crock pot.
Add the beans and stir to blend in.
Slice the sausage and add to beans.
Pour the water and beef broth into the crock pot.
Add the crushed pepper and stir to blend all the ingredients together.
Cover the crock pot and cook on low for 9 hours or until the beans are tender.
Serve the beans over the hot cooked rice.
Notes
You can easily adjust the spiciness of this dish by switching up the type of sausage you use. You can also spice it up by adding a bit of sriracha sauce when cooking.
Recommended Products
As an Amazon Associate and member of other affiliate programs, I earn from qualifying purchases.