Putting together the ultimate backyard BBQ begins with some stellar recipes and a sense of adventure. Whether you're entertaining thirty or three, having a full course BBQ means plenty of sides, salads, desserts, and, of course, main dishes. From grilled veggies to salads that keep them coming back for more, the recipes below are designed to make your party the best backyard BBQ this summer. So, break out the cooking apron, fire up the grill, and get ready to create some of the tastiest, non-traditional, backyard BBQ recipes around. They're the perfect combination of hot and sweet, cool and tangy, and just plain old delicious!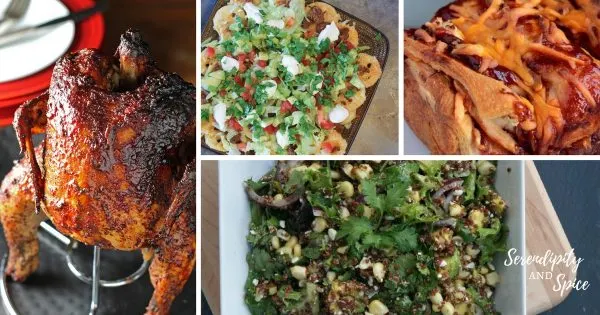 Easy Backyard BBQ Recipes
Side Dishes & Salads
Start the party off right with some finger-lickin' goodness. This BBQ Chicken Pull-Apart Bread combines cheese, chicken, and dough for the ultimate pull-apart bread. It takes about an hour to bake, but will be devoured in minutes!
Everyone loves nachos, but this tasty potato version is the cream of the crop. With just the right combination of beef and veggies, these potato nachos are sure to be a hit. For variety, substitute barbecue chicken for the beef!
Looking for a tasty backyard BBQ salad side? Look no further than this scrumptious BBQ Chicken Salad. Loaded with tasty chicken, corn, tomatoes, and shredded cabbage, this BBQ-friendly mix complements any summer shindig!
Grilled veggies are always good, but grilled eggplant goes the extra mile! This grilled eggplant and vegetable salad combines healthy food with flavor that can't be beat. It's the perfect salad to serve as a backyard BBQ side dish!
Are you a pasta salad lover? If so, the pineapple dressing on this is going to make you wonder how you ever had pasta salad without it. The sweet, refreshing tang of the pineapple perfectly compliments the flavor of the BBQ sauce on your main dishes. The recipe calls for ham, but when we make this one for our backyard BBQs we omit it since it doesn't always go too well with our BBQ chicken!
Some of our neighbors have gluten intolerances, so while they love coming over for backyard BBQs, they were initially worried that there wouldn't be anything to eat. Not to worry, dear neighbors! Whether you go gluten-free or not, this delicious and healthy corn and avocado quinoa salad packs a tasty punch. The combination of flavors makes it a favorite for all party goers!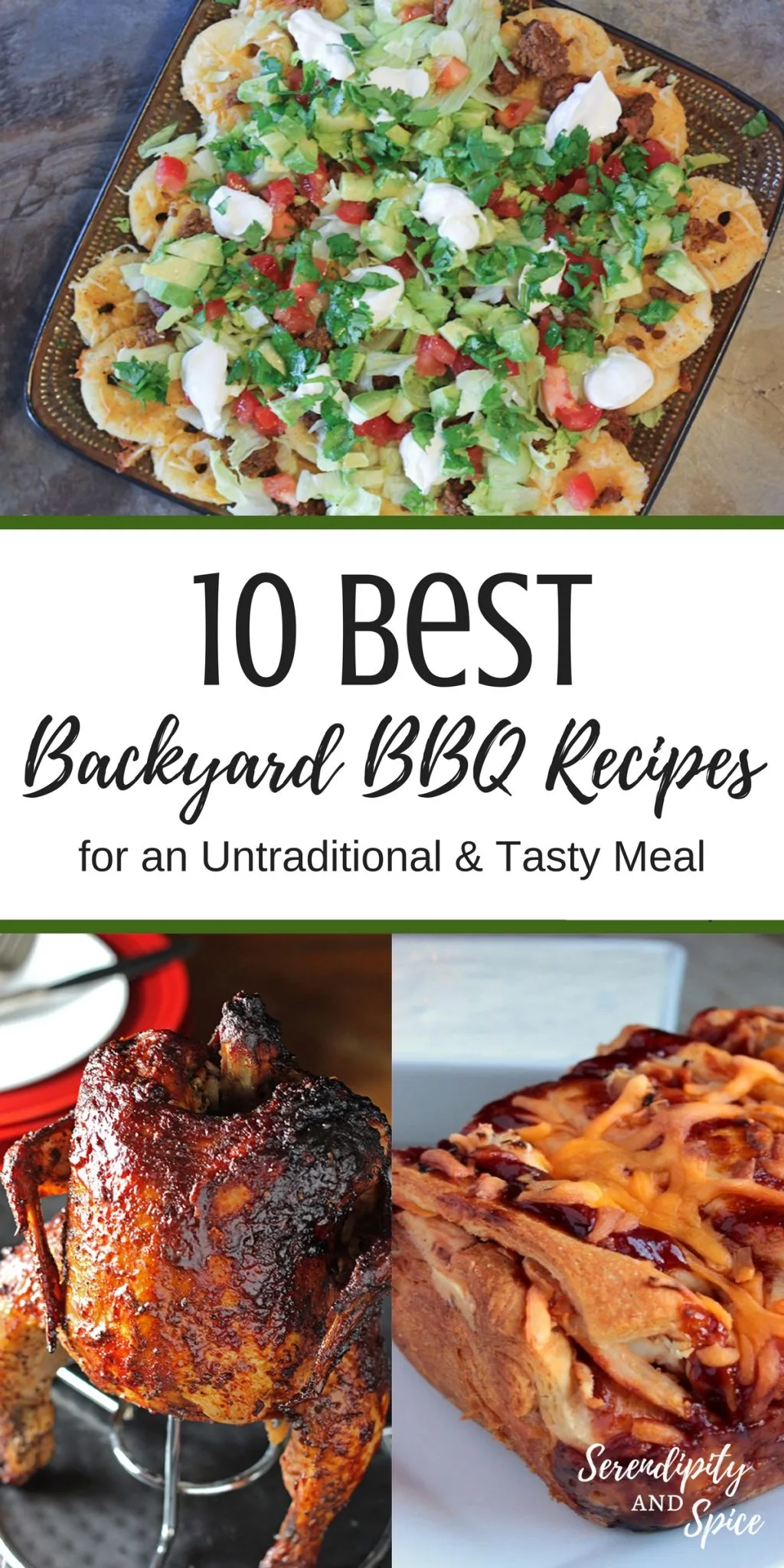 Entrees
It's all about that spice! You may have had beer can chicken before, but you've never had this beer can chicken! If you have a love for chipotle, you're going to hide this little chicken all for yourself once you get a taste of it. In fact, you may want to make two of these tasty birds, so your guests can get their fill!
This recipe calls for ground turkey, but if you're more of a ground beef (or ground chicken!) fan, you can easily substitute it in. What you can't substitute is the delicious flavor combination of the Teriyaki sauce, honey, and those melt-in-your-mouth grilled pineapple slices that go on top! It's such an unexpected twist for a BBQ party, but it's one that will leave your guests coming back for more! And, in case you're wondering, it pairs perfectly with the Corn and Avocado Quinoa Salad above!
So, you have a backyard BBQ planned and they're calling for rain? Don't worry! Put the pork in the slow cooker and you'll be dining on the most delicious pulled pork sandwiches you've ever tasted. The spices and slow cooker combination make even the most challenging piece of pork a mouthwatering feast of goodness by the time it's done. Personally, I love using the slow cooker, because it gets me out of the kitchen, so I'm able to spend time with my guests – which is really what a backyard BBQ is all about anyway.
And to finish off the backyard BBQ in style, here is, quite possibly, the best dessert of the summer:
I know what you're thinking…grill a banana? Well, hold on to your ice cream, because grilling a banana (and some pineapple for the topping) is not only easy – it's delicious! You grill it after cutting it in quarters, with the skin still on. If your barbecue is still hot from dinner, this will take no time at all. Once it's grilled, peel off the skin and top it with ice cream, crushed strawberries, chunks of the grilled pineapple, chocolate syrup, and whipped cream. It's an utterly decadent way to end the food festivities for the night!
This summer, step outside the box and create a backyard BBQ feast that breaks free from traditional foods. The recipes above will help you branch out and you'll find that your guests are more than happy to forgo burgers and hot dogs for food with a lot more flavor. Here's to a great summer party!
Save