Altitude Trampoline Park Birthday Parties are fun for the whole family! Check out this post about why Altitude Trampoline Park is a great birthday party location.
Altitude Trampoline Park Birthday Parties
A Jumping Good Time for the Whole Family
Thanks to Altitude Trampoline Park for inviting us our to their pre-opening celebration. This post has been sponsored by Altitude Trampoline Park, but as always, all opinions are my own and I only recommend products and services that I truly love.
This past weekend we visited Altitude Trampoline Park in Gastonia, NC and had an absolute blast! Check out my Instagram Stories to see all the fun we had!!
So, I didn't realize this but, Altitude Trampoline Parks are located nationwide. They have been around since 2012 and are the fastest growing trampoline park in the US and are the perfect spot for birthday parties and events…because there is something there for everyone!!
I originally thought this was going to be a fun day for the kids and maybe I would bounce around a little bit….boy was I wrong! I swear I got in a full workout….we were there for an hour and a half which means I burned about 300 calories! It literally was the most fun workout I've ever done…and here we are 3 days later and I can still feel the burn in muscles I didn't know I had!!
Birthday Parties at Altitude Trampoline Park
If you're trying to find the perfect birthday venue for your kids or even yourself I highly recommend checking to see if there is an Altitude Trampoline Park near you. The birthday parties that we saw while visiting the park in Gastonia looked amazing…they have private party rooms, provide pizza and water, and you can even bring in your own cake. Plus, they take care of the set up and clean up…so you do nothing but show up and have a great time!
All the birthday party attendees were having a blast! I mean, in Gastonia, there is over 20,000 square feet of trampolines and a ropes course suspended from the ceiling.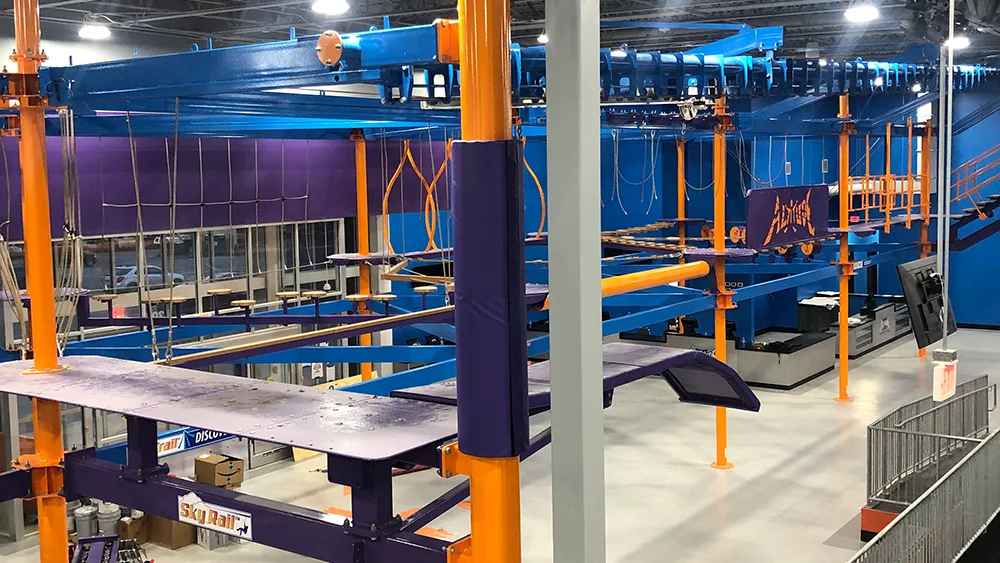 My kids especially loved the Ninja Course that included a huge foam pit, lots of obstacles to climb on and jump from.
They also have Extreme Dodgeball (Hubs totally wanted to get in on that action 😆 ), Trampoline Basketball, a huge foam pit…complete with "diving" platform, Gymnastic Tracks (which the kids love doing flips and running across), Wipeout (the game of skill where you have to jump high enough to miss the jump bar when it gets to you), and so much more!
After an hour and half of playing at Altitude Trampoline Park in Gastonia we still didn't experience everything they had to offer!!
Grand Opening Celebration Altitude Trampoline Park Gastonia
This Saturday, January 19th, Altitude Trampoline Park in Gastonia will be hosting their Grand Opening Celebration! If you're in the Charlotte area come out and experience all of the fun…if you're not in Charlotte, then check the website and see if there is an Altitude Trampoline Park near you!
Grand Opening Week Schedule of Events:
Monday, Jan 14th: Purchase a three-hour jump pass for $15 from 3:00 p.m. – close
Tuesday, Jan 15th: Buy one hour, get one Free ALL DAY
Wednesday, Jan 16th: Bring your family of four or more for Family Night and jump for
$10/person from 3:00 p.m. – close
Thursday, Jan 17th: 30% off birthday parties purchased
Friday, Jan 18th: Free donuts and coffee during Toddler Time & first 30 jumpers for Friday Night Friendzy receive free admission, an Altitude backpack and water bottle
Saturday, Jan 19th: First 100 enter the park for free, those who purchase a jump pass will receive a raffle ticket to enter to win prizes throughout the day
Saturday, January 19th Grand Opening Day Schedule of Events:
2:00 p.m. – Clip N Climb contest, quickest time wins FREE jump pass, FREE ICEE and FREE T-Shirt
6:00 p.m. – Ninja Course contest, quickest time to complete one lane wins FREE jump pass, FREE ICEE and FREE T-Shirt
7:00 p.m. – 10 p.m. – Neon Night with a local DJ
Find Altitude Trampoline Park of Gastonia on Social Media