This DIY All Natural Dishwasher Detergent Recipe without Borax is absolutely amazing! Once I started making my own All Natural Laundry Detergent I jumped on the bandwagon of making other natural cleaning products because it's so much better than what we buy at the store. I can make several batches of All Natural Dishwasher Detergent using just 4 ingredients and it lasts all year….our family averages a load a day….so that's a LOT of dishes!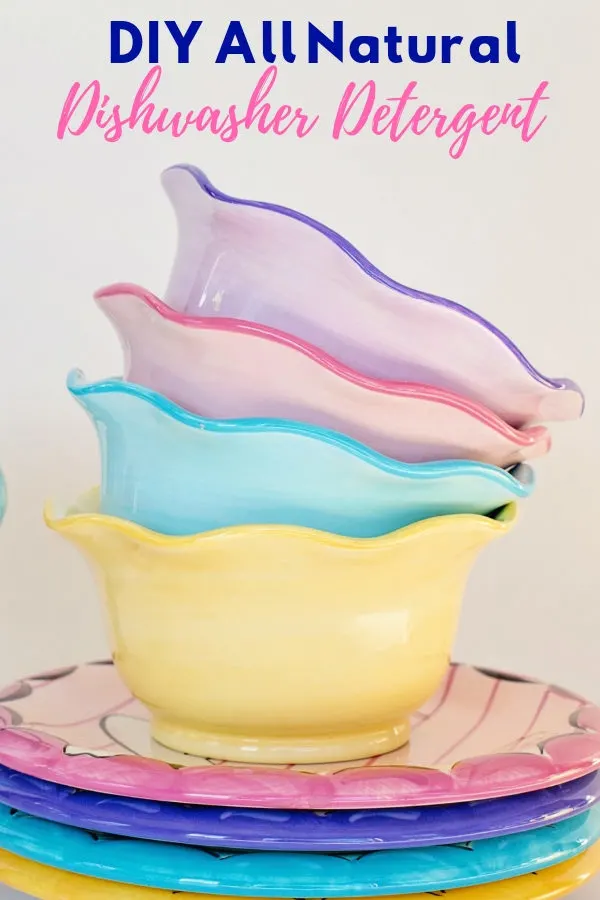 *This post contains affiliate links. Read my disclosure policy here.
DIY All Natural Dishwasher Detergent Recipe without Borax
Buy the ingredients once and the cleaning lasts all year!
So over the last couple of weeks we've been talking about taking simple and affordable steps toward natural living. Making your own cleaning products is a great way to get started living a natural life because they're easy to make and cost effective.
I mean seriously….where can you buy a year's worth of dishwasher detergent for less than $30!
You'll notice that this recipe uses a lot of the same ingredients that the HE Friendly Laundry Detergent Recipe uses….so if you're feeling a bit skeptical like I was at first, just make a half batch of laundry detergent and a single batch of this to try them out. Once you start using them and realize how easy they are to make, how well they work, and how much money you'll save you won't ever go back to the store bought stuff again. I've been making my own cleaning products for almost 5 years now and I love it!
Now, if you're ready to just jump all in and make a year's worth of this DIY All Natural Dishwasher Detergent Recipe without Borax then just follow this recipe as many times as you can until you use up all of the ingredients. You'll have a little bit left over that you can use in another DIY cleaner.
One thing that you'll notice about me is that I LOVE pretty glass containers. My favorite glass container for this All Natural Dishwasher Detergent Recipe is this chalkboard label jar….it comes in a set of 3 so I use the two smaller ones for the dishwasher detergent and the largest one I use for my ground coffee. These are a great size because I keep them under the kitchen sink and I need something that I can easily move when I need to use it. You'll remember I used a BIG glass jar for the laundry detergent but that's because it sits on top of the washing machine and I never move it. You could even use one of these for the DIY Fabric Softener Crystals.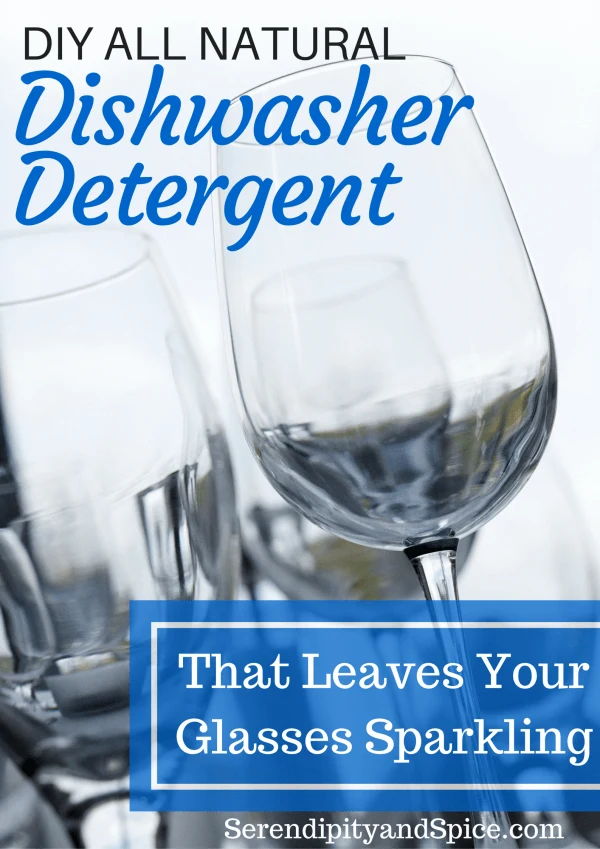 If you choose to use the essential oils then you definitely want to use a glass container. Essential oils will eat away at plastic if stored in it. But don't worry…this DIY dishwasher detergent is perfectly safe for your plastic dishes and containers…it's just when essential oils are left sitting on plastic that the plastic starts to break down.
DIY All Natural Dishwasher Detergent Recipe
1 Cup Super Washing Soda (the same stuff you used for the laundry detergent).
1 Cup Baking Soda (from the laundry detergent recipe too)
1 Cup Epsom Salt (yep, from the fabric softener crystals recipe)
1/2 Cup Food Grade Citric Acid
20 drops Lemon Essential Oil (you can use any essential oil that you like- I just prefer lemon in the dishwasher- this step is optional)
Mix all of the ingredients together and that's it!
Easy peasy!
When you're ready to run a load just add 1 TBS of this dishwasher detergent to the soap dispenser in your dishwasher.
Follow my All Natural and Wellness Pin Board for more natural living ideas:
Follow Melissa @Serendipity and Spice's board All Natural and Wellness on Pinterest.
More All Natural Ways to Clean:
Anti-Viral, Anti-Bacterial, Anti-Fungal All Purpose Cleaner Recipe
All Natural DIY Laundry Detergent Crystals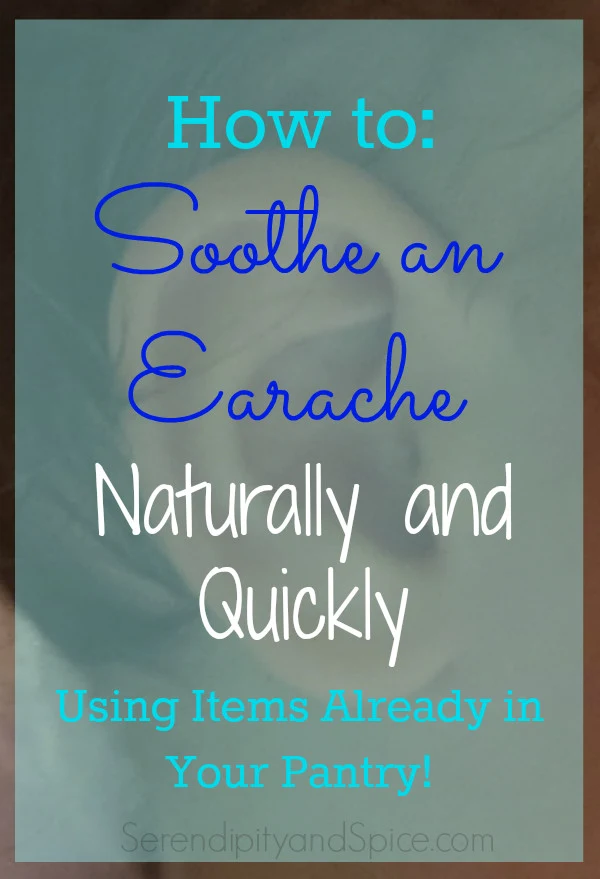 How to Soothe an Earache Naturally
How to Get That Boy Smell Out of the Laundry