These amazing kitchen gadgets that will make your life easier are going to blow your mind. Seriously, you're going to want all of these kitchen gadgets to make your life easier when it comes to dinner time and cleaning up!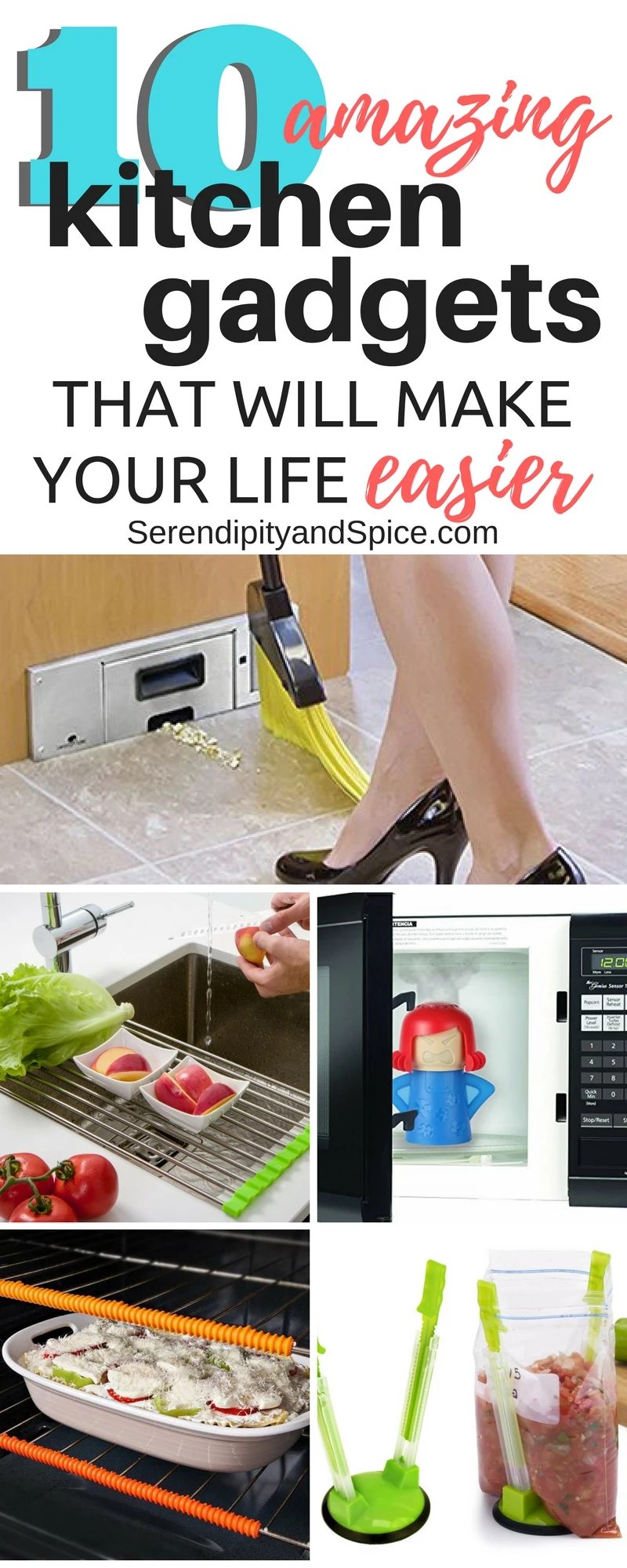 10 Amazing Kitchen Gadgets That Will Make Your Life Easier
The kitchen is most definitely the most used room in our entire house….and has the potential to be the messiest as well. I feel like I'm constantly working in the kitchen, cooking in the kitchen, cleaning the kitchen, feeding my family (seriously, these kids eat NON-STOP!), and just hanging out in the kitchen….it truly is the heart of the home.
Since I spend so much time in there I am completely addicted to any hacks or gadgets that make my time in the kitchen easier.
Today I'm bringing you 10 of my favorite and most amazing kitchen gadgets that will make your life easier! I love sharing fun and unique items with the Serendipity and Spice community.
These aren't our products or companies that I am working with, but thought it might be something that interests you.
I may receive a small affiliate fee when you purchase through the links that I share. If you choose to purchase through these links…Thank You for supporting this site!!
Hands Free Ziploc Bag Holder

If you love making freezer meals then you NEED one of these ziploc bag holders. No more trying to stretch your bag over a bowl or doing the one handed wobble trying not to spill anything. These are also great for storing leftovers.

Zip n' Store

Tired of your bags of shredded cheese getting lost in the back of the fridge? The Zip n' Store is a hanging bag system that glides out so you can find what you need.

SweepOVac

Seriously….no more tracking down the dustpan when sweeping up the kitchen….YES please! I love that the SweepOVac is discreetly hidden under the cabinet…simply remove one of the kickplates and install the SweepOVac. Plus, it's a lot more affordable than I would have thought….find the SweepOVac on Amazon.

Non-Stick Oven Liners

I started using these 3 years ago and it's made my life so much easier! Don't you hate it when something you're cooking bubbles out or spills over in the oven? Then you're stuck with a baked on icky mess to clean up….and it's not like running the self clean option on the oven is all that fun….heating up the house for a few hours….no thanks!
These oven liners catch the mess and you just slide them out to clean up the spill by wiping them down instead of having to scrub the oven. Totally worth every cent!!

Oven Rack Guards

Ever burn your fingers or arm on the rack of the oven…yeah me neither. I've never burnt my arm when pulling the Thanksgiving turkey out of the oven and accidentally got a little too close to the upper rack. And I've never burned my fingers by miscalculating the distance when sliding a casserole dish in the oven.
Oh….wait….yes I have.
Actually, more times than I'd like to actually admit! That's why these oven rack guards are so amazing….no burns for me since I installed them!

Smart Grow Herb Garden

There's nothing like cooking with fresh herbs….unfortunately they always dry out on me when I buy them at the store.

Over the Sink Cutting Board

Ever feel like there's just not enough counter space? I do….all the time!
That's why getting this over the sink cutting board was such a game changer…not only do I feel like I have more space but it makes rinsing easier and even has a "garbage" drop!

Over the Sink Drying Rack

When I'm in the midst of cooking dinner, counter space is a hot commodity and the sink takes a huge amount of counter space unusable. So I love to find items that can make the sink more multi-functional….like the cutting board above and the drying rack here.
Is there an amazing kitchen gadget that makes your life easier? Share in the comments below!