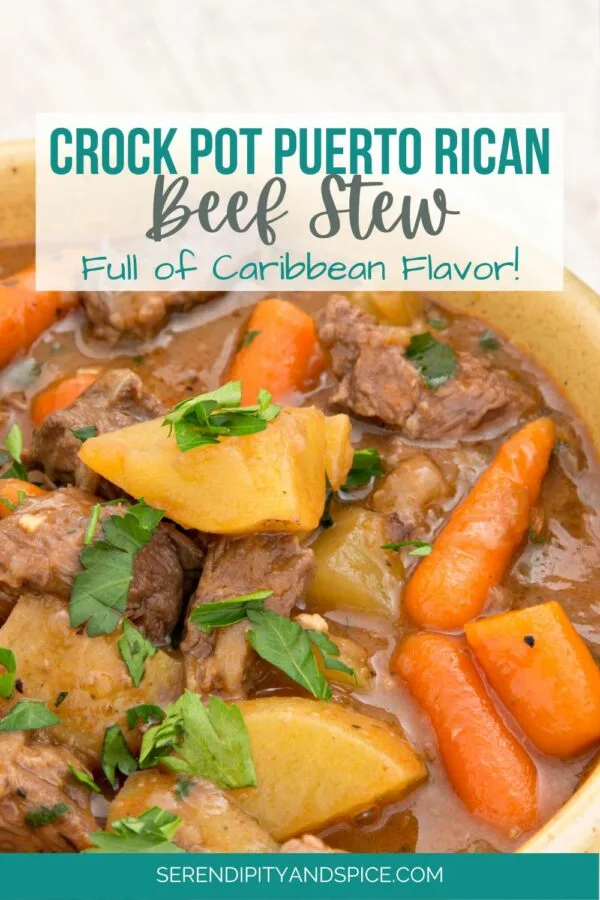 Over the years I've learned a few tips and tricks for making traditional Puerto Rican recipes from my mother in law. This Puerto Rican Beef Stew Recipe was one of the first recipes she taught me and it is AMAZING!
When Hubs and I first got married, I wasn't much of a cook…so the first 5 years of our marriage consisted of me trying out recipes and praying they would be edible. My mother in law gave me a new Puerto Rican cookbook every time we went to visit…the hint was not lost on me. I needed to start cooking right so her son and future grandchildren wouldn't starve.
I'm proud to say, I've made HUGE strides in the cooking department. So, if you're new to cooking, my best advice to you is to just keep trying…it will get better.
Now, this Puerto Rican Beef Stew recipe is a staple in my recipe rotation. Not only is it delicious, but it's so simple to make!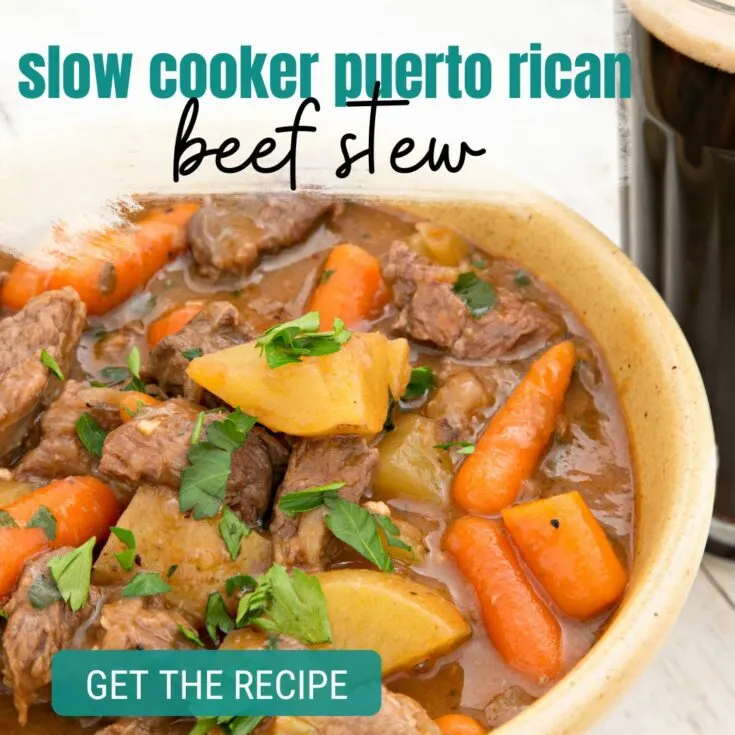 Puerto Rican Beef Stew Recipe
Ingredients
2-3 lbs Beef Chuck Roast
1 Medium Onion
1 TBS Adobo (this is what I use https://amzn.to/3OPoeJN )
1 Packet Sazon (this is what I use https://amzn.to/3PSCfb0 )
1/2 Cup Sofrito (I use this one https://amzn.to/3cXhxbo unless I can find the frozen type at the grocery store or if I have homemade sofrito on hand)
8oz Can of Tomato Sauce
2 Garlic Cloves
1 Bay Leaf
2 Cups Beef Broth
1lb Bag Baby Carrots
2 Large Potatoes (peeled and cubed)
1lb Yuca (optional)
7oz Jar of Green Olives
Instructions
Dice your chuck roast and onion into bite size pieces.
Pour beef broth into slow cooker.
Mix in Adobo, Sazon, Sofrito, and tomato sauce.
Add in chuck roast, onion, and garlic.
Place bay leaf on top.
Cook on low for 6-8 hours.
Halfway through cooking add in carrots and yuca (if fresh).
1.5 hours before you want to eat, add in potatoes and olives (and yuca if you're using canned).
Serve over rice for a delicious and hearty meal.