These strawberry cake mix cookies are the perfect easy to make dessert recipe the whole family will love! Deliciously fluffy and fun for everyone– try these Strawberry Cake Mix Cookies and see why cookies made with cake mix are so popular right now!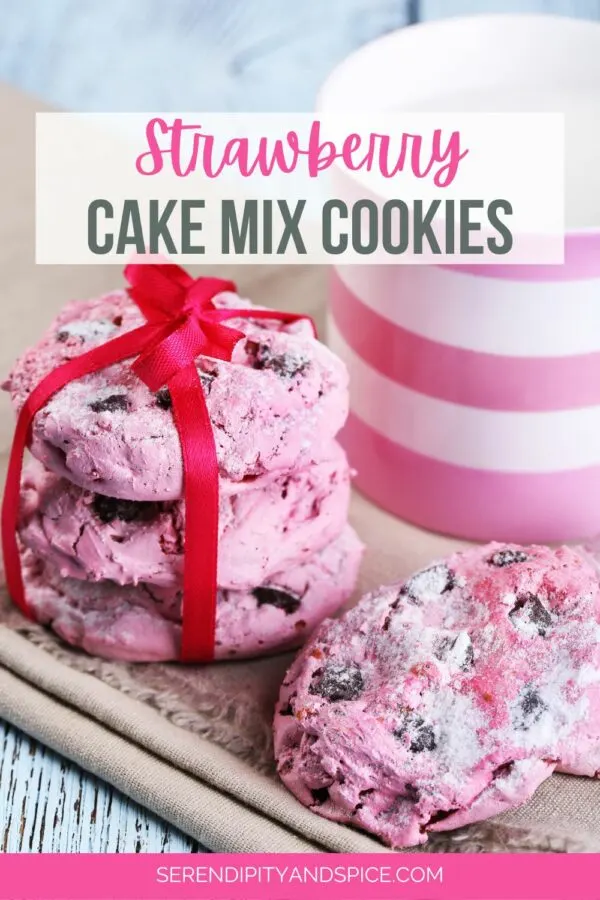 Strawberry Cake Mix Cookies
Make these sweet strawberry cake mix cookies for Valentine's Day…whether you're baking them for school or for your sweetheart they are sure to be a hit!
A few weeks ago I shared with you these super yummy S'mores Chocolate Cake Mix cookies because baking cookies with cake mix is so easy and fun with the kids!
I love making these cookies with the kids because they truly are so easy! Little Man helps me mix everything together while Miss Jellybean helps coat the cookies in powdered sugar. N
We like to make these cookies to take to friends and neighbors as well as to take to school for their classroom Valentine parties. For the Valentine Cards I stick with the Candy Free Valentine Card options….but for party day we like to mix in some sweet treats!
When I was younger I wasn't a big fan of Valentine's Day….even when I was dating Hubs it wasn't something that we went all out celebrating. I always felt like it was a Hallmark holiday and didn't see the point….I mean, you're supposed to show your love for people throughout the whole year, not just one day. But, once I had children, Valentine's Day has become one of my favorite days of the year!
I want to shower my kids with love on Valentine's Day and show them how wonderful they are….one day, they'll be teenagers and not be into my super sappy and lovey-doveyness….so I do it now!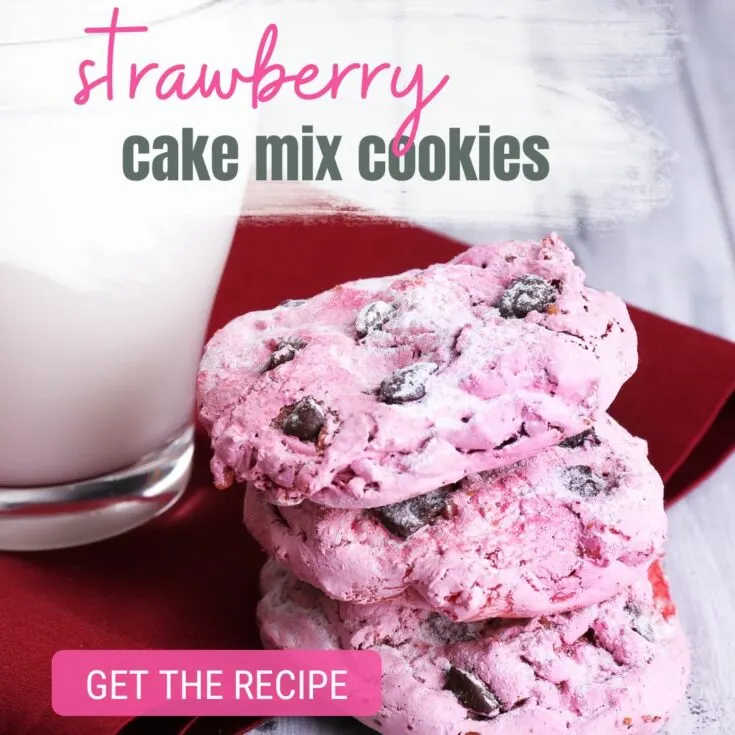 Yield:

24
Strawberry Cake Mix Cookies
These delicious strawberry cake mix cookies are fluffy and sweet! The perfect Valentine's Day treat!
Ingredients
1 package strawberry cake mix
2 1/2 cups thawed, frozen whipped topping, divided
6 tbsp butter, melted, divided
1 egg, beaten, divided
3/4 cup powdered sugar
1 cup semi-sweet chocolate chips or 1 cup of white melting chocolate chips
Instructions
Preheat your oven to 350°F.
Blend your strawberry cake mix, whipped topping, butter and egg in medium bowl with electric mixer on medium speed until blended.
Mix in chocolate chips.
Put powdered sugar in small bowl. and set to the side
Using a small ice cream scoop, scoop out cookie dough and roll into a small ball.
Place the cookie ball into powdered sugar to coat gently.
Place on ungreased baking sheet
Bake at 350 degrees 11 to 13 minutes or until edges are lightly browned and tops are crackled.
Remove immediately to wire rack to cool completely.
If making white chocolate, melt your white chocolate chips according to package directions.
Lightly drizzle white chocolate on cookies.
Recommended Products
As an Amazon Associate and member of other affiliate programs, I earn from qualifying purchases.