Disclosure: I reached out to Vilano Bikes to do this review. Thank you to Vilano Bikes for providing me the 2 in 1 Balance Bike to facilitate this review. As always, all opinions are 100% true and my own.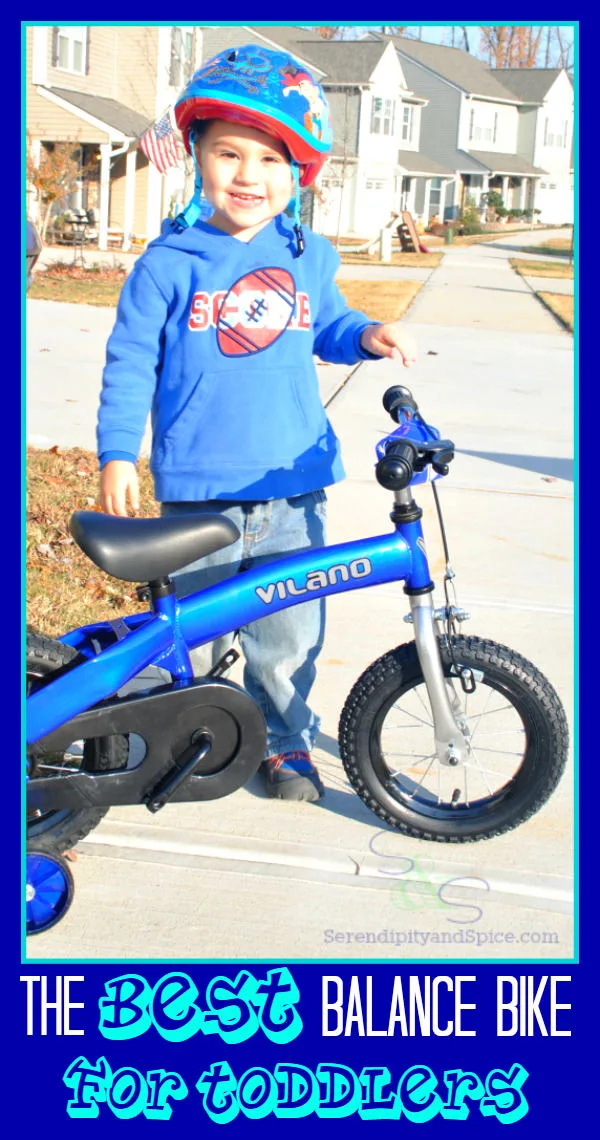 The BEST Balance Bike for Toddlers
Vilano 2 in 1 Balance Bike Review
Little Man just turned 3 and we've decided that it's time for a bike. Right now, balance bikes are all the rage for toddlers and I wanted to find out more about them and why they've gained so much popularity. Several of our friends have bought balance bikes for their little ones…and the parents are LOVING them just as much as the kids!
The theory behind balance bikes is that they can teach younger children to be more comfortable on a two wheel bike. They learn how to ride and balance first….before adding the pedals to push. Theoretically you can completely skip the training wheels step all together and your toddler can start riding a two wheel bike in no time. This really makes a lot of sense to me…..I remember how scared I was to ride my two wheel bike without the training wheels there to protect me if I got off balance. It took quite a while to learn how to ride without them. Well, now, our friends who have been using balance bikes for the last few months are riding their bikes just fine and now the parents are looking to upgrade to bikes with pedals.
The Vilano 2 in 1 Balance Bike is new to the market and full of features that I LOVE! When I started my search for a bike I wanted to make sure that I was getting the right one for Little Man….I wanted one that was going to last more than just a few months….I mean who wants to spend $100 or so on a present that your child is going to outgrow in just a few months?! When I stumbled across the Vilano 2 in 1 balance bike during my research I knew immediately that THIS was the bike for Little Man….and I wasn't wrong! Check out all of these features:
What makes the Vilano 2 in 1 Balance Bike the BEST Balance Bike for Toddlers?
1. It easily converts from a balance bike to a two wheel bike and grows with the child.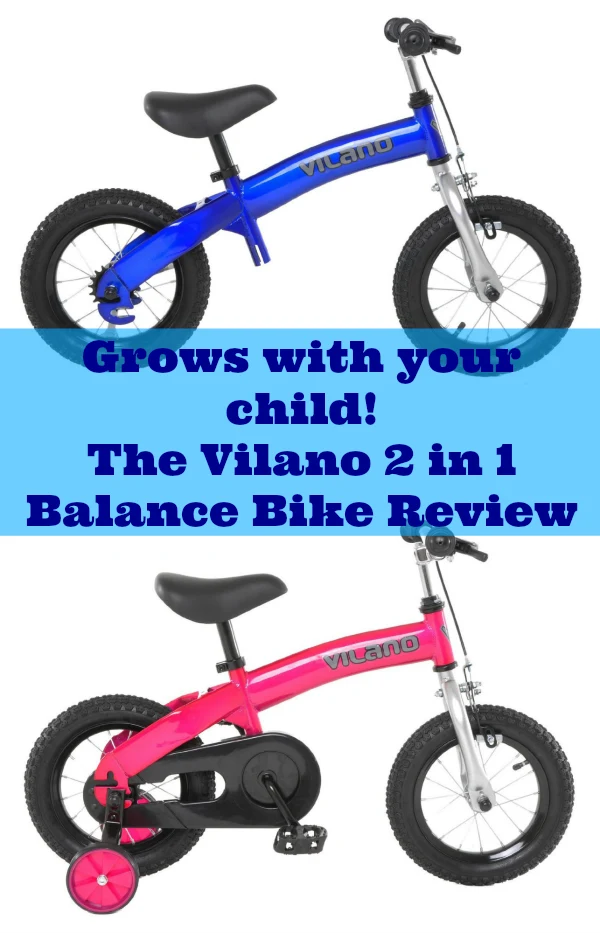 The Vilano 2 in 1 Balance Bike starts out as a regular balance bike like you see popping up everywhere…..BUT, what makes it so unique is that you can easily add the pedals to teach your child how to ride a two wheel bike when the time is right. You don't even need fancy tools to add the pedals….they just twist right on!
2. Training Wheels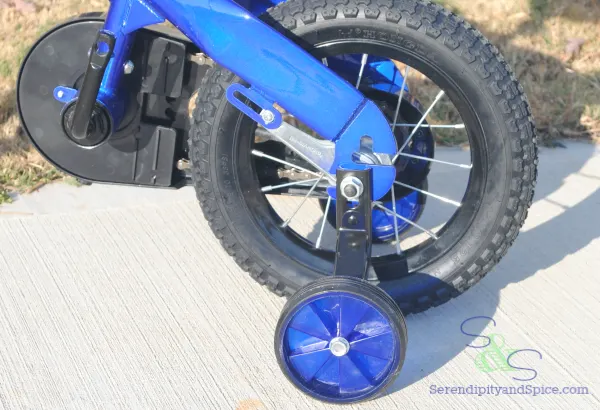 The Vilano 2 in 1 Balance Bike comes with a set of training wheels that can easily be added. Even though the thought behind a balance bike is that you get to skip this step the reality is that your child may want them for piece of mind…..and you may too. We actually used the training wheels without putting on the pedals and used them as a balance bike with training wheels to help Little Man learn how to get started on the balance bike.
3. Pneumatic Tires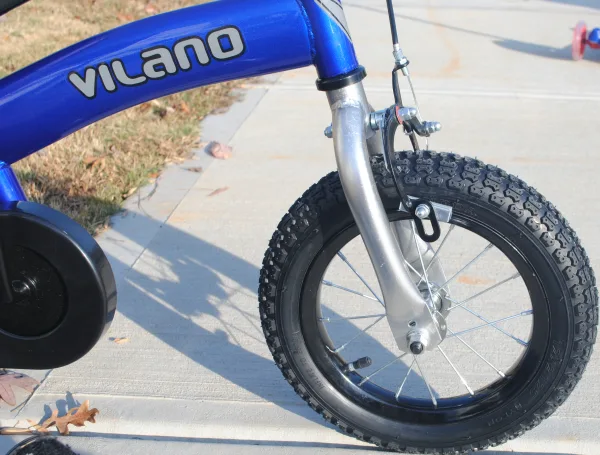 A majority of balance bikes on the market today come with plastic tires not rubber. I really wanted to make sure that the bike I was getting for Little Man had rubber tires because once those plastic tires crack then the bike is done. I've had enough Big Wheels in my childhood to know that kids are rough on those types of tires and they will crack and there's not much you can do about it. Plus, rubber tires provide a more comfortable ride and are the same tires that are on regular bikes giving your child a more realistic bike ride.
4. The Hand Brake
Yep, the Vilano 2 in 1 Balance Bike comes with a hand break. Now, when you're assembling the bike you have to calibrate the hand brake which can be kind of a pain if you're not used to doing that sort of thing. Any bike shop should be able to quickly do it for you. And you can also contact Vilano's customer service department….they are FANTASTIC about walking you through any issues either through email or by phone! I love that this bike has a hand brake because it's another important bike riding skill that you're already teaching your little one. The wheels do lock if you pedal backwards as well so you're child will have both brake features.
5. Adjustable Seat & Handle Bars
The Vilano 2 in 1 Balance Bike grows with your child! This 12″ bike is just the right size for Little Man (he just turned 3 a few weeks ago and is in the 90th percentile for height) so this bike is best for children 3 and older. But, as your child grows the seat and handle bars will easily adjust and move up with your child. This adds to the life of the bike! I see this bike lasting us the next several years…..YEAH!

6. The Price!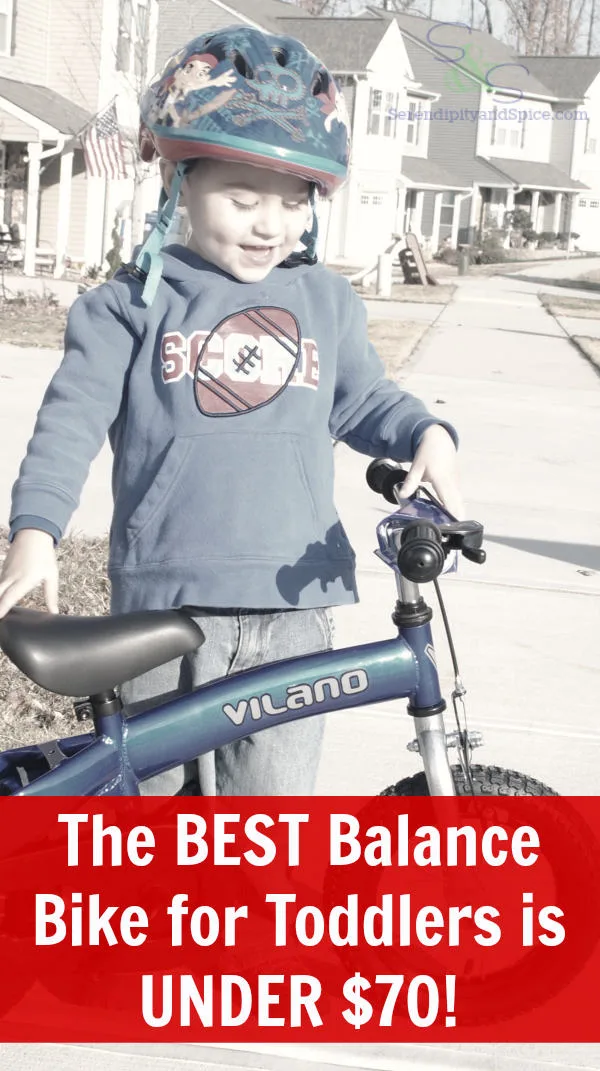 Most of the balance bikes on the market today are around $100-$150…..add that cost to the price of a regular two wheel bike that seems to run around $75-$100 and you're at well over $200. Realistically the balance bike is only going to last about a year (maybe less) before your child is ready for pedal bike. The Vilano 2 in 1 Balance Bike is on sale right now for $59.95! YES…..less than $60 for a bike that's going to last your child for the next few years! At that price there's plenty of my holiday budget left over to buy the helmet, knee pads, and fun bike stuff like a basket, bell, and those little lights that go on the tire spokes! Little Man will have a completely decked out bike for less than one balance bike….and this one is packed full of better features!
So those are my reasons that I think the Vilano 2 in 1 Balance Bike is the BEST balance bike for toddlers! If you're thinking about a balance bike for your little one this year then get it ordered today….it comes in a very discreet box (as long as your child can't read yet 😉 ) and will make the perfect Holiday gift this year!
You can order it directly from Amazon and have it here in time for the holidays! Don't forget….if you're getting your child a bike this year PLEASE protect their head and get them a helmet as well. Here's a great deal on a helmet and knee and elbow pads for your little one!
What is the BIG gift you're thinking about getting your kid this year? Share in the comments below!