These budget friendly Easter traditions will bring the family together for a day filled with fun instead of gifts. Try some of these new Easter traditions this year and watch the whole family join in the fun!

Budget Friendly Easter Traditions
New Easter Traditions the Whole Family Will Love
Every year it seems like we loose a little bit more of the fun Easter traditions that I experienced as a child growing up. It used to be that I would wake up early Easter morning, check out the basket of goodies the Easter Bunny had left, get dressed up in my brand new super frilly spring dress, and go to church. After church we would head over to my grandparents for a large Easter lunch with the whole family. After lunch we would do a dozen or so Easter Egg hunts until my parents grew tired of hiding eggs. It was a day filled with family fun and thankfulness for Jesus' resurrection.
But over the years it feel like Easter is losing that quality of family and simplicity. Retailers are trying to make Easter as extravagant as Christmas when it comes to gift giving. Gone are the days of chocolate bunnies….now kids expect iPads in there baskets! That's why I'm trying to bring back some less expensive and more fun Easter traditions the whole family will love!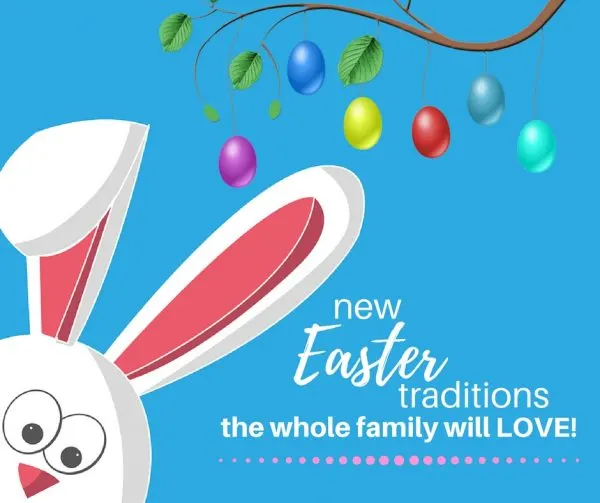 The average family has 2.4 children and Easter gifts can break a budget in a hurry. Here are some wonderful Easter memory creating ideas that won't break the bank.
1. Bunny Paw prints
Grab an old shoe box lid and cut out big bunny paw print to make a stencil . On "Easter Eve" use the stencil to make paw prints through your house by sprinkling baking soda in the stencil. Turn it over to make left and right feet. (the baking soda vacuums up off the carpet)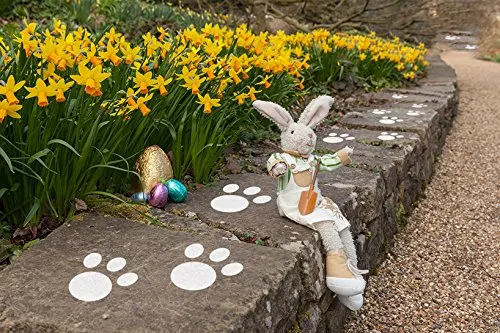 Or, you can just buy this Easter Bunny Paw Print Kit and have everything ready to go without any prep needed on your part. Just make sure you do it outside and not on your carpet!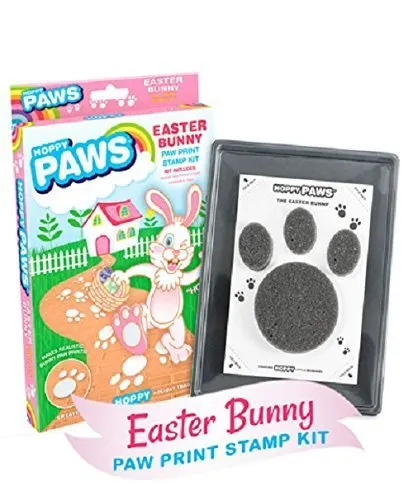 2. Easter Eggstravaganza
For most kids, Easter is not Easter without decorating eggs. This year instead of letting the kids have all the fun, start a tradition that involves the whole family. Throw an annual Easter egg decorating contest. Choose enough categories so everyone gets a chance to win. Some categories might be: funniest egg, most original egg, scariest egg, or celebrity egg. The wackier the categories, the more fun you will have decorating and judging. Ask everyone to submit an egg and display them on the kitchen table. Ask Grandma and Grandpa to be the judges. Before you know it, you will have trouble finding judges because everyone will want to decorate an egg!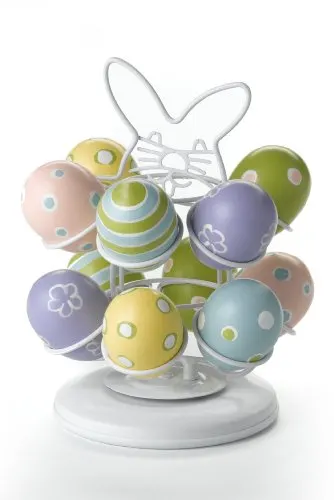 3. Follow the Ribbon
This is a simple tradition that doesn't take much preparation. All you will need to do is buy some narrow inexpensive ribbon from a local craft store. Choose a different color for each member of the family (15 to 25 yards per person depending on how crazy you want this to be). Once the kids are in bed, tie a ribbon to each of their hidden baskets and wind them in and out of the furniture and the other ribbons until you can't see where they began. Bring the ends to one central location (perhaps the kitchen table) as a place where your family can begin the entangled maze to find their baskets. Before you know it, everyone will be tangled in ribbons and laughs.
4. The Big People Egg Hunt
On Easter Sunday, gather the adults together and have them each hide one or more eggs somewhere on themselves. It might be in Grandma's apron pocket, Uncle Bob's boots, behind Dad's glasses, or under Grandpa's hat. This hunt isn't just for the little ones, it involves everyone and is a wonderful way to connect the generations. Your family will be sure to get a laugh as the kids poke around looking for hidden eggs. You'll definitely want your video camera ready for this Easter Egg Hunt.
5. Personalize Letter from the Easter Bunny!
What child does not get excited about getting mail? How about a personalized letter to your child from the Easter Bunny. This letter will be mailed directly to you child and talk about how mom and dad have told the Easter bunny that he/she has been good. What an exciting memory for your child.
6. Decorate an Easter Egg Tree
You can now get an Easter Egg Tree which is just a simple leafless tree with branches — or make your own by spray painting some twigs white and place in a vase. Then make some fun garland and tiny Easter ornaments to decorate.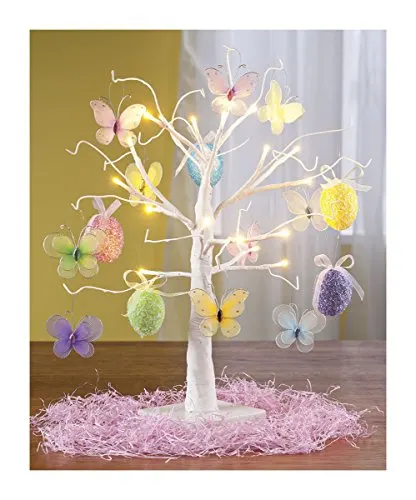 Easter baskets and gifts do not have to ruin your budget in order for them to be meaningful. These are just a few ways in which you can start some family Easter traditions with your family.
Does your family have any fun Easter traditions? Share in the comments below!
You may also like:
Bunny Bottom Easter Cupcakes from Scratch
40 Days of Children's Easter Books for Lent