A Simple Dinner Recipe Ready in About 30 Minutes!
Chicken & Gnocchi Recipe…the BEST 30 minute meal we've ever had! This recipe is so simple and delicious…nutritious and a family favorite. Chicken, fresh spinach, sundried tomatoes, in a delicious gnocchi dish with a creamy alfredo sauce…..perfecto! This is the best recipe on Pinterest!!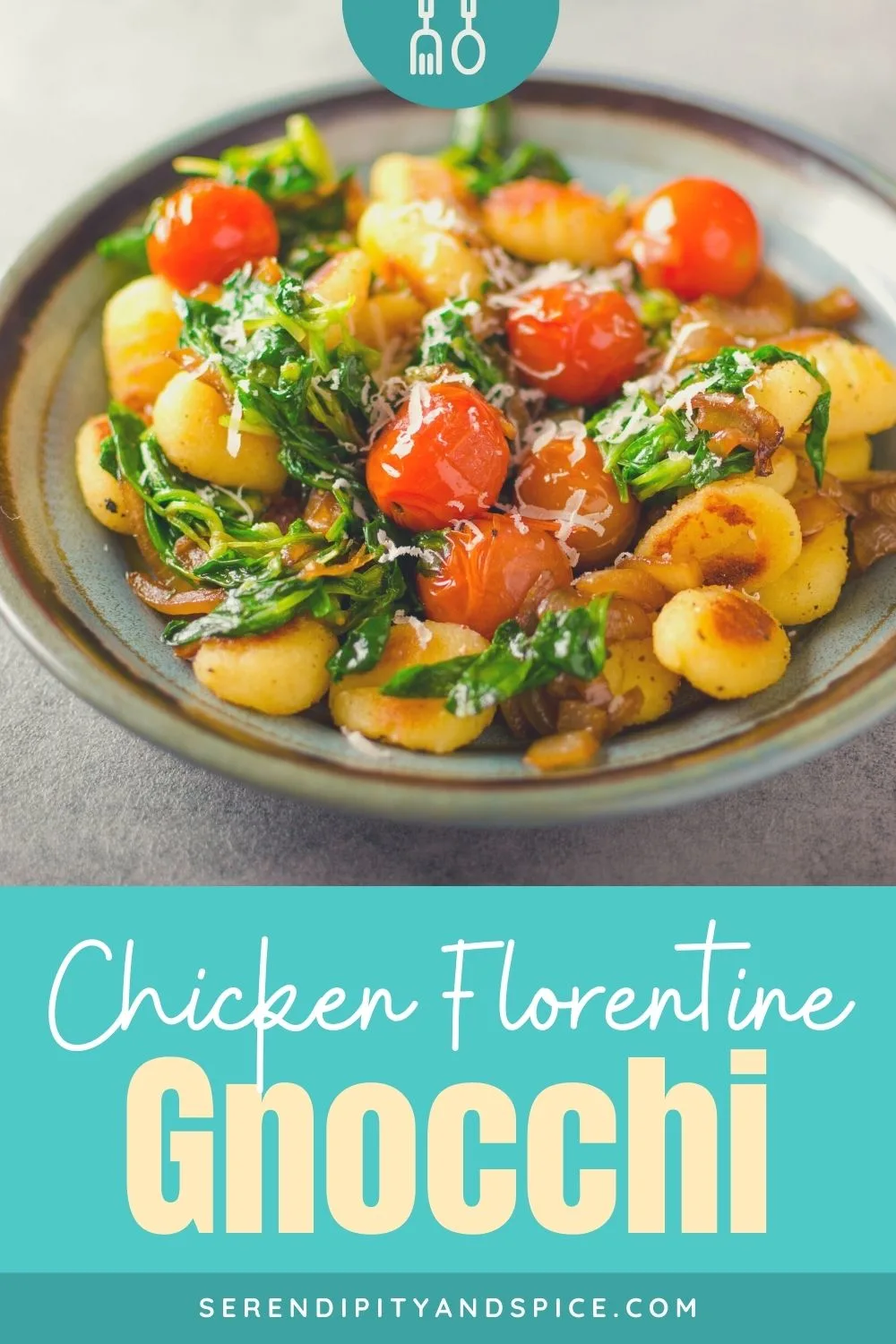 Table of Contents
The first time I ever had gnocchi it was LOVE at first bite!
I was in my early twenties– a friend and I decided to go out for a fancy smancy adult dinner in Atlanta.
We wound up at this adorable little restaurant called Cafe Intermezzo right in the center of Buckhead Atlanta…back when Atlanta still had the strip of bars all along Piedmont Rd….it was the "IT" place to be.
I mean they taught you Italian in the women's bathroom….that's how you know it's upscale….right?! Well, LONG gone are my clubbing/bar hopping days but I still LOVE gnocchi!
Did you know that you can easily find gnocchi in the grocery store?
It's in the dry pasta section….who knew?!
Anyway….I'm so super stoked that I can now have that delicious little potato pasta without having to get all dressed up.
This chicken & gnocchi recipe is so simple to make….I had dinner ready in about 15 minutes and my mom was so super impressed….I mean, she's my mom so she's super impressed by pretty much everything I do…I had to tell her to stop commenting so much on Serendipity and Spice's FB page because it was getting a bit excessive…..but I digress….back to the gnocchi.
For those of you unsure how to pronounce gnocchi the g is silent so it's like "no-key"….don't worry it took me forever to stop pronouncing it "ga-no-ch-I"…..yep, I was super cool back in my bar hopping days. 😉
Okay, enough about all this randomness….are you ready for this recipe??
Printable Chicken & Gnocchi Recipe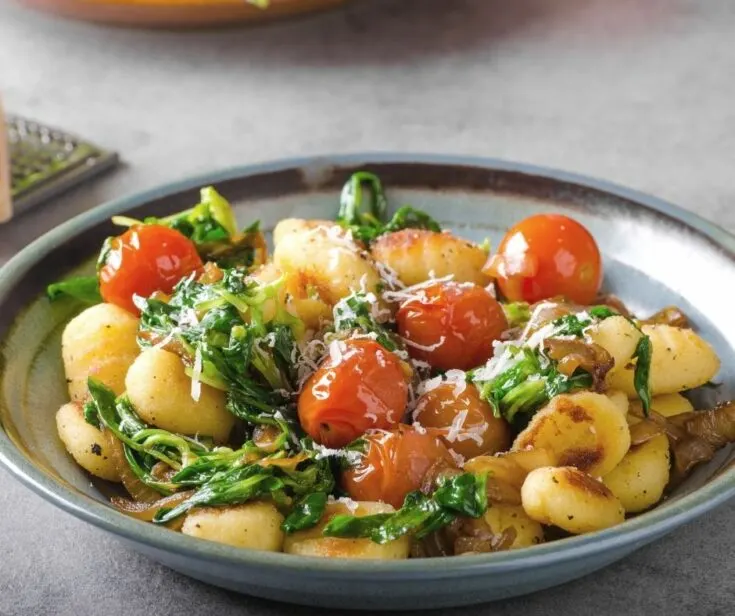 Yield:

4
Chicken & Gnocchi Recipe
Chicken Florentine Gnocchi Recipe
This chicken & gnocchi recipe is a family favorite that I keep in my regular rotations. It's quick, easy, and packed full of nutrients!
Ingredients
1 Pkg Potato Gnocchi
1 Cup Fresh Spinach
1 Cup Sundried Tomatoes
2 Boneless Skinless Chicken Breasts
1/4 Cup Butter
1 Cup Heavy Cream
1 TBS Chopped Garlic
1 1/2 Cups Grated Parmesan Cheese
Instructions
Slice chicken breasts into strips and sautee in pan on high until golden brown.
While chicken breasts sautee-- bring a pot of water to a boil.
Tear spinach leaves off stalk and place in steamer to steam.
Add gnocchi and sundried tomatoes to boiling water and cook for about 5-8 minutes or until gnocchi is cooked....you don't want to overcook and make the gnocchi soggy.
In a small saucepan melt butter, add in chopped garlic and sautee for about 2 minutes to release the flavor.
Pour cream into saucepan with butter and garlic-- do not boil...just let it come to a steam....stir continuously!
Add Parmesan cheese to cream mixture and stir constantly for about 10 minutes.
Combine all ingredients in a big bowl and serve warm.
Notes
Easily mix up this dish by trading out the spinach for other veggies...we've made this with kale, broccoli, carrots, etc.
Recommended Products
As an Amazon Associate and member of other affiliate programs, I earn from qualifying purchases.
This recipe cooks fast and has a lot of things going at once….but you'll have a delicious gourmet meal ready in no time….just don't walk away because you don't want to overcook any of it.
What do you think about gnocchi? Are you a super fan or do you prefer a different pasta?
Have you seen the new Phillips Pasta Maker? It is totally on my wish list…can you imagine…fresh pasta in just 15 minutes!
That would totally be heaven!
They totally didn't pay me to plug them…I wish they would because I'm completely in LOVE with this pasta maker….one day….one day I will have my fresh pasta in just 15 minutes! 😉
More Amazing & Simple Recipes to Try: